Celtics
Celtics reportedly one of the teams that 'appeal' to Jrue Holiday
The Boston Celtics are reportedly interested in pursuing a trade for Holiday, showing a sign of reciprocated interest.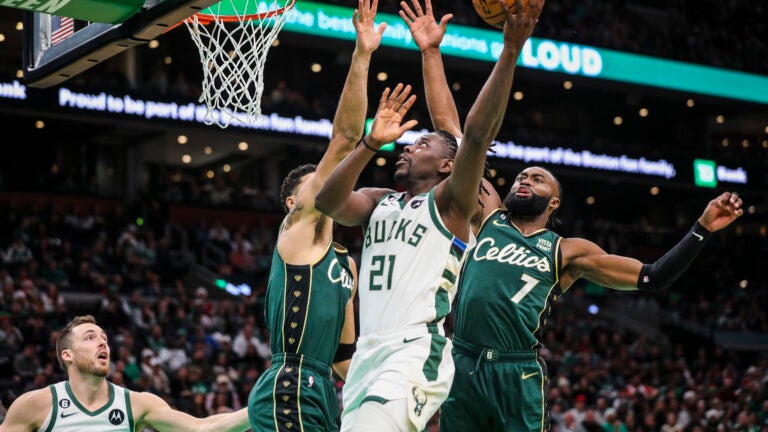 As soon as the Damian Lillard trade to the Milwaukee Bucks was finalized, reports surfaced that the Portland Trailblazers planned on sending Jrue Holiday to a contender. If Holiday's next team were up to him, he could be playing home games at TD Garden.
The Boston Celtics are one of the six possible teams Holiday wants to play for next season, according to Anthony Chiang and Barry Jackson of The Miami Herald.
"League sources told the Miami Herald on Thursday that the Heat, Los Angeles Clippers, Los Angeles Lakers, Boston Celtics, Chicago Bulls and Philadelphia 76ers are destinations that appeal to Holiday," Chiang and Jackson wrote. "That's important because Holiday, 33, can become a free agent next summer with a player option worth $37.4 million in his contract for the 2024-25 season."
Any team that wants to give up major assets for Holiday could be turned away if they know Holiday will opt out of his contract next year. It's unclear as to what Holiday will do yet, but it's reasonable to think that he will pick up his player option if he's playing for a team he prefers to be on.
One can argue that Holiday is worth the assets for the Celtics. He's a gifted point-of-attack defender and a capable 3-point shooting threat coming off of his second All-Star season. His defense and leadership were major reasons why the Bucks, his former team, won the 2021 NBA Championship.
It seems like the Celtics understand Holiday's value to a winning team as well, as they are reportedly expected to pursue a trade for him.
But what would the Celtics give up? Possibly a lot. Holiday will make around $35 million next season, which means that the Celtics will have to give Portland at least that much in contracts. There's been lots of speculation as to the frayed relationship between the Celtics and Malcolm Brogdon, who makes $22.5 million next season. Packaging him with Robert Williams III and the $13.5 million he'll make next season could make the financial part of a hypothetical trade for Holiday work, but even that might not be enough.
It's not clear if Portland will have use for those two players — since they're attempting to go younger — so Boston will likely have to add a decent bit of draft capital to convince general manager Joe Cronin to agree on a deal.
Payton Pritchard is also a name to keep an eye on in any potential Holiday deal. The Celtics' guard is from the Portland area, and Yahoo Sports' Jake Fischer reports that Pritchard is on the Trail Blazers' radar.
Plenty of other teams are very interested in acquiring Holiday. For instance, The Athletic's Shams Charania reports that the Philadelphia 76ers are expected to "go hard" at him. The Celtics will have many other competitors vying for Holiday's services if they choose to pursue a trade, but they will have an advantage over most others knowing that Boston is one of the cities he wants to live in next year.
Sign up for Celtics updates🏀
Get breaking news and analysis delivered to your inbox during basketball season.