Celtics
Celtics legends Kevin Garnett and Paul Pierce will attend Colorado-USC game
"2-1 baby, that's the real 2-1," Deion Sanders said to Garnett.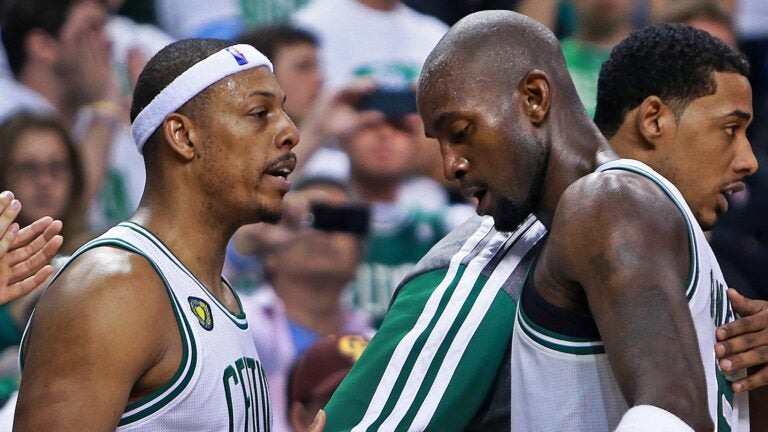 Deion Sanders is gaining national attention as head coach of the Colorado football program this season. On Saturday, when the Buffaloes take on No. 8 USC, he'll have a fellow No. 21 supporting him on the sideline.
Kevin Garnett announced on Instagram that he'll be in the house on Saturday, along with fellow Celtics legend Paul Pierce. Both were key members of Boston's 2008 NBA championship team.
In the video, Garnett bows to Sanders before tightly hugging the NFL Hall of Fame cornerback-turned-coach. After which Sanders says, "2-1 baby, that's the real 2-1."
Garnett wore the No. 21 during his tenure with the Minnesota Timberwolves. He switched to No. 5 once he joined the Celtics. Sanders, meanwhile, wore the number during nearly his entire NFL career. He was able to bring the No. 21 to four different teams before switching to 37 with the Baltimore Ravens.
In a second Instagram video, Sanders's sons, Shedeur and Shilo, challenged Garnett and Pierce to a 2-vs-2 basketball game. Unsurprisingly, the NBA stars shrugged off the request.
"Y'all not ready for that," Garnett said. Pierce added that he has "grown man" strength, and is stronger now than when he was in the NBA.
Shilo noted that as a defensive back, he may have the skills to match up with the basketball stars on the defensive side. Garnett reminded him that defensive back is not one of the positions in basketball.
"I don't know what that means in basketball, what's a DB?" Garnett asked sarcastically.
Garnett and Pierce aren't the only Celtics rooting for the Sanders-led Buffaloes. Colorado alum Derrick White has been extremely supportive of his alma mater, attending a Buffaloes game earlier in the season.
Kickoff for Buffalo-USC is set for noon EST on Saturday, and both Garnett and Pierce will be watching closely from the sidelines.
Sign up for Celtics updates🏀
Get breaking news and analysis delivered to your inbox during basketball season.