Celtics
Jayson Tatum reportedly put off left wrist surgery, opting to get cortisone shot instead
The Celtics star thought he was going to need surgery on his non-shooting wrist entering the offseason.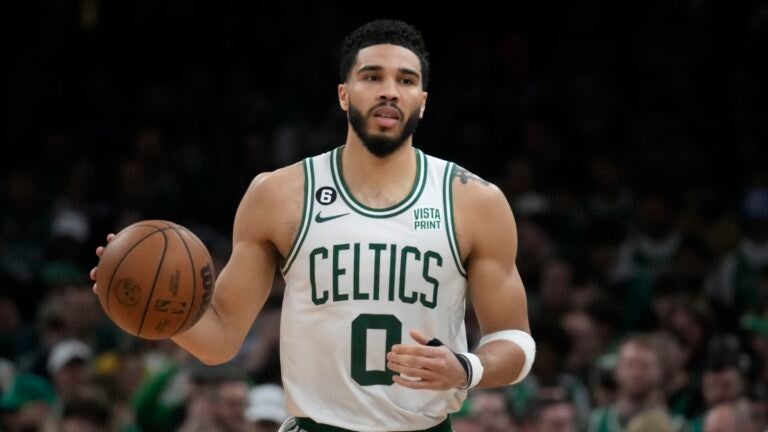 Jayson Tatum has been dealing with a left wrist ailment since at least the 2022 playoffs. He took a measure to treat that this offseason, but didn't go under the knife.
The Celtics star opted to forego surgery on his left wrist over the offseason, receiving a cortisone shot instead, ESPN's Ramona Shelburne reported.
"He went into the offseason thinking he might need surgery on his non-shooting wrist," Shelburne said on "NBA Today." "He went to a bunch of specialists and essentially decided, 'I'm not gonna get the surgery, I don't need it,' got a cortisone shot — he said it feels really good."
Tatum initially suffered the injury sometime in the 2021-22 season, but didn't specify when. However, he shared that he really bothered the injury during the Celtics' Eastern Conference semifinals series against the Bucks later that season.
"It was small, but it was still like a non-displaced chip," Tatum told Bleacher Report's Taylor Rooks in an interview in August 2022. "So like I chipped a bone but it didn't leave the surface, but it had shown that the bone had grew over it so it healed, but I was still in pain because I kept getting hit or falling on it. So I guess I played with somewhat of a fracture for like two months.
"Then in the playoffs, there was a play against Milwaukee in Game 3. I dunked it, Giannis [Antetokounmpo] chased me down and fouled me and I fell into the crowd. That was the most painful it's been since that day that I hurt it."
Tatum said he received a cortisone shot following that game and was required to wear a brace at shoot-arounds during the remainder of that postseason.
The issues with Tatum's non-shooting wrist carried into this past season. Boston notably managed the situation throughout the season, even though Tatum still played 74 games. But he had his wrist heavily taped up at moments during the season, signifying he was still playing through an injury.
It's unknown how severe Tatum's left wrist injury was, though. He struggled at points in the latter half of the season, taking a minor step back in scoring after scoring 31.1 points per game through the end of January.
Tatum's left wrist might be dealing with a little bit more pressure this upcoming season. He appears in line for a heavier ball-handling role following the trade of Marcus Smart.
That isn't a concern for Tatum, though.
"Now that he's going to be having more of a ball-handling role because Marcus Smart is not there anymore, he said, 'I basically did this all last year during the playoffs. I'm very comfortable in that role initiating the offense,'" Shelburne said.
The upcoming season is, of course, a big one for Tatum and the Celtics. Boston will look to finally get over the hump and win a title after getting close each of the last two seasons.
In addition, Tatum is in line to receive a major payday next offseason. He can earn a supermax extension that would likely give him the biggest contract in NBA history as early estimates predict that his next max would be worth over $330 million.
Tatum and the Celtics officially begin the 2023-24 season this week with training camp opening on Tuesday.
Sign up for Celtics updates🏀
Get breaking news and analysis delivered to your inbox during basketball season.