Celtics
'He talks a lot, sometimes too much': Grant Williams is already making an impression on Luka Doncic
The Mavericks All-Star complimented Williams's leadership, with one small caveat.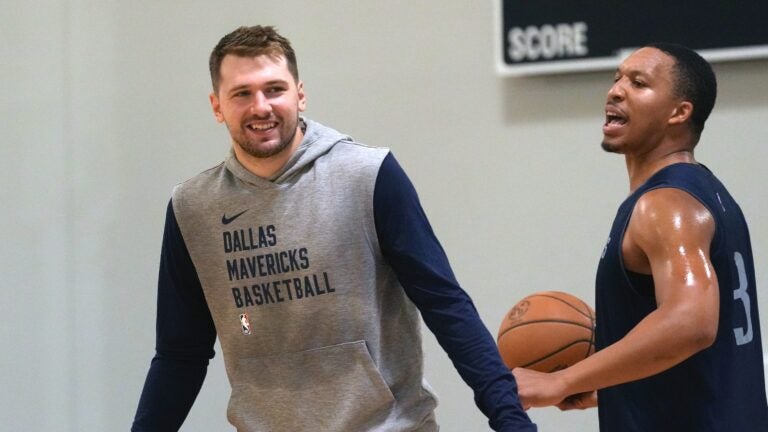 Dallas Mavericks All-Star Luka Doncic is getting to know his new teammate, former Celtic Grant Williams, ahead of this season. It appears he likes most of what he sees out of the forward.
With one small caveat.
"I think Grant is a good leader too, he talks a lot," Doncic told reporters. "Sometimes too much."
Williams is known for his larger-than-life personality. That includes Batman impressions and plenty of fun moments and smiles with teammates. It's what made him a fan-favorite in Boston.
Now, in Dallas, Williams appears to be carrying that infectious, if not occasionally annoying, personality with him. And he had a response to Doncic's comments about all his talking.
"I think if you ask anyone who knows me, I feel like the one description you'll receive is that I talk a lot," Williams said. "Hopefully, it's good talk."
As far as being a leader, Williams knows even in year one with the Mavericks, that's his responsibility, too. He's entering year No. 5 in the NBA and was a part of a few deep playoff runs with Boston, including an NBA finals series. Dallas is looking to get over the hump and make a deep playoff run, and Williams's playoff experience is beneficial to the team.
"I have to step up and do my role," Williams said. "I'll try my best to lead by example while also being able to communicate to the guys exactly what we need to accomplish."
The Mavericks' preseason kicks off on Oct. 5, which will presumably be the first time fans see Grant on the court in his new threads.
For Boston, preseason begins on Oct. 8 against the Philadelphia 76ers.
Sign up for Celtics updates🏀
Get breaking news and analysis delivered to your inbox during basketball season.