Celtics
4 things to know about new Celtic Jrue Holiday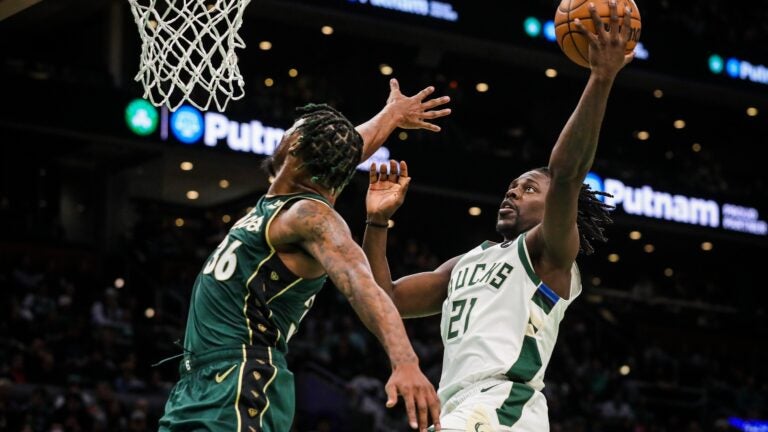 The Celtics made a huge trade on Sunday, parting with Malcolm Brogdon, Robert Williams, and a pair of first-round picks to land guard Jrue Holiday.
Holiday, briefly a Trail Blazer after the blockbuster deal that sent Damian Lillard to Milwaukee, was a crucial part of the Bucks' championship in 2021.
Here are a few things to know about the newest Celtic.
He's one of the league's best defenders.
Above all else, Holiday is known as one of the NBA's finest perimeter defenders.
Holiday is a five-time All-Defensive selection, all in the last six years, including three first-team nods. If there were questions about how the Celtics' perimeter defense would suffer with Marcus Smart being traded to the Grizzlies as part of the Kristaps Porzingis trade, there are few better answers than Holiday.
The 33-year-old has never received Defensive Player of the Year recognition, but is highly regarded by his peers: in an anonymous survey of NBA players conducted by The Athletic last year, Holiday received the most votes as the league's best defender by a wide margin.
"He could stand out anywhere. You put Jrue in any system, any coach is going to ask him to guard the best player," said Suns superstar Kevin Durant back in 2020. "He slides his feet so well, he's got good hands, he's strong, and he's got good instincts. … He's special."
Holiday gets it done in the biggest moments, too: His his game-sealing steal and alley-oop to Giannis Antetokounmpo in Game 5 of the 2021 Finals is perhaps his career highlight, and the Celtics know all too well how Holiday can flip a game with his defensive heroics, finding out the hard way in the playoffs in 2022.
He shot well from 3-point range in Milwaukee.
Holiday isn't an elite shooter, but he helped space the floor well for Giannis Antetokounmpo in Milwaukee and has steadily improved from deep, hitting 39.5 percent of his 3-pointers in three seasons with the Bucks. He shot a career-high 41.1 percent in 2021-2022, and that mark only dropped to 38.4 percent — still a strong clip — as his 3-point shooting volume made a big jump to 6.1 attempts per game last season.
The two-time All-Star will inevitably be compared to Marcus Smart, whom he will more or less replace in Boston; Smart's shooting was notoriously streaky, as he shot 33.1 percent from deep over the last three seasons.
Holiday should be an overall offensive upgrade on Smart; he averaged 18.5 points in three seasons in Milwaukee, but his career high came in New Orleans in 2018-19 when he posted 21.2 points per game.
The Holidays are an athletic family.
Jrue isn't the only Holiday to make his living in the league; brothers Justin (Nuggets) and Aaron (Rockets) are also NBA players.
Jrue Holiday also married United States women's national soccer team star Lauren Cheney in 2013. Now Lauren Holiday, she's the most decorated member of the family, with two Olympic gold medals and a World Cup trophy to her name.
The Holidays' younger sister — also named Lauren — played basketball at UCLA, as Jrue and Aaron did.
He's a highly-thought of teammate.
It's hard to be as beloved a teammate as Smart, but Holiday has developed a reputation as a great colleague in the NBA.
He even has the hardware to prove it: Holiday has won NBA Teammate of the Year three times with two different teams — nobody else has won it more than once — including the last two consecutively.
"It's hard to find all the descriptors for Jrue as a human being, as a teammate," said former Bucks coach Mike Budenholzer after Holiday won his third award. "He's just all about the right things, he cares about people. He puts other people above himself. He just does so many little things off the court that I think people don't know about. On the court I think people get to see that a lot and appreciate that. He's just got character, just deep, deep, deep character and it comes out in many, many, many ways."
Sign up for Celtics updates🏀
Get breaking news and analysis delivered to your inbox during basketball season.