Celtics
Celtics trade for Jrue Holiday in exchange for Malcolm Brogdon, Robert Williams, picks
The Celtics swooped in to acquire the former All-Star in the wake of the Damian Lillard trade.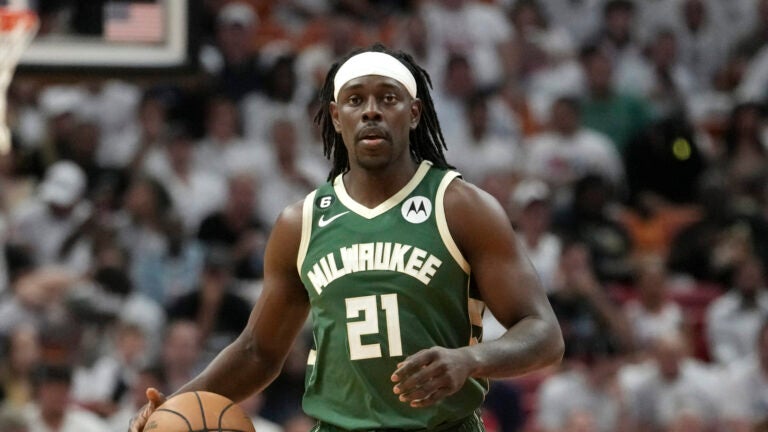 The Celtics swooped in with a blockbuster move of their own on Sunday, reportedly acquiring former Bucks All-Star Jrue Holiday from the Trail Blazers after he was dealt as part of the trade that sent Damian Lillard to Milwaukee.
Holiday, a two-time All-Star and five-time All-Defense selection, reportedly wanted to be traded to the Celtics, but significant obstacles stood in the way. The Celtics have an expensive roster and needed to 100 percent match Holiday's $36 million cap hit in any deal. Additionally, the Blazers were seeking multiple first-round picks, and with a lot of teams in pursuit of Holiday, the Celtics were compelled to give them up.
But on Sunday morning, Celtics president of basketball operations Brad Stevens and the Blazers came to an agreement — sending Holiday to Boston in exchange for Malcolm Brogdon, Robert Williams, the Warriors' 2024 first-round pick (acquired from the Grizzlies as part of the deal Marcus Smart/Kristaps Porzingis trade) and an unprotected first-round pick in 2029.
The Celtics will have an intriguing mixture of familiar and new faces — Jayson Tatum, Jaylen Brown, Derrick White and Al Horford will all return to the regular rotation, with Holiday and Kristaps Porzingis both entering the mix.
The Blazers, meanwhile, picked up two extra first-round picks, bringing their total tally in their trade for Damian Lillard to three first-rounders (including two unprotected picks far in the future, as well as unprotected pick swaps in 2028 and 2039 with Milwaukee. Additionally, the Blazers added Deandre Ayton, Toumani Camara, Williams, and Brogdon. Both Brogdon and Williams could likely bring in additional draft capital down the line if the Blazers choose.
We will have more on this trade later this afternoon.
Get the latest Boston sports news
Receive updates on your favorite Boston teams, straight from our newsroom to your inbox.