Celtics
Jrue Holiday is a big bet for the Celtics with potential for an impressive payout
Acquiring Jrue Holiday gives the Celtics one of the more daunting lineups in the NBA.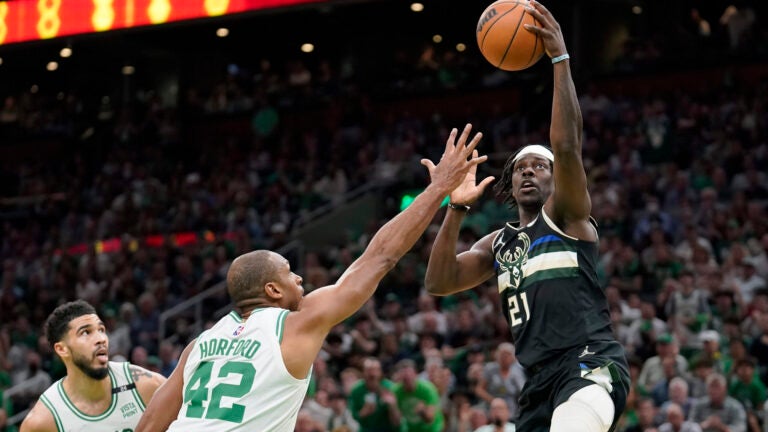 On Sunday, Brad Stevens swung his second stunning trade of the offseason, acquiring former Bucks star Jrue Holiday in exchange for a package that included two first-round picks, Malcolm Brogdon and Robert Williams.
Frankly, it's difficult to know where to begin unpacking those 33 words, which are absolutely loaded with implications for the Celtics — past, present and future.
But let's break this down into three parts:
What does the package mean for the Celtics?
What will Jrue Holiday bring to the table?
What does Brad Stevens seem to envision for this team?
The Package
This trade brings an end to any drama foisted upon the Celtics by Malcolm Brogdon, who reportedly was less than thrilled with the franchise after he was publicly included in trade discussions for Kristaps Porzingis.
On the one hand, it's hard to blame Brogdon — he specifically wanted to go to Boston when the Pacers were looking for a trade, and he spent the season coming off the bench. On the other hand, Brogdon's angst seemed a little misplaced — the trade the Celtics ultimately made sent Marcus Smart to the Grizzlies, which was a cataclysmic event for the franchise. If the Celtics were willing to trade Smart in their eagerness to build a contender around Jayson Tatum and Jaylen Brown, Brogdon certainly should have expected to be on the table as well.
Williams, meanwhile, might be a tough pill to swallow for the Celtics — a 25-year-old on an affordable contract whose lineups outscored opponents by more than 10 points last season. Williams hasn't been durable in his first few years in the NBA, but he has always been enormously impactful on both ends. Still, Williams's health will only be more of a concern as he gets older. The Celtics will miss him, but acquiring a player like Holiday costs pieces that hurt to lose.
The picks, meanwhile, are interesting. The first to convey will be the Warriors' top-four protected selection in 2024, which the Celtics picked up as part of their deal for Porzingis. There is a small amount of irony in the fact that a pick the Celtics got by sending Smart to Memphis — a pick that feels a little like found money — helped acquire his replacement.
The Blazers, meanwhile, get one flyer on the potential that the Celtics self-destruct over the next six years, and the Celtics don't get to hedge that bet at all. Tatum is only 25, and he will be 31 when that pick conveys. If he's still a Celtic, chances are the franchise has remained in decent standing and that 2029 pick won't be a lottery selection. But if anything goes wrong between now and then, the Celtics could find themselves forking over a valuable asset.
That's the bad news. The good news: The Celtics now get to employ Jrue Holiday.
Jrue Holiday's fit
If you were given a copy of NBA 2K, a controller, and instructions to build the perfect guard fit to play alongside two superstar wings on a championship contender, you would likely come up with a player that looks a lot like Jrue Holiday.
To start, Holiday is an elite defender — the kind of guard who sometimes gets mentioned in Defensive Player of the Year debates (which, again, is a small irony given who was dealt from the Celtics' roster this summer). Holiday has made the All-Defense team five times and All-Star teams twice, including last year. He was (by far) the Bucks' best on/off player last year per Cleaning the Glass, with a 13.5 point differential. Defense played a huge role in those numbers — the Bucks were 5.9 points per 100 possessions better defensively with Holiday on the floor, which is an impressive total for a guard (92nd percentile league-wide).
Offensively, Holiday is an ideal fill-in-the-cracks player — he scored his highest total last year since joining the Bucks as Khris Middleton dealt with an injury, posting 19.3 points per game in addition to a Milwaukee-high 7.4 assists.
The Celtics, of course, won't need Holiday to be their primary — or secondary, or potentially even tertiary — scorer, which puts him in the same idealized position that Brogdon often found himself last year. Per NBA.com's stats, 40 percent of Brogdon's total shots last year were 3-pointers that could be classified as either "open" or "wide open." Holiday is going to get a lot of open looks. Meanwhile, he will benefit from the same spaced-out floor that Porzingis should provide with his deep sharp-shooting.
Presumably, the Celtics' starters will now be Holiday, Tatum, Brown, Porzingis and Derrick White. That's a monstrous lineup — amorphous, switchable and ever-shifting defensively on the perimeter, with more than enough scoring to mash an opponent into paste.
There are still some concerns, certainly. Trading for Holiday indicates that the Celtics would like to keep him around long-term, and the Celtics already have a very expensive roster. Meanwhile, the depth is shaky at best — Al Horford can come off the bench, but is Luke Kornet ready to contribute? Can Oshae Brissett and Sam Hauser to back up Tatum and Brown?
But when the Celtics are healthy, they can play the most star-studded top-five in the NBA. There are certainly worse ways to build a team, which brings us to …
Brad Steven's vision
Stevens stepped to the plate as the Celtics' president of basketball operations after an unimpressive 2020-21 campaign and made some sharp contact — the trades for White and Brogdon were both probably good for extra bases, given how little he gave up to acquire them.
This summer, however, Stevens made it clear that he believes the Celtics have the star power to win a title, and he is done simply trying to make contact. Stevens swung for the fences and went all in on a team that could storm through the Eastern Conference, acquiring both Porzingis and Holiday.
After all, the East is relatively open. The Heat got weaker and missed badly on their reinforcements. The 76ers are the latest team to find themselves in James-Harden-induced turmoil and are starting to sweat Joel Embiid's timeline. The Knicks and Cavaliers are young, fun and good, but they don't have the same firepower as Boston and Milwaukee. No one else appears that close.
The Bucks, of course, put together an eye-popping duo with Damian Lillard and Giannis Antetokounmpo. Save Horford, who takes great care of his body but is 37-years-old, the Celtics don't really have anything for Antetokounmpo any more with Grant Willliams gone. But Lillard will need to work for his buckets against the Celtics' perimeter defense, and the Bucks are relatively thin outside of their top four as well. It has to sting the Bucks' decision-makers quite a bit to see Holiday on his way to Boston after they acquired Lillard, but those are the risks you take by sending a very good player to a team more interested in draft assets than winning basketball games.
Danny Ainge was often accused of hanging on to his assets too long. Stevens, it seems, might have quietly agreed with that assessment. On Sunday, one day before Media Day, the Celtics finished a wild summer by pushing in their chips. At worst, this will be a fascinating season with massive implications for the franchise. At best? The Celtics are positioned to do precisely what they have been trying to do since 2008.
Get the latest Boston sports news
Receive updates on your favorite Boston teams, straight from our newsroom to your inbox.