Celtics
Celtics reportedly outbid Heat, Clippers in order to acquire Jrue Holiday in trade with Portland
"Other teams made offers but it was sort of a three-team, aggressive race at the end."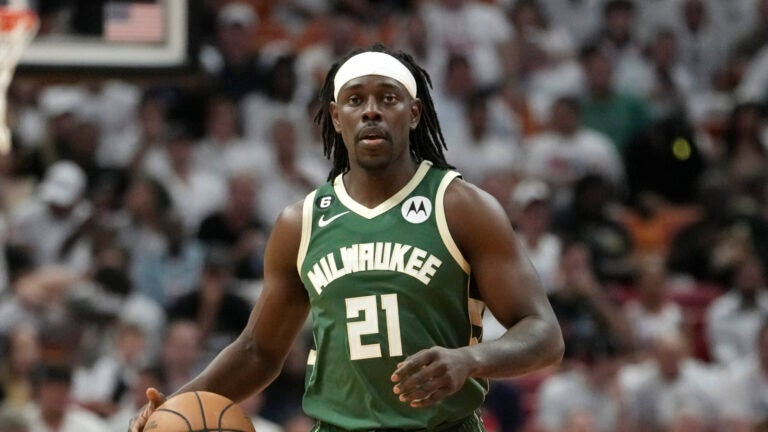 The Celtics paid a steep price in order to bring in All-Star guard Jrue Holiday just ahead of training camp, dealing Malcolm Brogdon, Robert Williams, and two first-round picks in order to pry the guard out of Portland.
But sending such a package of picks and players to the Trail Blazers was the price of doing business for Brad Stevens — not only in order to acquire one of the best perimeter defenders in the NBA, but also to keep veteran point guard away from other contenders across the NBA.
ESPN.com's Brian Windhorst echoed such a sentiment during the latest episode of his Hoop Collective podcast, noting that Boston managed to outbid both the Heat and Clippers in order to acquire Holiday from Portland.
"I'm not sure exactly where are the offers were at the end for the Blazers before they decided on the Celtics' offer, but based on my conversations, my feel was there was at least three teams who were making significant bids." Windhorst said. "The reason it was three and the teams I really think were there in the end were the Celtics, Heat and the Clippers.
"The reason I think those three teams were there because I think those were the three teams Jrue Holiday was really focused on at some point being able to sign a longer term contract for. And that message kind of went out in recent days. Other teams made offers but it was sort of a three-team, aggressive race at the end. Only the Blazers know exactly what the offers were."
Even though both the Clippers and Heat both had trade chips available to make a push for Holiday, Boston's willingness to include an impact frontcourt player in Williams — along with a cupboard of available draft capital — gave Boston the inside edge.
"I think we all became a little bit more inquisitive, or wondering if Portland was going to end up getting somebody that they would then move on from as a result of moving Dame," Brad Stevens said at Celtics Media Day on Monday. "And so we were monitoring it like the rest of the league.
"To be candid, we knew kind of the numbers that had the match, so you had had a list of guys that might be in those type of deals that you might be interested in, so you have to stay flexible and ready and all that. You know, I think that when it became Jrue was like, it's never ideal timing right before training camp. But at the same time, this is a guy that you want on your team whenever you can get him."
Despite the cost required to bring Holiday aboard, Boston should be bolstered by another defensive-minded guard who played a key role in the Bucks' run to a championship in 2021.
"Jrue is fantastic," Jaylen Brown added on Monday. "Tremendous amount of respect for Jrue from somebody who he's guarded and I've had to guard. It's just he plays with a certain force that you could just feel. He's a super solid man and, just as a competitor, he's an assassin. So to be playing alongside [him], I think it'd be a tremendous honor."
Sign up for Celtics updates🏀
Get breaking news and analysis delivered to your inbox during basketball season.