Celtics
Why Jrue Holiday believes he'll be embraced by 'insane' Celtics fans
"I know this is a blue-collar town. They love people that work hard and they put their heart into it."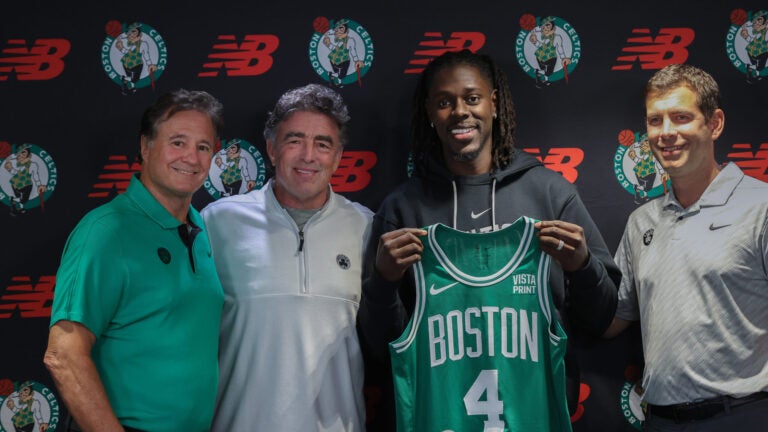 A lot has changed for Jrue Holiday in the span of a week.
In the lead-up to another NBA training camp, the All-Star guard was once again expected to be a key cog for a stout Bucks team looking to topple other contenders in the East like the Celtics.
A proven playmaker and stingy presence along the perimeter, Holiday was often the tenacious first line of defense for a Milwaukee team that has scratched and clawed against Jayson Tatum, Jaylen Brown, and other Boston stars over the last few years.
Given years of those postseason bouts against Boston — coupled with his own predisposed sentiment surrounding the Celtics as a homegrown Lakers fan from L.A. — Holiday knows full well of the intensity that tends to spill out from the TD Garden seats when the Celtics hold court.
And that same passion is why Holiday believes Boston is the perfect spot for him as he tries to chase after that elusive second championship.
"They're a bit crazy. They get rowdy," Holiday said of Celtics fans during his introductory press conference in Boston on Wednesday evening. "They get in your face. Definitely one of the best sixth men in the league, if not the best. I love the aggression. I love the environment.
"I think they care more about hard work on defense and getting loose balls and stuff like that over maybe windmill dunks and things of that nature. But again, that's the type of guy I am. I'm ten toes to the ground and I'm gonna push and grind as hard as I can. So the fans are literally insane and I'm proud to be a part of that coming into this year."
Holiday described the last week as a "whirlwind", with the veteran guard dealt from the Bucks to the Trail Blazers in a blockbuster swap featuring Damian Lillard — only to land with another contender in Boston just a few days later.
Boston paid a premium to add Holiday to its roster, parting ways with Rob Williams, Malcolm Brogdon, and two first-round picks to facilitate the deal with Portland.
But alongside an already stout roster featuring Tatum, Brown, and Kristaps Porzingis, Holiday should bring stout defensive play, steady playmaking and the veteran mettle gained through a title run with the Bucks in 2021.
"You just look at the resume, right? You look at the history that this place has had," Holiday said. "You look at the organization and everything that I've always heard about it. You look at how competitive they've been in the last five, six years and even before that — even when I was in Philly, I went to a Game 7 with Boston.
"[Rajon] Rondo hit two threes to go to the conference championship. So ever since I've been into the league and before that, this has been a championship-caliber organization. So it was a very easy decision that this would be one of the places that I would have loved to come to. We also lost to you guys in seven games not too long ago. So I think being a part of this type of organization and this group is something that I really wanted to be part of."
With Holiday in place, the Celtics boast arguably the most talented six-man grouping in the NBA, with either Derrick White or Al Horford pushed to a reserve role.
But regardless of whatever individual contributions Holiday achieves in his first season in Boston, those fall far below the greater goal that he hopes to accomplish — even if his former team in Milwaukee might be standing in the way.
"That's the reason why I play, is to win. I thought I had a chance of that in Milwaukee," Holiday said. "It happened. Now I have this second chance. Winning is the most important thing to me. But going to play against Milwaukee? It should be fun."
Holiday added: "I know this is a blue-collar town. They love people that work hard and they put their heart into it. And that's just the type of person that I am. Every time I step onto the court, I give you my everything."
Sign up for Celtics updates🏀
Get breaking news and analysis delivered to your inbox during basketball season.