Celtics
'You can't just have a fastball': What Joe Mazzulla said of the Celtics' lineup, big man situations ahead of preseason opener
It appears that the Celtics will have a soft opening for their regular-season rotation in Sunday's preseason opener against the 76ers.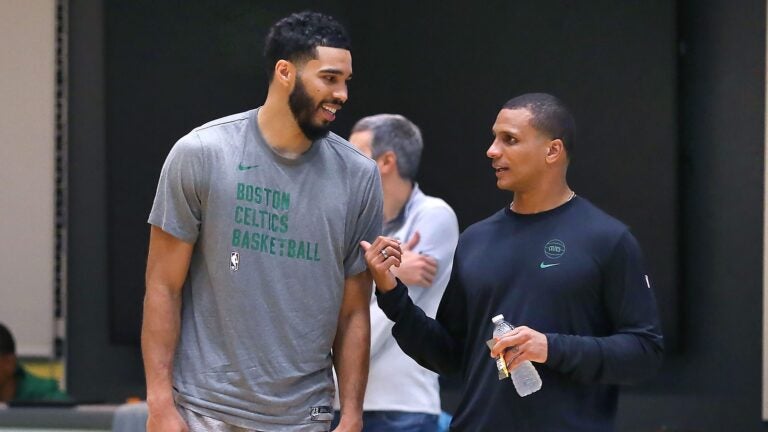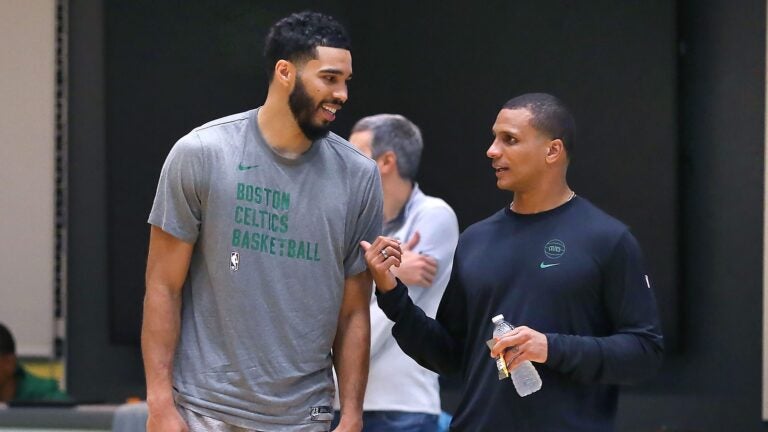 The Celtics open up the preseason on Sunday when they take on the 76ers, and it appears that we might get a glimpse as to how they might look for the 2023-24 regular season.
Celtics coach Joe Mazzulla is anticipating everyone to be available for Sunday's game, but noted that the key players will only get "light minutes," he told reporters on Saturday. That includes the newly-acquired Jrue Holiday, who joined the Celtics earlier this week, and Kristaps Porzingis, who was Boston's biggest acquisition over the summer.
Following the acquisitions of Holiday and Porzingis, the Celtics' starting lineup situation doesn't seem to be totally clear. Both Porzingis and Holiday are locks to be in the starting lineup considering what the Celtics gave up to get them while Jayson Tatum and Jaylen Brown have been mainstays in Boston's starting five over the last several seasons.
So, the final spot in the starting lineup likely comes down to Derrick White and Al Horford. White started most of the Celtics' games in the regular season last year (70 of 82) and appeared to be the team's starting point guard after the team traded Marcus Smart. Meanwhile, Horford started in every game he played in last season.
Mazzulla didn't tip his hand on what his starting five might look like, jokingly telling reporters that he "was considering starting someone from off the bench tomorrow just to throw you guys off" for Sunday's game. But Mazzulla said he thinks the Celtics have "eight or nine starters on this team."
What Mazzulla wants though is to have flexibility in both his starting lineup and his closing five, seemingly implying that he'll be mixing things around throughout the year.
"Well, I think it does," Mazzulla told reporters when asked if flexibility in the closing lineup is as important as it is with the starting lineup. "I think that's an area, right? Matchups, second night of back-to-backs, are we winning or are we losing? Do we need a certain lineup out there because we have to score at the end of the game or do we need a lineup out there because we have to just get stops at the end of the game, and our offense will take care of itself?
"I think the one thing we learned is, you can't just have a fastball and I think some of the lineups we can throw out there at certain times will give us curveballs that we need when it matters most."
There is one thing that appears to be settled though for the Celtics entering the season. Boston gave up Robert Williams as part of the trade for Holiday, leaving it with questions about its big man depth.
Mazzulla already knows who is going to be the Celtics' top backup big behind Porzingis and Horford.
"It starts with Luke," Mazzulla said, referencing Luke Kornet. "I thought Luke really did a great job last year. I think he's an underrated player & I don't think people realize how effective he is. He's a guy that's always in the right spot defensively [and] makes the right play."
"He can guard in our defensive system very well," Mazzulla added of Kornet.
The 7-foot-2 center got a good amount of playing time at the start of the 2022-23 regular season as Williams rehabbed from knee surgery. He averaged 4.6 points and 3.6 rebounds while playing 14 minutes per game off the bench in that stretch prior to Williams's return. The Celtics also outscored their opponents by 1.8 points on average during the time Kornet was on the court over those 24 games.
Kornet moved in-and-out of the Celtics rotation throughout the season as Williams dealt with another extended absence following the All-Star break and Horford received regular rest days. He finished the season scoring 3.8 points per game, averaging 2.9 rebounds as the Celtics outscored their opponents by 4.5 points per 100 possessions with him on the court.
Beyond Kornet, the Celtics don't have many backup options that fit the big man mold. They signed 6-foot-8 forward Oshae Brissett at the onset of the offseason and added 6-foot-9 forward Wenyan Gabriel to the roster following the Holiday trade, with the latter likely battling for a roster spot in training camp.
Sign up for Celtics updates🏀
Get breaking news and analysis delivered to your inbox during basketball season.