Celtics
The Celtics have a very deep training camp roster: 8 takeaways vs. 76ers
A wide range of Celtics players impressed in their preseason win over the Sixers on Wednesday.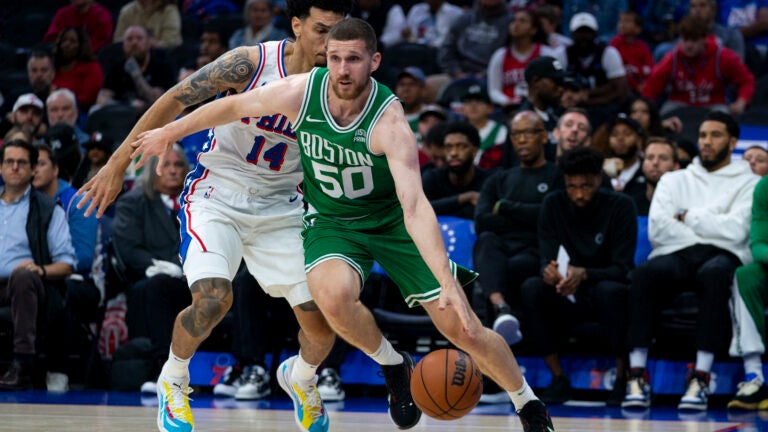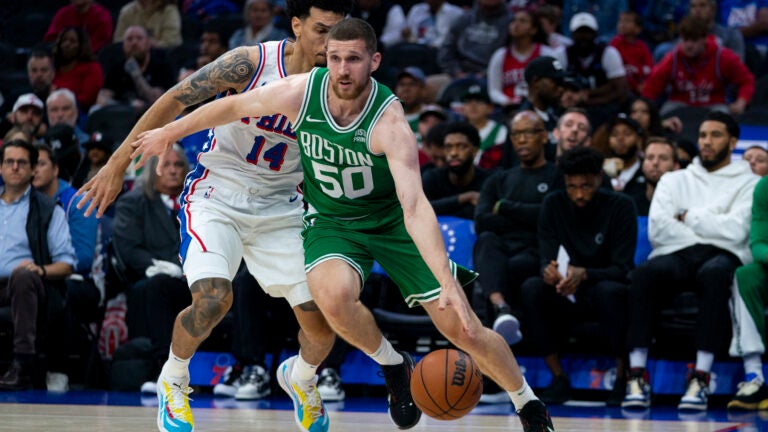 The Celtics (sans Jayson Tatum and Jaylen Brown) routed the 76ers (sans Joel Embiid and James Harden) on Wednesday, improving to 2-1 in the preseason with a 112-101 victory.
Here are the takeaways.
1. After taking off Monday's game against the Knicks, the Celtics' regulars (again, aside from Jayson Tatum or Jaylen Brown) returned the floor, and they looked much better in their second at-bat. Jrue Holiday turned the ball over twice, but he scored 11 points on tidy 5-for-7 shooting and dished out a pair of assists. Derrick White scored 11 points as well, dished out four pretty assists and — perhaps most notably — reminded everyone that he is the NBA's best shot-blocking guard with three. Kristaps Porzingis bullseye'd both of his 3-point attempts, including one from high above the top of the key, and finished with 11 points and five rebounds.
Porzingis, Holiday and White all sat out the second half, but the ball movement and production in the first half left a very encouraging impression, especially if Celtics fans are daydreaming about what it will look like with Tatum and Brown.
2. The Celtics were white-hot from 3-point range in the first half, finishing 12-for-24 from deep with 15 assists on their 23 total field goals. The ball zipped around the perimeter, and the Celtics' shooters continued to find a lot of open space against a stretched, stressed defense.
In the third quarter, the barrage continued — the Celtics opened up a double-digit lead that expanded going into the fourth. By the time the shooters cooled off, the damage was done and the Celtics cruised the rest of the way.
The Celtics have the personnel to create a lot of wide-open 3-pointers. On the nights when the 3-pointers fall, they should once again be essentially unstoppable on the offensive end.
3. Payton Pritchard looked great again, finishing with 17 points in 24 minutes despite a (relatively) quiet night from deep (3-for-9). The chatter coming out of camp about his preparation was clearly justified, and the only question remaining is how much he will actually play when the regular season rolls around, but he looks like a lock for the rotation.
4. Dalano Banton has had a nice preseason, but he committed a cardinal sin — something Joe Mazzulla takes very seriously — on the first play of the second half when he took too long to dive onto a loose ball. Mazzulla immediately sent a replacement to the scorers table and pulled Banton aside as he walked off the floor to berate him.
Banton didn't return to the floor until late in the third quarter. He finished the game scoreless in 16 minutes — a difficult outcome for a player who impressed in previous games.
5. Entering camp, Neemias Queta seemed like a long shot to earn consistent minutes given his relative inexperience and the sheer volume of talent the Celtics need to find time for on their roster.
From purely a numbers standpoint, that remains the case. Still, Queta has been one of the more promising players during the preseason — a big body who can move well, find open spaces around the rim, set big picks and (most importantly) rebound the ball on a team that might struggle on the glass throughout the season. On Wednesday, Queta was a reliable pick-and-roll target both for Payton Pritchard and JD Davison, and he finished with 10 points and three boards in just eight minutes.
Luke Kornet is established within the organization, and Wenyen Gabriel has some experience as a hustling big man at the NBA level, but during preseason play, Queta has been the most promising center outside of Porzingis and Horford.
6. Once again, Svi Mykhailiuk looked like a player the Celtics could use on the full-time roster, and at this point, he seems very likely to make the cut. He dished out a few nice passes, got to the rim, knocked down a couple of tough mid-range jumpers, and went 3-for-4 from deep en route to 15 points.
Sam Hauser caught fire as well from beyond the arc and dropped 15 points as well, burying four of his nine 3-point attempts — the kind of sky-scraping parabolas that made him one of the most dangerous bench players of October and November last year.
The Celtics find themselves in a nice position going into the season with their back-up wings — several potential contributors have shown flashes during the preseason, with a range of skill sets for different situations.
This training camp roster is very deep. Whatever cuts the Celtics are forced to make won't be easy.
7. We remain relatively high on JD Davison's basketball future, whether he plays for the Celtics or another team down the line. Davison has great timing as a passer — creative, patient, and constantly aware coming out of the pick-and-roll. His athleticism makes him dangerous when he explodes off the screen, and his strength makes him difficult to strip.
Davison's shooting is still his swing skill, and it's unclear whether he has improved in that regard this offseason — he badly missed a 3-pointer and a mid-range jumper in the fourth quarter on Wednesday. It's also difficult to find work as a point guard in the NBA — there are a ton of excellent players already employed at that position. The Celtics have White, Holiday and Pritchard all ahead of Davidson at point guard alone and little time or space for development.
Still, Davison is hanging around — racking up assists in preseason, Summer League and G-League games. He's got something, whether it winds up being enough to secure a roster spot down the line or not. Here's hoping he can find a 3-point jumper eventually.
8. After a truly insane start to their preseason slate — again, we cannot stress enough how unnecessary it was to play three preseason games in four nights — the Celtics now have six days off. They return on Tuesday to take on the Knicks in their penultimate tune up before the regular season begins on Oct. 25.
Sign up for Celtics updates🏀
Get breaking news and analysis delivered to your inbox during basketball season.