Celtics
Here's where ESPN ranked Celtics players on their Top 100 list
Four Celtics players were represented in ESPN's annual player rankings.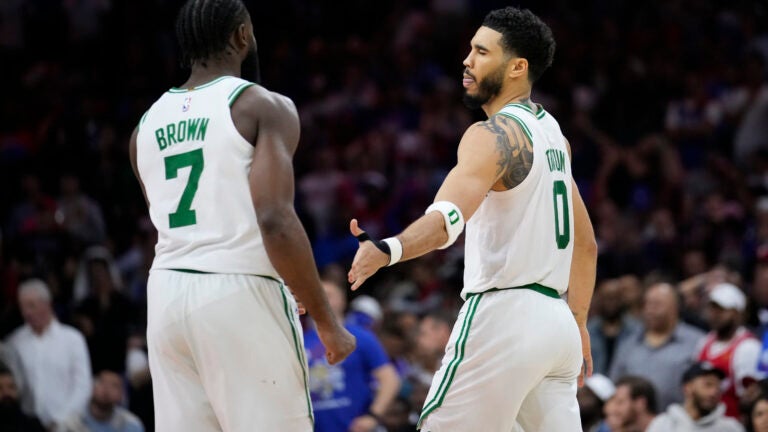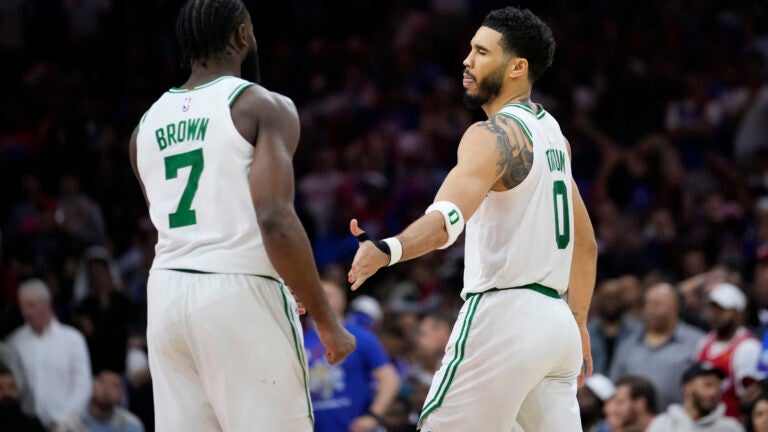 The Boston Celtics have a roster full of talent, according to experts.
ESPN finalized its annual ranking of the 100 best players in the NBA on Monday. The Celtics are very well-represented on this year's list, with four of their players making the cut.
The highest-ranked Celtic on this list is, unsurprisingly, Jayson Tatum. ESPN tabbed Tatum as the sixth-best player in the NBA, ahead of players such as LeBron James, Kevin Durant, and Anthony Davis.
"Tatum continues to develop into one of the most well-rounded wing players in the league," ESPN's Tim Bontemps wrote. "He eclipsed the 30 points per game mark for the first time in his career, did a much better job of getting to the foul line and continues to be a sound defensive player, making him precisely the kind of two-way wing every NBA team would love to have."
Tatum has received plenty of praise going into this season. He was voted as the league's top small forward in the NBA's general manager survey, and he's expected to contend for the league's Most Valuable Player award this season. One of the few things experts question about Tatum is his ability to lead his team to an NBA championship, which is the one thing holding back from ranking higher.
"If [the Celtics] can break through and win a title after years of late-postseason oustings, Bontemps wrote, "Tatum is likely a lock for the top five on this list next year."
But Tatum won't have to lead this roster alone. He'll be joined by Jaylen Brown, who ESPN ranked 19th on their list. He's ranked higher than former All-NBA members Karl-Anthony Towns and Kawhi Leonard, and would likely be higher if his 3-point shooting numbers reverted to what were two years ago.
"If [Brown] can get back to around 40%," Bontemps wrote, "It would do a ton for his efficiency and make an already potent Celtics offense even more difficult to stop."
Regardless of his shooting numbers, Brown is one of the Celtics' most important players. He recently signed a five-year $304 million supermax extension — the largest contract in NBA history — and posted career-highs in points per game (26.6) and field goal percentage (49.1%) last season en route to his first-ever All-NBA teams. Bontemps wrote that those achievements earned Brown a Top-20 spot on ESPN's list.
Not too far behind Brown is 26th-ranked Jrue Holiday, who was recently acquired in a trade that sent Robert Williams III, Malcolm Brogdon and picks to Portland. Even though he's a new face at TD Garden, experts believe that he'll fit right in next to Boston's two stars.
"Holiday slots right into the point guard spot occupied by Marcus Smart for years and should be a strong complement next to Jayson Tatum and Jaylen Brown on both sides of the ball," ESPN's Jamal Collier wrote.
Holiday's achievements as a member of the Milwaukee Bucks made him a Top-30 player to ESPN. His reputation as one of basketball's best perimeter defenders only grew throughout last season, and he displayed real talent on the other side of the court as well.
"Holiday remained a steady two-way presence in 2022-23, emerging as Milwaukee's No. 2 option with Khris Middleton hampered by injuries, while remaining one of the league's best perimeter defenders," Collier wrote.
The Celtics' other major trade acquisition of the offseason, Kristaps Porzingis, came in at number 62 on ESPN's list. Porzingis' arrival fundamentally changes the way the Celtics play basketball, and the hope of that change paying off appears to be why Boston gambled to get him by trading away the fan-favorite Smart.
"There have been few more fascinating trades in recent memory than the Porzingis-Marcus Smart swap this summer," Bontemps wrote, "A move that completely remakes the identity of the Celtics, who have more playoff wins than any team but the Golden State Warriors since the start of the 2016-17 season."
Porzingis will be judged on how well he handles the bright lights of Boston, as well as the playoff games that many people expect the Celtics to play. He will have an important role on a team contending for a championship this season, which will be tough for a player who has very little playoff experience and hasn't made the tournament since 2021.
"How will [Porzingis] handle heightened expectations?" Bontemps wrote. "Porzingis, who only has 10 playoff games in his entire career, will now be judged on how he performs next spring."
Despite how many Celtics made the list, one name appears to be missing. Derrick White has been a key player in Boston's postseason success over the past two seasons, which is partially why ESPN's Kevin Pelton labeled White's snub as "the most glaring omission from the Top 100."
"White had a case as the most important player on last season's Celtics outside of stars Jaylen Brown and Jayson Tatum," Pelton wrote.
The Celtics still have multiple players who cracked ESPN's list, regardless of who didn't. They have a deep roster of talented players who will certainly help them in their quest to raise Banner 18.
Get the latest Boston sports news
Receive updates on your favorite Boston teams, straight from our newsroom to your inbox.