Celtics
Jeff Van Gundy added to the Celtics' staff as a senior consultant
Van Gundy was a head coach in the NBA for over a decade prior to becoming a broadcaster for the last 16 seasons.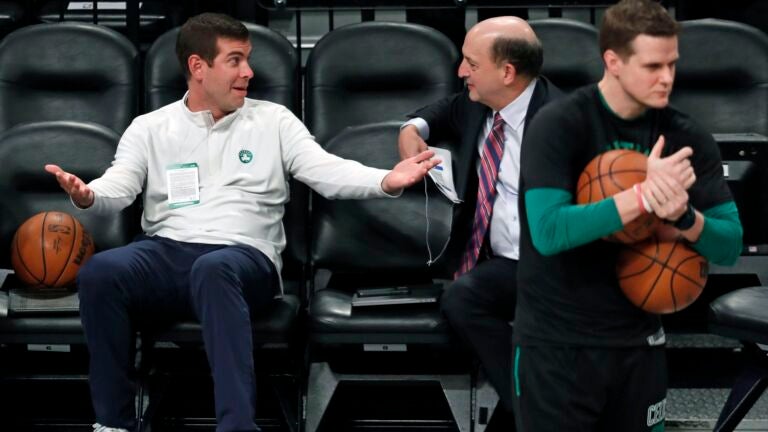 The Celtics have hired another veteran coach to their staff.
Jeff Van Gundy has been hired by the team as a senior consultant. The news of Van Gundy's hiring was first discovered on social media Saturday morning, with Van Gundy being listed as a senior consultant on the Celtics' website.
"Awesome," Celtics coach Joe Mazzulla told reporters of the team's hiring of Van Gundy on Saturday. "Any time you get to add like high character, high level, professional people, I think it's a no-brainer and so fortunate enough that he's here, not just for the coaching staff, but for everybody.
"It's good to get a guy who hasn't been here before that can kind of have an unbiased opinion as to where he thinks things are and where they need to go. And so he's kind of like a fresh set of eyes … he's looking at it from an unbiased position."
Van Gundy won't be on the Celtics' bench during games, like other coaches. Instead, he'll help work in the basketball operations department for the Celtics, which includes working with the Maine Celtics.
While the Celtics' addition of Van Gundy appeared to come out of the blue with the preseason underway, Boston was linked as being a possible suitor for the long-time coach over the offseason. The Celtics were one of at least three teams that spoke with Van Gundy about adding him to their coaching staff in some capacity, Sports Illustrated's Chris Mannix reported in early July.
Even though he has a long history working as a coach, many NBA fans likely know Van Gundy from his days as a broadcaster. He served on ESPN's lead NBA broadcast team for the last 16 seasons, calling the NBA Finals each year before he was a part of the company's mass layoffs in June.
Prior to joining ESPN, Van Gundy served as the head coach of the Knicks and Rockets. He had success in both stops. He helped New York reach the NBA Finals in 1999 as a No. 8 seed and went 248-172 over his seven seasons as coach before resigning during the 2001-02 season. He joined the Rockets in 2003, recording winning seasons in three of his four years in Houston before getting fired.
Van Gundy wasn't entirely away from coaching though during his time as a broadcaster. He was the head coach of the United States men's national basketball team at the 2017 FIBA AmeriCup Tournament and for the qualifiers for the 2019 FIBA World Cup. Van Gundy also served as an assistant for the national team in the 2019 FIBA World Cup and the 2020 Summer Olympics, coaching Jayson Tatum, Jaylen Brown, Derrick White, and Jrue Holiday during those tournaments.
The Celtics remade their coaching staff over the offseason after several assistants departed to either re-join Ime Udoka (who now coaches the Rockets) or for jobs elsewhere. Joe Mazzulla and the team hired Charles Lee and Sam Cassell, who served as the Bucks and 76ers' lead assistants in recent years, respectively. They also added a pair of younger, former players on the staff in Phil Pressey and Amile Jefferson to the staff.
Sign up for Celtics updates🏀
Get breaking news and analysis delivered to your inbox during basketball season.