Celtics
'Everybody is willing to sacrifice for a bigger goal': Kristaps Porzingis and Celtics aren't worried about individual stats
The Celtics loaded their roster with talent, but sharing the ball won't be an issue according to Porzingis.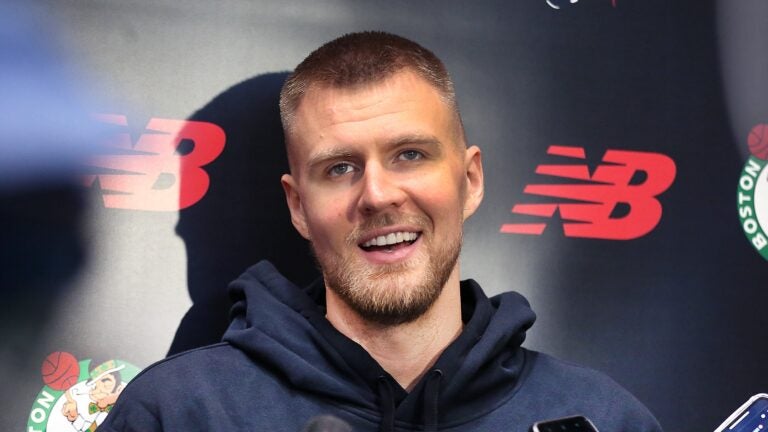 No matter how many stars you have on the court, there's still only one basketball. Kristaps Porzingis and the Celtics know that.
Heading into 2023-24, they aren't worried about their stat lines at the end of the night. Winning is the priority, and this star-studded Boston team wants to win a championship together.
During an interview with reporters on Saturday, the Celtics' new big-man Porzingis kept repeating one word while addressing Boston's talent: sacrifice.
"That's the thing about being on a good team, everybody has to sacrifice a little bit," Porzingis said. "That's what you can see with this group. Everybody is willing to sacrifice for a bigger goal."
The Celtics have four players ranked in ESPN's top-100 players in the NBA, including three in the top 30. Jayson Tatum, Jaylen Brown, Jrue Holiday and Porzingis will be spending a lot of time on the court together this season. It's unlikely all four will maintain their individual statistics now that they're on the same team.
When Kevin Durant joined the Golden State Warriors to team up with Steph Curry and Klay Thompson, both he and Curry saw dips in their point totals. Durant averaged 28.2 points per game his final year with the Oklahoma City Thunder, and dropped to 25.1 the following season with Golden State. Curry's last season before Durant, he averaged 30.1 points per game and that dropped to 25.3 the next year.
At the same time, Curry and Durant won back-to-back NBA Championships in 2017 and 2018. Their individual sacrifices helped achieve team success. Twice.
It seems the Celtics want to emulate that model. Tatum and Brown have reached the finals once, but are still looking for the grand prize that's alluded them. Having Porzingis and Holiday may give them their best chance yet at the title. Stats aren't on their minds, a championship is.
"It's not that much of a sacrifice, at the end if you're winning, what are you sacrificing?," Porzingis said. "Your own stats for winning? That makes sense, I'll do that trade every day. … If all of our stats dip a little bit, or some stats dip a little bit, who cares? We're here to win."
Sign up for Celtics updates🏀
Get breaking news and analysis delivered to your inbox during basketball season.