Celtics
Sam Cassell has worked with Jayson Tatum during Celtics camp, but Joe Mazzulla hopes he helps out with everyone
"He's working with Jayson, we need him to have 1-on-1 conversations with Jaylen [Brown] and develop Jaylen."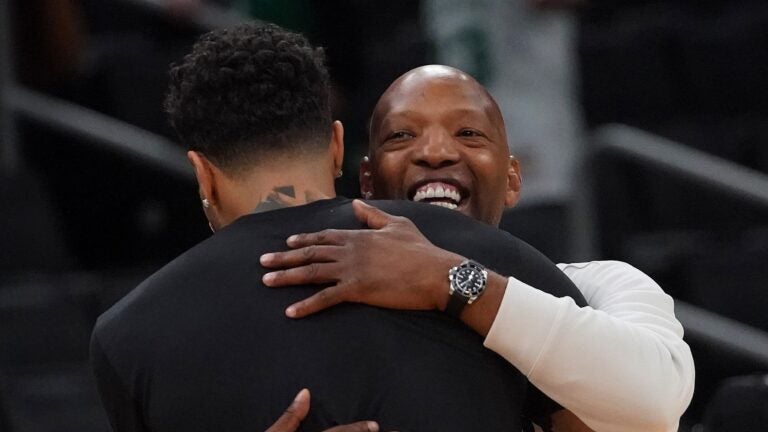 Jayson Tatum was already close to one of the new assistant coaches the Celtics hired over the offseason. It appears he's gotten close to another one.
The Celtics star has worked out with Sam Cassell following multiple practices during training camp. He also worked with Cassell during the pregame of the lone preseason game he's played up to this point.
As many assistant coaches in the NBA typically work 1-on-1 with a few players, Celtics coach Joe Mazzulla told reporters that pairing Cassell with Tatum was pretty simple.
"'Hey JT, do you wanna work with Sam?' I just asked him if that's what he wanted," Mazzulla said of how Tatum began working with Cassell.
But there's obviously a reason why Mazzulla and the Celtics opted to hire Cassell as they had to remake their coaching staff following the departure of Ime Udoka last season. Mazzulla shared that he got to observe Cassell's coaching ability ahead of Celtics games against the 76ers, whom Cassell worked for as an assistant over the last three seasons.
"Sam worked with [Tyrese] Maxey and they had the same shooting time as our guys, so I was able to observe what Sam was doing pregame with Maxey and some of the other players," Mazzulla said.
Cassell has often been credited with helping Maxey blossom into a 20-point per-game scorer. He worked closely with the guard after the team drafted him with the No. 21 overall pick in the 2020 NBA Draft, spending frequent time together during the season and in the offseason.
Cassell's work with Maxey is what initially caught Mazzulla's eyes. He became available to hire after the 76ers fired Doc Rivers after the Celtics defeated them in the Eastern Conference semifinals in May. Philadelphia opted to hire Nick Nurse to replace Rivers while Cassell, who has interviewed for head coaching jobs over the last few seasons, was skipped around in the coaching carousel.
So, Mazzulla inquired about hiring the former NBA star, who won a title with the Celtics as a player in 2008. He got a clear answer at the end of the process.
"During the hiring process, talking to Sam and Doc about what Doc relied on Sam for and what he was able to do, it just kind of made the most sense," Mazzulla said.
"It was very simple, 'If you don't hire him, someone else will,'" Mazzulla added on what Rivers told him. "Doc spoke very highly of him. It was a no-brainer. That was it."
Cassell's now a few weeks into his tenure as a Celtics coach. He worked with Tatum again following Saturday's practice, teaching the Celtics star forward how to operate in the post.
"Sam Cassell, it's always great to have a former player," Tatum told reporters of Cassell earlier in October. "He talks more than anybody I've ever met in my life. … But Sam's great. He's full of energy every day. He also has a ton of stories."
Tatum's not the only player Cassell's spent individual time with. He also worked with guard Jrue Holiday on post moves after a recent practice.
Mazzulla is hoping that Cassell can spend some time with each player on the roster, trusting his basketball knowledge to help the rest of the team.
"Sam's been through every situation in the game as well," Mazzulla said. "He's worked with players on the court and off the court. As much as he's working with Jayson, we need him to have 1-on-1 conversations with Jaylen [Brown] and develop Jaylen. Sam worked out with Dalano [Banton] yesterday. Sam's been around a long time. He's been relied upon by really good coaches to navigate the roster because of all of his experience.
"Yes, he's working with Tatum. But we really need him to navigate the roster, meet each individual guy, see where he's at, and then help them get to where they need to go."
Sign up for Celtics updates🏀
Get breaking news and analysis delivered to your inbox during basketball season.