Celtics
What Derrick White said about contract extension talks with Celtics
"If it happens, great. If not, I'm still excited for the season to be here."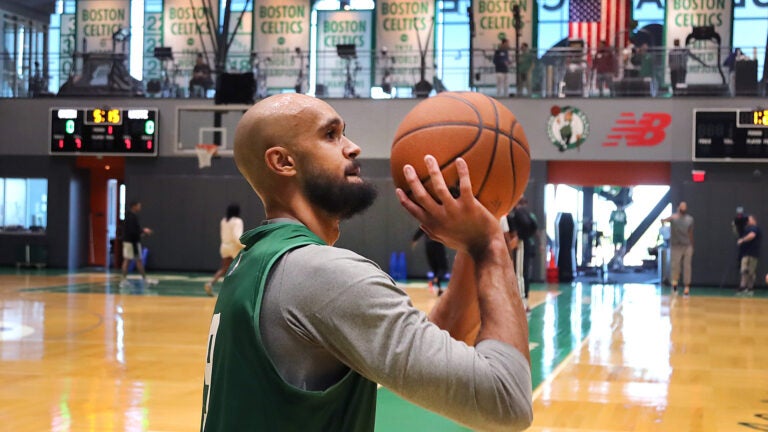 The Celtics have had a busy offseason, and that might be underselling it.
With Brad Stevens looking to get the Celtics over the hump in their pursuit of Banner 18, Boston swung a pair of blockbuster trades for All-Stars Jrue Holiday and Kristaps Porzingis.
The Celtics also handed star swingman Jaylen Brown the largest contract in NBA history by way of a five-year extension worth $304 million, along with a new four-year deal for guard Payton Pritchard last week.
But with the start of the 2023 NBA season now a little over a week away, Stevens and his staff may not be done when it comes to doling out new deals for key contributors on Boston's roster.
Even though Derrick White still has two years remaining on his current contract, Adam Himmelsbach of The Boston Globe reported on Sunday evening that extension talks between the guard and Boston are ongoing, with both parties having until 11:59 p.m. on Oct. 23 to agree to terms on a new deal.
On Tuesday, White was asked about his thoughts regarding a long-term fit with the Celtics.
"I love it here," White said at the Celtics' team facility at the Auerbach Center. "It's been great being here being a Celtic. That will never change whether I signed before the season or not. So, if it happens, great. If not, I'm still excited for the season to be here."
White, who is still playing under the four-year, $70 million extension he initially signed with the San Antonio Spurs, has established himself as a key cog in Joe Mazzula's rotation.
The 29-year-old guard averaged 12.4 points, 3.6 rebounds and 3.9 assists per game last season while also earning NBA All-Defensive Second Team honors.
Even though White was initially tabbed as Boston's starting point guard this season following Marcus Smart's trade to Memphis, that established role now likely belongs to Holiday following his arrival earlier this month.
Whether it be in the starting lineup or off the bench, White said that he doesn't care about where he slots in on Boston's depth chart.
"It's just kind of like last year, whatever we decide I'm with it," White said of starting for Boston. "Doesn't really change my role too much whether I start or come off the bench. As long as I'm there, I gotta do the things the team needs me to do to help us win. So, that doesn't really change."
For what it's worth, Mazzulla opted to start both Holiday and White during Boston's preseason game against the Knicks on Tuesday — with White getting the nod as the team's shooting guard and Brown slotted over as the team's small forward.
Sign up for Celtics updates🏀
Get breaking news and analysis delivered to your inbox during basketball season.