Celtics
Jayson Tatum details how Joe Mazzulla has changed Celtics culture in his second season
"Practice has been hard as [expletive], I ain't going to lie," said Tatum.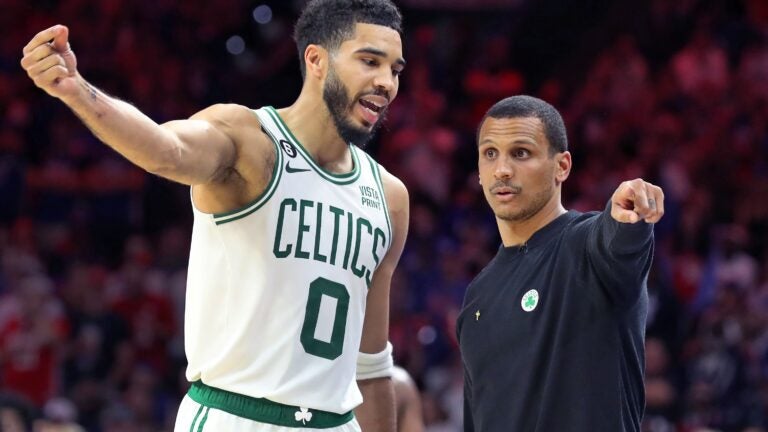 Joe Mazzulla is no longer a rookie coach. He seems more comfortable now as he approaches his second season with the team. He has a revamped staff. He had an offseason to prepare, which wasn't the case last season.
He's finding ways to make his mark on the team, and it's been noticeable to Celtics forward Jayson Tatum.
"I give Joe a lot of credit. I've seen the growth," Tatum said. "Not that I didn't think he did a great job last year, he just has more time to prepare. He was able to get a staff that he felt supported him in the best way, and he's helped change the culture in a lot of ways honestly."
"I feel like he's had a huge imprint on how how wants things to be, how he wants practice, how he wants the environment, the vibe," Tatum said. "We've all bought in, but Joe has done a great job of taking charge of doing things how he wants it to go. It's his team, he's the coach, and it's been really cool to see."
The Celtics have approached the offseason seriously, pushing each other as the team attempts to build chemistry after a flurry of offseason transactions.
"Practice has been hard as [expletive], I ain't going to lie" Tatum said. "We've been practicing, a couple two days, but it's been good. We've been working hard. The second unit has been pushing the first unit. We've had a lot of competitive days, so guys are excited. Guys are in good shape, guys have been working this offseason. There's just a freshness about this season."
On Tuesday night, the Celtics' first unit was Derrick White, Jrue Holiday, Jaylen Brown, Tatum, and Kristaps Porzingis.
The new additions seemed to fit in well together. The team scored 78 points during the first half and cruised to a 123-110 preseason win over the Knicks.
Porzingis scored 20 points, grabbed eight rebounds, and altered a number of shot attempts in the paint. Holiday scored 10 points and dished out four assists.
The Celtics are still finding their footing and trying out different lineups, Tatum said.
"It's been an adjustment period. At some point everybody is going to have to sacrifice," Tatum said. "Essentially we probably have six starters. You only can play five people, only five guys can finish a game. Between those six guys, any given night, somebody might come off the bench, somebody might not finish and it's on all of us to understand that whoever's night it is, it's for the better of the team. We really have to buy into that."
One thing that the hasn't changed much is the Celtics' offensive approach. They're still going to bomb away from 3-point range. They shot 52 3-pointers Tuesday night. They made 23 of them, shooting 44 percent from deep as a team.
"I feel good. It's been a great training camp so far," Tatum said. "Felt good to get back out there with the guys and finally compete against somebody else. I definitely missed that. And just trying to find a flow and a rhythm, trying out different lineups and things like that. Getting ready for next week, essentially."
Sign up for Celtics updates🏀
Get breaking news and analysis delivered to your inbox during basketball season.