Celtics
Here's what Kristaps Porzingis said about his defensive impact and chemistry with new teammates
"[If] I see an opportunity to maybe put some pressure on them defensively, I go for it."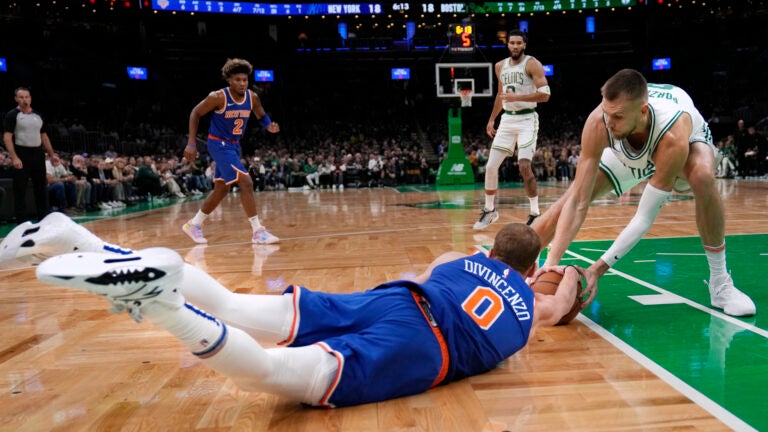 Miles McBride is very good at scoring around the basket. The New York Knicks' point guard is quick and agile enough to slice through opposing defenses and get buckets at the rim despite his six-foot-two stature.
The Knicks know how good of an attacker McBride is, and so they tried to get him a clean runway to the basket during the third quarter of Tuesday's game against the Celtics, as they've done multiple times prior. But Kristaps Porzingis saw that play coming. He dropped back from the top of the key to the basket, daring McBride to come any closer.
McBride accepted the challenge, sprinting to the rim and tossing the ball up at the hoop, only for Porzingis to swat the ball away.
These are the types of defensive plays Porzingis hustles for every game. And he would hustle even harder if that was what it took for the Celtics to get a stop.
"Every steal, every block, every tip-to-pass I can do for this team," Porzingis said after the game, "I will, and I will go 100 percent."
When Porzingis moved to Boston in the trade that sent Marcus Smart to Memphis this summer, he brought with him a reputation as one of the league's better players in drop coverage. Head coach Joe Mazzulla likes to play him that way, but he also allows Porzingis to play further away from the hoop as well by hedging and trapping opposing ball handlers.
"Joe has kind of given me a green light on defense," Porzingis said. "[If] I see an opportunity to maybe put some pressure on them defensively, I go for it."
Mazzulla couldn't have given that green light to a better defender during Tuesday's game. Porzingis ended Tuesday's game with two blocks, six defensive rebounds and many defensive stops. It was Porzingis' first dominant defensive game as a Celtic, and performances like Tuesday's are the standard that he and his coaches have set for him.
"That's what Joe and the coaching staff expect from me," Porzingis said.
To Porzingis, those numbers only matter as long as they help the Celtics. He doesn't believe his defense is more important than any of his teammates', and that good defense is nothing less than a team effort.
"I don't want to put too much emphasis on my defense or what I do, because we're a team," Porzingis said.
Porzingis has already developed a strong defensive chemistry with his new teammates, and that chemistry showed during the many times the Celtics worked together to shut down a play that New York attempted to run. With time, Porzingis expects the Celtics to only get better at getting those team stops.
"The more time we'll get together playing," Porzingis said, "The more we'll feel each other on the floor and the smoother we'll be."
There's been plenty of talk recently about some of the Celtics' standout defenders, including Jrue Holiday and Derrick White. But just as important on the defensive end is Porzingis, who proved how important he is at denying plays on Tuesday. He showed that he is a tough, talented and committed defender, traits he will bring to the court in every game he plays.
"I will try to bring the best version of myself offensively and defensively for this club," Porzingis said. "That's why I'm here."
Sign up for Celtics updates🏀
Get breaking news and analysis delivered to your inbox during basketball season.