Celtics
NBA scout explains why the Celtics will still miss Marcus Smart this season
"He is a guy that can get on them. Or at least he had the clout, the voice to tell them."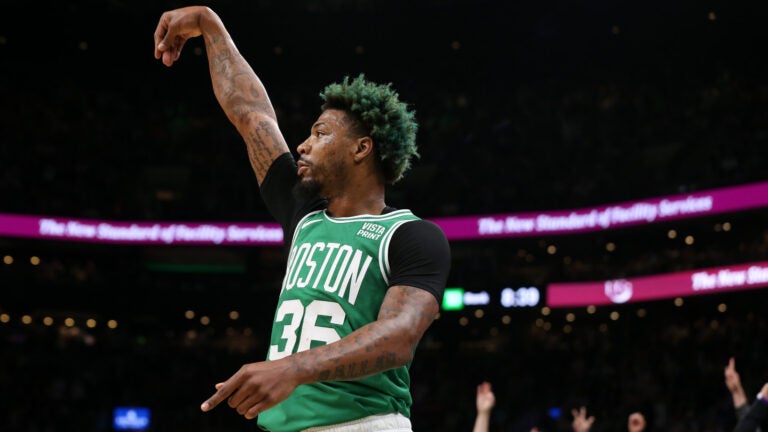 Brad Stevens was busy this offseason in his efforts to put the Celtics' roster over the top, swinging a pair of blockbuster deals to bring in two All-Star talents in Kristaps Porzingis and Jrue Holiday.
With the 7-foot-3 Porzinigis anchoring the frontcourt and Holiday expected to slot in as the team's starting point guard, Boston boasts arguably the most talented roster in the league — especially with Jayson Tatum, Jaylen Brown, Derrick White, and Al Horford still in place.
Of course, Stevens and the Celtics did have to part with multiple key pieces in order to both bring Porzingis/Holiday aboard and clear cap space — headlined by four lineup fixtures in Marcus Smart, Robert Williams, Malcolm Brogdon, and Grant Williams.
The case can certainly be made that the 2023-24 Celtics is the most imposing Boston roster assembled since the "Big 3" era of Paul Pierce, Kevin Garnett, and Ray Allen.
But one NBA scout believes that this current Celtics team still has some question marks, most of which are due to the loss of one of their leaders in Smart.
"I think Smart especially is a guy that holds some of those other guys accountable when maybe Jaylen is dribbling too much or not moving the ball or Jayson is doing the same thing," the anonymous scout told Chris Mannix of Sports Illustrated. "He is a guy that can get on them. Or at least he had the clout, the voice to tell them. I think they'll definitely miss that.
"And then, Smart makes all the crazy plays. When they beat Philly in Game 6, on that Tatum three, no one ever talked about how great of a pass it was from Smart. Those types of plays. And they get some of that with Derrick White, I guess, but I don't think it's to the same level."
Smart's defensive intensity and vocal presence might be missed in Boston's locker room this season. But with other veterans still in place like Horford, Holiday, Brown and Tatum, the Celtics should still have the means to hold each other accountable over the course of a long 82-game season and beyond.
"I'm never going to be Kevin Garnett," Tatum told Jeff Goodman of The Messenger last month of his leadership style. "As much as people want me to be, that's not who I am. The way I lead, the public may not ever see what I do."
"When I need to, I make sure my voice is heard and I do it in my own way. I'm not going to be out there jumping up and down screaming. That's just not my personality. As much as people want to talk about it and want me to be that, I'm not changing who I am. I lead in my own way. When I talk, everybody in that organization is going to listen. And whatever I say is always for the betterment of the team — and my teammates know that."
Sign up for Celtics updates🏀
Get breaking news and analysis delivered to your inbox during basketball season.
Newsletter Signup
Stay up to date on all the latest news from Boston.com