Celtics
Marcus Smart takes a subtle dig at Celtics while reflecting on trade to Grizzlies
"Another team's trash is another team's gold."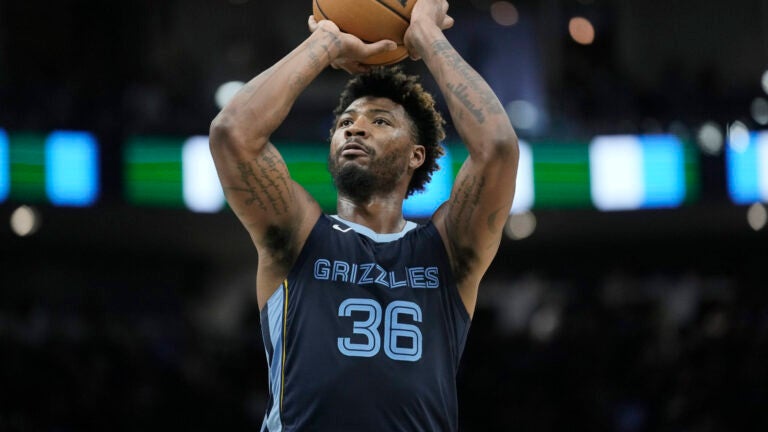 The Celtics' blockbuster deal struck in June that saw Boston acquire Kristaps Porzingis and ship Marcus Smart to Memphis surprised plenty across the basketball world — including Smart.
In the immediate aftermath of the trade, Smart reportedly expressed "complete shock." The veteran guard spent nine total seasons with the Celtics and was the team's longest-tenured player.
Now, four months after the trade, it seems as though Smart has settled into his new surroundings, and is sharing some candid thoughts about just how valued he was with the Celtics.
"You always want to be where you're wanted, and another team's trash is another team's gold. So I'm glad to be here," Smart told The Athletic's Jared Weiss in a recent interview. "I'm glad to be on an organization that wants me and sees me (have) great value. So I'm ecstatic and I'm ready to get going."
Despite the initial surprise of the deal, Smart did acknowledge to Weiss that he felt as though his days with Boston were eventually going to come to an end due to a looming cap crunch. He just didn't expect it to happen this past offseason.
"If I'm being quite frank, I knew I would be traded eventually," Smart told Weiss. "Just figured it would be the next season, just based off my contract and with the new CBA. We already knew that. But it was just the way it happened.
"I was told everything was good after asking multiple times. Like, 'I'm hearing (rumors), what's going on?' And they're like, 'No, you're good, you're good, you're good.' And then when I do hear about the trade, it's from Shams (Charania) on Twitter before I hear from the team."
Despite Smart's sentiments, Brad Stevens stressed earlier this summer that Boston didn't view the 2022 Defensive Player of the Year as an easily expendable asset — even if his exit ushered in an All-Star talent in the frontcourt in Porzingis.
"I told him when he got here, we were 25-57 the year before, and the greatest legacy that you can leave is it's better off because you were there," Stevens said of Smart's impact in June. "I think that everybody here feels that way."
Despite his ties to Boston, Smart has landed in a spot that should play to his strengths in Memphis. One of many contending clubs in the Western Conference, the Grizzlies should boast a stout defense with Smart joining a roster that also features the 2023 Defensive Player of the Year Jaren Jackson Jr.
Smart and the Grizzlies will face off against the Celtics for the first time on Nov. 19 in Memphis before the longtime Boston point guard makes his anticipated return to TD Garden on Feb. 4.
Sign up for Celtics updates🏀
Get breaking news and analysis delivered to your inbox during basketball season.