Celtics
6 pressing questions facing the Celtics entering the 2023-24 season
"There's a handful of teams each year that realistically can probably win the championship. And we're in that mix."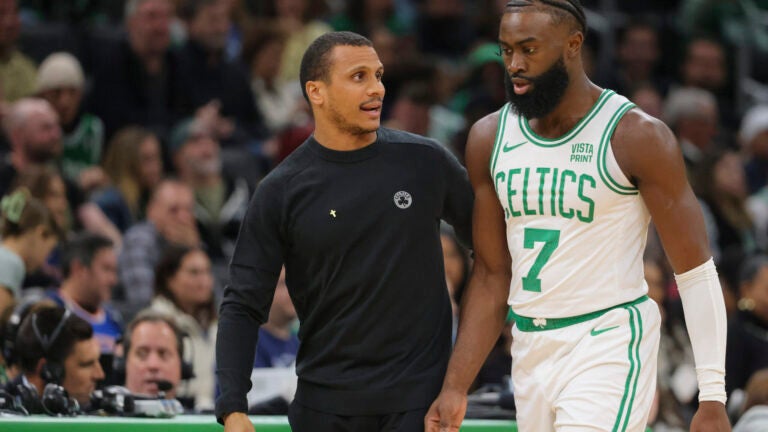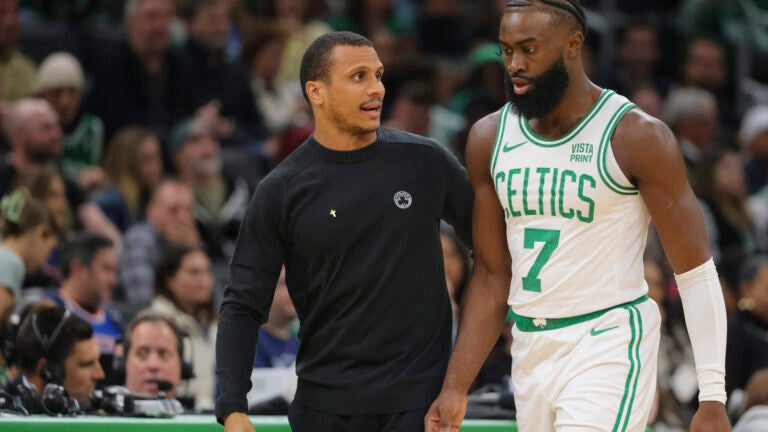 After coming up just a game short of a second-straight trip to the NBA Finals, a revamped Celtics roster is set to return to the court on Wednesday night to open the 2023-24 season.
It was a summer of change for Brad Stevens and the Celtics, who dealt lineup fixtures in Marcus Smart, Rob Williams, Malcolm Brogdon, and Grant Williams in order to bring in All-Star talents like Kristaps Porzingis and Jrue Holiday.
But is it enough to put an already talented team led by Jayson Tatum and Jaylen Brown over the top in another competitive field across the league?
Here are six questions that might determine if Boston will eventually lift Banner 18 to the rafters next fall.
1. Can Porzingis, Holiday elevate an already stout C's lineup?
At this point, we know what to expect from a pair of All-NBA talents in Tatum and Brown. Both are just now entering their respective primes, and should have even more to give after coming up just short last May against the Heat.
With Tatum and Brown leading the way, the Celtics already boast a floor of a top-flight contender in the Eastern Conference. But Boston's ceiling as an odds-on title favorite and on-court juggernaut will be determined by how Kristaps Porzingis and Jrue Holiday lift up an already stacked personnel group.
Boston paid a premium to pry both Porzingis and Holiday off their previous clubs, with Stevens hoping that Porzingis's versatile offensive skillset and Holiday's blend of defensive intensity and veteran mettle would complement the talents already present on his team.
Both provided promising returns during preseason action.
With Tatum and Brown commanding most of the attention of opposing defenses, Porzingis should feast thanks to his shooting ability and post play as a 7-foot-3 big man. He connected on 50 percent of his 3-point attempts during preseason play while averaging 15.5 points in just 23.1 minutes per game.
Porzingis could be the missing piece of a new "Big 3" configuration in Boston after averaging 23.2 points, 8.4 rebounds and 1.5 blocks per game last season with the Wizards.
Last year, Porzingis ranked first in the NBA in points per post-up at 1.29. The next three players? Nikola Jokic (1.26), Luka Doncic (1.15), and Joel Embiid (1.10).
But beyond his varied arsenal of moves on offense, Porzingis should help shore up Boston's pick-and-roll defense while clamping down the paint.
As noted by Kevin O'Connor of The Ringer back in June, Porzingis ranked fourth in the league in points allowed per pick-and-roll at 0.93. Only Anthony Davis (0.91), Steven Adams (0.92), and Giannis Antetokounmpo (0.92) ranked higher in that same category.
Holiday, a key cog on the Bucks' title-winning squad in 2021, is expected to slot in as Boston's starting point guard after landing with the Celtics earlier this month.
The two-time All-Star is still a productive playmaker after averaging 19.3 points, 5.1 rebounds and 7.4 assists per game last season in Milwaukee.
But Holiday's presence might be felt the most on the defensive end of the ball. With five All-Defensive Team nods on his resume, Holiday should form arguably the best defensive backcourt in the NBA alongside Derrick White.
The Celtics will miss a veteran leader like Smart, due to both his defensive prowess and his vocal presence both on and off the court — especially when Boston inevitably hits a few bumps in the road.
But Holiday should be able to fill some of that void moving forward.
"I love the Jrue Holiday pickup," Rajon Rondo said of Holiday on Monday at the Auerbach Center. "He's one of my favorite teammates I've ever played with. I'm excited for you guys to see what he can bring each night.
"Just his mentality, his mindset, his professional approach to the game. And what he brings out there on the court. He brings a lot of the intangibles, he's a very unselfish guy and he's fun to be around. And he's a winner. He's a competitor."
2. Can Boston buy in defensively?
The Celtics are going to score a lot this season.
With Tatum and Brown leading the charge and Porzingis adding even more 3-point shooting and scoring in the post, the Celtics should be able to carve out even the stoutest opposing defenses, night in and night out.
But Boston's lapses down the other end of the court were arguably the most glaring flaw on a C's squad that came up just short against the Heat in the Eastern Conference Finals last season. That will need to improve if Boston hopes to assert itself as the top dog in the Eastern Conference.
Under Joe Mazzulla, the Celtics opted to live and die by the 3-pointer last season. Boston ranked second behind only Steph Curry and the Golden State Warriors in 3-point attempts per game (42.6) during the regular season. Only the Kings had a higher offensive rating in the league in 2022-23.
But building an offense so reliant on connecting on shots from beyond the arc opens the door for inconsistent scoring outputs and some untimely regression, as was the case at times against Miami in the playoffs.
On the nights where the 3-pointers aren't falling, Boston needs to have the defensive fortitude required to grind out wins in games that turn into rock fights — especially once the postseason rolls around.
"I think this was a team in the last year that prided themselves on defense. I think defense was our calling card," Brogdon said after last season's Game 7 defeat against Miami. "This year offense was our calling card. I don't think you win championships with a high — with a better offense than you have a defense. I think pretty much we were the best offensive team in the league, for sure.
"Depth, you can talk about the ways we can score, our versatility on offense, really 1 through 7, 1 through 8. But defensively, I thought we had the versatility, I thought we have the talent defensively. But in any given night we would let go of the rope and have a lot of breakdowns on that end."
Even without Smart in place, the Celtics have the personnel in place to be a stingy defensive squad. Not only will Holiday and White make life miserable in the backcourt, but big men like Porzingis and Al Horford can clamp down the paint.
3. Can they remain healthy?
Granted, this is not a question reserved just for the Celtics this season.
If any top-flight roster wants to orchestrate a playoff run that carries into June, it's going to have to avoid the sting of the injury bug.
For the Celtics in particular, emphasis will need to be paid to a frontcourt that serves as a key cog in the team's success — but also carries plenty of concern in terms of injury history and age.
Porzingis had his best season in years in 2022-23 with the Wizards, but it was also a bit of an outlier for the 28-year-old big man. Even though he played in 65 games with Washington last season, that marked the most games he's logged in a single season since his 2016-17 campaign with the Knicks.
Along with missing the entire 2018-19 season due to a torn ACL, Porzingis has missed 25 games or more in four of the seven NBA seasons he has played.
Beyond Porzingis, the Celtics will also need to keep tabs on the status of Horford, who turned 37 years old back in June.
The veteran played a key role for Boston last season, especially thanks to a surge in his 3-point shooting (44.6%). But those numbers tailed off once the calendar flipped to the postseason, with Horford only sinking 29.8% of his shots from deep.
Regular maintenance and monitoring will be needed to keep Boston's big men healthy for the playoff push.
4. What will Joe Mazzulla's lineup be?
Mazzulla and the rest of Boston's coaching staff have a good problem on their hands when it comes to sorting out the best five-man configuration on the Celtics roster.
If you ask Mazzulla, Boston may not necessarily have a tried-and-true starting lineup, opting instead to augment their grouping depending on matchups and several other factors.
"I guarantee you by like 20 or 30 games you won't be asking anymore, because we'll have so many different [starting lineups]," Mazzulla told reporters on Sunday, adding: "Just what's the strength of our roster? And the strength of our roster is to kind of go back and forth between big and small.
"A lot of this lineup stuff will be what [the opposing] second unit does also. I don't know if teams are going to do what they've done in the preseason, but you saw a little bit of double big in the second unit [against the Knicks], and you didn't see as much of that from New York last year. So that's something that we'll have to consider."
Out of the gate, a five-man grouping of Holiday-White-Brown-Tatum-Porzingis offers arguably the highest ceiling — especially if it allows Horford to come off the bench and lighten his workload over the grind of an 82-game season.
5. Do the Celtics have enough depth?
The case can certainly be made that the Celtics have the best six-man unit at the top of the depth chart among all NBA teams.
But every title contender needs multiple contributors off the bench willing to pull on the rope if they want to achieve success in the spring.
Beyond Horford in a potential bench spot, the Celtics will need Payton Pritchard to serve as a spark-plug scorer when needed — especially after the 25-yard guard inked a new four-year extension earlier this month.
Sam Hauser and Svi Mykhailiuk will be asked to add more 3-point shooting, while Oshae Brissett and Lamar Stevens might be called on to bolster some of the defensive fortitude lost after Grant Williams landed with Dallas.
Jordan Walsh has the makings of a high-motor contributor, although it remains to be seen just how often Mazzulla calls on the 19-year-old swingman this year.
Given Porzingis's injury history and Horford's age, the Celtics will also need big men like Luke Kornet and Neemias Queta to earn regular rotation minutes.
Boston has plenty of new faces on its bench. But if this new crew can hold their own and support a stacked starting lineup, this Celtics team will feature very few flaws up and down the depth chart.
6. Can Boston shoulder championship expectations?
Celtics owner Wyc Grousbeck might have said it best back on Oct. 4.
"I just want to say, there was just a real feeling of optimism and also, I think, annoyance," Grosbeck said. "We've been in what? Five conference finals in the last six or seven years? We've been knocking on the door. We've been in the Finals, leading the Finals and lost."
"Last year we were down 0-3, came back and lost the Game 7. It couldn't be more frustrating," Grousbeck continued. "I think out of annoyance, and regret comes 'what can we do to make it better?' That's the feeling I'm getting from the guys. I don't want to speak for the guys, that's my personal feeling about myself as well because I blame myself when we don't win."
Grousbeck, who has already offered up comparisons between this current roster and Boston's 2008 championship squad, has echoed a sentiment shared by many about the 2023-24 Celtics.
It's Banner 18 or bust.
That means plenty of pressure on stars like Tatum and Co. to deliver after coming up just short these last few playoff runs.
"Is it pressure? Yeah," Tatum said earlier this month. "There's a handful of teams each year that realistically can probably win the championship. And we're in that mix. That's what we're aiming for. And that's where we should be aiming."
The talent is there. This roster is battle-tested with years of experience in the postseason.
The last test is simply getting over the hump.
It's an undertaking easier said than done.
Sign up for Celtics updates🏀
Get breaking news and analysis delivered to your inbox during basketball season.