Celtics
Jayson Tatum, Kristaps Porzingis impress in debut: 10 takeaways as Celtics beat Knicks
Porzingis set a Celtics record, while Tatum looks ready for another huge season.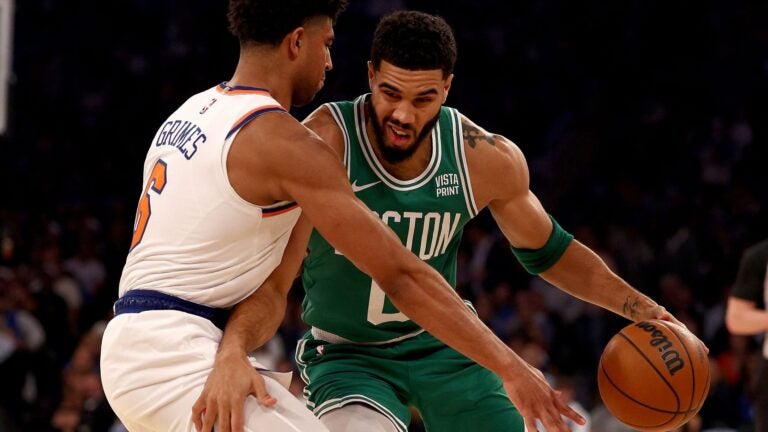 COMMENTARY
The Celtics played well early and late in their season opener against the Knicks on Wednesday, which was good enough to overcome a big lapse and claim a 110-106 victory.
Here are the takeaways.
1. Certainly, there were wrinkles the Celtics will need to smooth out, and we will get to them. But there were three enormously positive takeaways for the Celtics, and in keeping with the start of a new year, we will start there.
The first was Jayson Tatum. After all of the training camp buzz about new faces and new vibes around the team, the Celtics were led by their familiar MVP candidate, who scored 34 points in a wide variety of ways. He started by bully-balling Quentin Grimes into the paint for a basket. He buried two of his patented step-back 3-pointers. He knocked down tough jumpers that bailed the Celtics out of otherwise-doomed possessions. He grabbed 11 rebounds on a night when the Celtics desperately needed rebounds, and he jump-started possessions with his ball movement when the Knicks started double-teaming him.
The Celtics can play much more cohesively than they did on Wednesday, and they will need to do so to accomplish what they hope to accomplish this season. But on the nights when they don't, they still have a no-questions-asked superstar who can shoulder a lot of the weight.
2. The second positive was Kristaps Porzingis, who set a Celtics record by scoring 30 points in his regular season debut. Porzingis poured in 15 in the first quarter, and he hit the biggest shot of the game with under two minutes remaining after a well-executed pick-and-pop with Tatum.
Porzingis finished 8-for-15 from the floor and 5-for-9 from 3-point range. Defensively, he intimidated the Knicks around the rim (especially early) and finished with four blocked shots, although the Celtics do need to figure out a better solution for guards who can shoot pick-and-roll 3-pointers off the dribble, since Immanuel Quickley burned them repeatedly once again.
Still, all in all, Porzingis' debut was unquestionably a success. His presence makes the Celtics' offense significantly more dynamic.
3. As an aside, Porzingis faced a hostile Knicks crowd that booed him enthusiastically and serenaded him with "F— Porzingis" chants after he caught Isaiah Hartenstein with an errant elbow in the fourth quarter. That elbow earned Porzingis his second technical of the game, but he wasn't ejected because his first technical came courtesy of a flop. Knicks guard Jalen Brunson was also handed a technical for flopping, which was something of a dubious call, since Brunson landed on Jaylen Brown's foot.
In any case, it seems officials are going to make flopping technicals a point of emphasis in the early going this season. Expect to see plenty of them whistled as players try to re-train themselves on the fly.
4. The third positive for the Celtics was the other major newcomer Jrue Holiday, who started the game on Julius Randle and bothered the Knicks' burly star into a number of bad shots. Holiday is very strong, and his quick hands turn a lot of potential reach-in fouls into clean swipes and strips.
Holiday's debut was quiet offensively in comparison to Porzingis, but he finished with nine points and three blocks, and the Celtics have plenty of reason to be encouraged by what he brought to the table. His defense is nearly as special as the guard he replaced.
(If anyone was wondering, Marcus Smart scored 17 points on 6-for-11 shooting in his Memphis debut as the Grizzlies fell to the Pelicans).
5. Now, a couple of the aforementioned wrinkles.
The Knicks finished with 17 total offensive rebounds, and several of them were costly. At one point in the second quarter, both Luke Kornet and Porzingis had position for a rebound, and the Celtics failed to secure it, which led to a 3-pointer by Immanuel Quickley. In the third quarter, after Julius Randle got an and-one but missed the free throw, the Knicks tracked down the board again, and the Celtics gave up a 3-pointer to Quentin Grimes. That sequence was part of a 10-0 run by the Knicks that trimmed the Celtics' lead down to one.
The Celtics don't have bigs who have historically pulled down a lot of rebounds, but they need to be better than they were on Wednesday.
6. The Knicks aren't a particularly strong 3-point shooting team, but they shot 43.9 percent from deep and got a lot of really good looks. The Celtics don't switch as much as they used to (out of necessity, since Porzingis isn't a switchable big man), and the Knicks found it relatively easy to find good looks as a result.
The Celtics have the defensive personnel to make it very difficult for opposing teams to score in the paint, but in 2023, a successful defense can't surrender that many open looks.
7. The Celtics won't find it easy to win many games when Jaylen Brown, Sam Hauser and Payton Pritchard go a combined 0-for-11 from deep, although it speaks to their improved depth that they ground out Wednesday's victory despite their 30.8 performance from three as as team.
Brown in particular had a disappointing night. He finished with 11 points on 4-for-11 shooting, but his worst sequence came in the fourth quarter when the Knicks threatened to pull away — he turned the ball over trying to thread a needle that wasn't there (the Knicks got a 3-pointer), turned over an inbounds pass to nobody, and then fouled Quentin Grimes on a 3-pointer (Grimes made it and got a four-point play).
Brown had some nice moments and led the team in assists with five, but the Celtics will need him to be a lot better going forward.
8. Things got chippy in the third quarter when Isaiah Hartenstein fouled Jaylen Brown hard on a dunk attempt. The foul looked like a clear flagrant, as Hartenstein wrapped Brown up and made no play at the ball, and Brown took exception, turning quickly to Hartenstein as both players briefly yapped at each other before they were separated. Officials, however, handed Brown and Hartenstein offsetting technical fouls and whistled Hartenstein for a hard foul, which sent Brown to the line for two.
9. For all the grief Joe Mazzulla got last year about timeouts, he used two at an opportune time in the final minute for the Celtics. Nursing a two-point lead with 20 seconds remaining, Mazzulla called for a quick one when Tatum got himself into a difficult situation that nearly handed the ball back to the Knicks. Then, since the Celtics only had three seconds left to get the ball across half court, Mazzulla burned his final one to advance the ball and avert a potential disaster. That allowed the Celtics to inbound the ball to Payton Pritchard, who knocked down a pair of clutch free throws and pushed the Celtics' lead to four with 10.7 seconds remaining.
10. The Celtics will have growing pains as they develop chemistry, and that showed on Wednesday. But they also have a ton of talent and potential, and — after a gritty performance — a 1-0 record. Next up? The Heat on Friday, whose victory in the Eastern Conference Finals started the Celtics' offseason upheaval.
Friday's game tips off at 7:30 p.m.
Sign up for Celtics updates🏀
Get breaking news and analysis delivered to your inbox during basketball season.