Celtics
What Celtics' Jayson Tatum said about his relationship with Tom Brady
"He has every reason to be arrogant and all those things, but truly down to earth."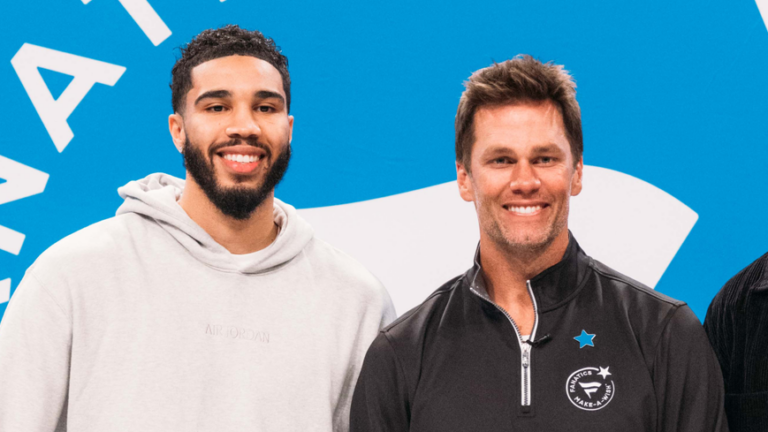 An established NBA superstar and top player on a stacked Celtics roster, Jayson Tatum currently holds court as the face of Boston sports entering his seventh NBA campaign.
On Tuesday, Tatum spent his evening in New York City alongside Boston's previous sporting titan in Tom Brady.
Tatum was just 22 years old and in the midst of his third season when Brady opted to leave New England and sign with the Tampa Bay Buccaneers. But even though their playing careers didn't overlap for an extended stretch, Tatum noted on Wednesday that he's had a relationship with the Patriots legend for years now.
"I know him pretty well," Tatum said at Celtics shootaround on Wednesday at Madison Square Garden. "I met him when he was still with the Patriots. Tom is the best. He has every reason to be arrogant and all those things, but truly down to earth.
"He texts me from time-to-time. He watches the games. He's just a really, really great guy, and to be the best football player of all-time, it says a lot about him."
Tatum took part in a Make-a-Wish event with both Brady and Yankees star Aaron Judge at Brooklyn's Barclays Center on Tuesday. As part of the event, held in partnership with Fanatics, Tatum, Brady and Judge signed autographs and took part in drills with nine children.
"It was great being around the kids who obviously were facing challenges in life but fighting to overcome those to be with their friends and families and brothers and sisters," Tatum said of the event, per Adam Himmelsbach of The Boston Globe. "To see their reaction on their faces when we came out on the court and played basketball and threw footballs around with them and just got to hang out with them, it was priceless."
Even though Tatum has separated himself from the pack as one of the elite talents in the NBA, the 25-year-old forward admitted that he has a long way to go to reach Brady's level of prominence in Boston.
Helping the Celtics hoist Banner 18 to the rafters next spring would be a step in the right direction.
"If I get to that level, that'd be incredible," Tatum said Wednesday. "I mean, Tom's the greatest football player of all-time and one of the greatest athletes of all-time. And for myself and everybody that got to watch him and appreciate him — his mindset, his work ethic, the way he approached the game — you can apply that to what we do and essentially striving to be great."
Sign up for Celtics updates🏀
Get breaking news and analysis delivered to your inbox during basketball season.