Celtics
Wyc Grousbeck offered some background on Celtics' offseason changes
Grousbeck also discussed the decision to trade Marcus Smart.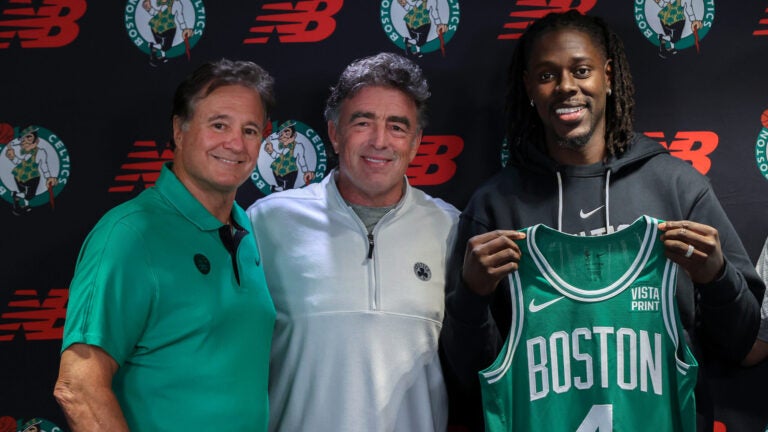 The high-profile changes that the Celtics' roster went through during the NBA offseason took root in the mind of team owner Wyc Grousbeck as he watched Boston fall to defeat in Game 7 of the Eastern Conference Finals back in May.
Having rallied from an 0-3 series deficit against the Heat, the Celtics came up short in the end, losing 103-84. Grousbeck explained his mindset during a Wednesday interview with WEEI's "The Greg Hill Show."
"I sat there probably the whole second half of [Game 7] starting to think about [making changes]," he said of the Celtics' roster. "Then I took two days to let everything settle down and then went and met with Brad Stevens and Joe Mazzulla and we formulated a plan. I just said, 'We're not bringing back the same team.'
"It's been two seasons in a row of really good play but inconsistencies, and they showed in the Finals two years ago, and then in the Conference Finals last year," Grousbeck said of recent Celtics history. "It just felt inconsistent. I said I just wanted to change the mix so that there's a fresh approach. So we made some changes in the summer."
Out went Marcus Smart, Malcolm Brogdon, Grant Williams, and Rob Williams. In came Kristaps Porzingis and Jrue Holiday.
In Grousbeck's view, head coach Joe Mazzulla was not to blame for the outcome of last season.
"I look back at last year not as a failure of coaching or a failure of anything else, I just thought we got inconsistent at the end," he explained. "I think there's been buy-in. But part of mixing it up — which we did deliberately over the summer — [was to] just make some changes. Bring in Porzingis, bring in Holiday as an example, mixing it up. There's just a freshness and electricity around the practice facility that does feel actually a little bit different."
As the Celtics' season tips off at Madison Square Garden against the Knicks on Wednesday, Grousbeck also knows his team now has to walk the walk.
"Every training camp in the NBA, there are feelings like this. Everybody is undefeated right now," he said of the prevailing optimism. "We have to actually not just talk about it, but go out and do it. It starts tonight at 7 p.m."
The changes came at a huge cost for the Celtics, with Smart (previously the team's longest tenured player) being sent to the Grizzlies as part of the Porzingis deal.
Saying goodbye to a player beloved by the local fanbase was difficult, Grousbeck acknowledged. Yet as he pointed out, the connection to Smart hasn't completely gone away. Grousbeck recalled how he was among a large Celtics contingent to recently attend Smart's wedding.
"We probably had eight or nine people at Marcus's wedding," Grousbeck said of the Celtics representation. "It was just a really warm reunion. So the personal side of this is still there with Marcus and other former players. He's a special guy, and he's missed, and we're moving on, but we wish him the best in Memphis."
Sign up for Celtics updates🏀
Get breaking news and analysis delivered to your inbox during basketball season.