Celtics
Derrick White, Celtics beat Heat for second straight win: 9 takeaways
The Celtics weren't perfect, but playing the Heat makes that difficult anyway.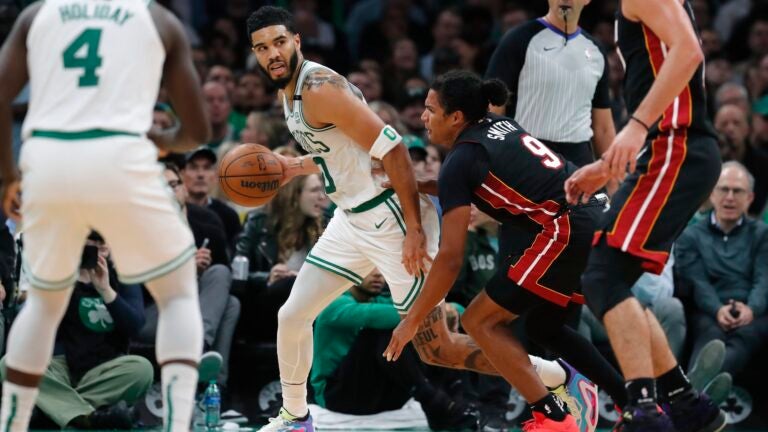 The Celtics won their second-straight game to start the season, claiming a 119-111 victory over the Heat on Friday.
Here are the takeaways.
1. Watching Derrick White at his best is like watching a really well-made action movie: You get to both enjoy what you're seeing and feel a little smarter about the things you noticed when it's over. White plays a cerebral brand of basketball on both ends, finding spaces and angles that suit possessions nicely, but on Friday, he also made a couple of spectacular defensive plays and got so hot in the fourth quarter, he let out a scream after burying one heat check.
On the one hand, you want to analyze what White did because he's a unique guard. On the other, sometimes it's just fun to watch a really good basketball player make the right plays (and call his own number a little bit).
"The plays he made tonight were sick," Joe Mazzulla told reporters after the game. "They were just sick plays."
2. While we are on the topic of White, he and Jrue Holiday combined for three chase-down blocks, denying the Heat transition dunks. We can't prove this without the kind of tracking data that teams pay thousands of dollars to acquire, but it's hard to imagine there have been many games in NBA history where the starting back-court recorded three chase downs.
Both of White's came at the expense of Jimmy Butler, who had a difficult game (14 points, 3-for-11). The first came in the first half and was one of the cleanest blocks you could imagine.
The second came at an important moment in the fourth, with the Celtics leading by seven and trying to hold off the Heat.
Holiday, meanwhile, sent Heat rookie Jaime Jacquez Jr. packing.
The Holiday-White pairing allows the Celtics to do a lot of unique things defensively. On nights like Friday when White's offense is at that level, it's a monstrous tandem.
3. Jaylen Brown didn't have a perfect game, but he was really good for enough stretches to make up the difference, which was kind of a microcosm for the Celtics' evening. Brown scored 12 of his 27 points in the fourth quarter, and he administered Tatum's signature 3-point kiss of death to the Heat after drilling a triple with 18 seconds remaining that sealed the game.
Brown turned the ball over four times (a couple of which were the kind of ugly turnovers that have haunted him historically against the Heat), but he tamped it down in the fourth and recorded zero over the last 16 minutes of game time.
After a tough opener, Brown looked like he started to settle in on Friday, once again hammering home the depth of this team.
4. Kristaps Porzingis is unquestionably dynamic offensively, but the Celtics do need to find some better defensive solutions. Porzingis protects the rim, but Bam Adebayo looked thrilled to go straight at him, and Heat shooters were able to get a lot of open looks curling off Adebayo with Porzingis dropped back in the key. The combination of Adebayo scoring and hot 3-point shooting can be a winning formula for the Heat.
Maybe more worrisome: The Celtics have won two games in a row, but they gave up 43.9 and 47.1 totals from behind the arc to the Knicks and the Heat respectively.
5. The Celtics are unquestionably top-heavy, but for all the celebration of the talent on the training camp roster, they could use a little more than eight points from their bench.
6. Oshae Brissett did provide some nice minutes in the first half, however. In 14 minutes, he grabbed three offensive rebounds (five overall) and kept four separate possessions alive. He also threw down this slam.
Joe Mazzulla told reporters after the game that Brissett was supposed to come in at the start of the second quarter, but Mazzulla wanted an infusion of energy in the first.
"He changed the game," Mazzulla said.
7. Jayson Tatum made just three of his 10 3-point attempts, needed 22 shots to get 22 points and finished just 1-for-3 from the free-throw line in a cold follow-up to his 34-point outburst in the opener against the Knicks.
In the first half, however, Tatum did punish the Heat defense with a series of moves to the hoop out of the post — the kind of aggressive finishes that the Celtics want to see on nights when his 3-point shot isn't falling. Adding 12 pounds of offseason muscle is only worth it if you use it.
8. There just seems to be something about this Heat team that gives the Celtics fits. On Friday, Kyle Lowry found some vestiges of youth and scored 13 points on 5-for-7 shooting. Dru Smith made three 3-pointers. Duncan Robinson buried triples on back-to-back first-half possessions immediately after the Celtics clawed out of a double-digit hole to tie the game. They turned the Celtics over 14 times in the first three quarters. Tyler Herro was hot-and-cold, but when he was hot, he took (and made) heat-check shots that might make Steph Curry blush.
This Celtics team might finally prove to be too talented for the Heat to work their magic, but we certainly aren't ready to say that definitively.
9. Paul Pierce joined the NBC Sports Boston broadcast in the second quarter, and the station played a montage of moments between Pierce and legendary play-by-play announcer Mike Gorman, who will retire this year. One clip showed Pierce, Gorman and Tommy Heinsohn sharing a moment after the Celtics won the championship in 2008. In it, Pierce embraced Gorman and Heinsohn and talked about how much it meant to have two broadcasters who followed his entire career watching him.
When the broadcast resumed, Gorman — lightning quick with his quips as always — noted to Brian Scalabrine, "That's why he was my favorite Celtic" as Pierce beamed.
"That's an honor, man," Pierce said. "Being able to play here and have the voice of the Celtics announce your games? It's truly an honor."
There are going to be a lot of emotional moments as Gorman prepares to step away from his post. Watching him reminisce and interact with Pierce was the first.
The Celtics return to action on Monday, taking on the Wizards in Washington at 7:30 p.m.
Sign up for Celtics updates🏀
Get breaking news and analysis delivered to your inbox during basketball season.