Celtics
Celtics pay tribute to Lewiston, Maine during home opener
All Celtics players and coaches are wearing Maine Celtics gear during the game.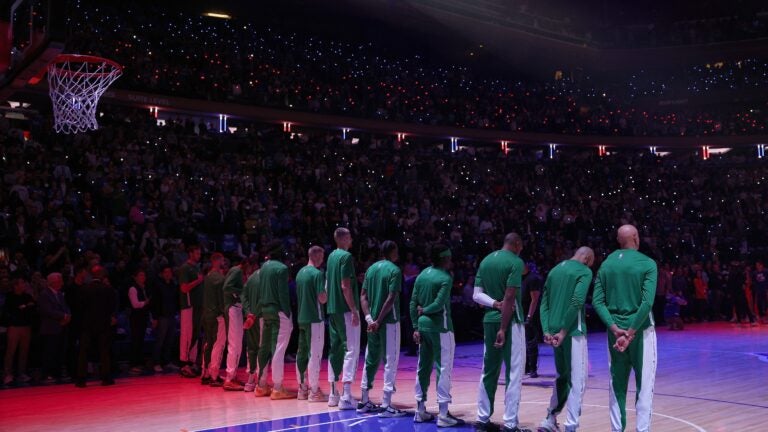 In light of the devastating shootings in Lewiston, Maine that occurred on Wednesday, the Celtics are acknowledging the situation in a variety of ways during the team's Friday night home opener.
Prior to tipoff, the team held a moment of silence and sent their thoughts and prayers to those affected by the shootings via public address. The jumbotron showed an outline of the state of Maine with a kelly green background.
All Boston players are wearing Maine Celtics warmup gear during the game. The Maine Celtics, the Boston Celtics' G-League squad based in Portland, have been affiliated with the NBA team since 2009.
Every player's jersey also has a "Maine" band located on the left sleeve just above the sponsored Vistaprint logo.
Celtics coaches are also donning Maine Celtics clothing throughout the matchup versus the Miami Heat.
Boston forward Sam Hauser chose to wear a Maine basketball sweatshirt while walking into the building before the game.
Both the Boston and Maine Celtics released statements ahead of tipoff extending their condolences to the Lewiston and Maine communities.
From the Boston Celtics: "Our hearts ache as we reckon with the devastating shootings in Lewiston. We mourn with everyone in our Maine family experiencing the agonizing loss of this tragedy."
From the Maine Celtics: "The state of Maine is a small town. The city and people of Lewiston are our fans, friends, and family. In light of this horrific tragedy, our offices and business operations will remain closed for the day. We urge everyone to follow the latest orders from authorities, stay safe, and check on one another. We will continue to grieve this senseless loss."
Celtics' head coach Joe Mazzulla talked about the shootings and what's going on in the world outside of basketball to the media on Thursday.
"For us, the same thing as the Israel/Palestine situation — the Maine situation is very important," Mazzulla told reporters. "We have to talk about those things. I was really hoping someone would ask that, but I spent time in Portland, Maine, 37 miles from where it's at. You see people go through difficult situations that they didn't ask for. It's really hard."
Sign up for Celtics updates🏀
Get breaking news and analysis delivered to your inbox during basketball season.