Celtics
Aaron Nesmith saw a Bleacher Report post poking fun at Celtics trade. He's taking it personally.
"It's what makes me drive to the gym at night. Seeing that tweet is always on my mind for sure."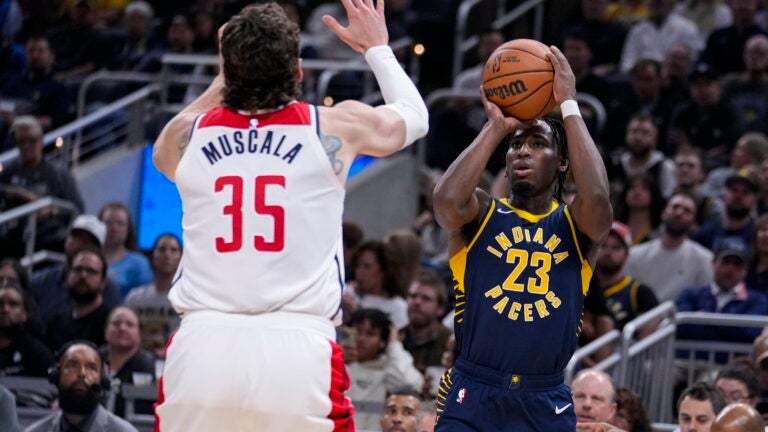 After the Celtics dealt Aaron Nesmith to Indiana as part of the Malcolm Brodgon trade, Bleacher Report tweeted a picture of the Nickelodeon character Spongebob holding a paperclip and a piece of string.
"What the Celtics gave up for Brodgon," the tweet's caption read.
The Celtics traded Nesmith, along with Daniel Theis, Nik Stauskas, Malik Fitts, Juwan Morgan and a first-round pick to Indiana in exchange for Brogdon.
Nesmith addressed the tweet before Wednesday night's game against the Celtics, saying that he is using it as motivation.
"As soon as the trade happened I saw the tweet and I saved it immediately," Nesmith said in a video posted by CLNS Media. "I'm someone that takes things personally and I think that helps make me better. It's what makes me drive to the gym at night. Seeing that tweet is always on my mind for sure."
The former Celtics first-round pick is averaging a career-high 26.7 minutes per game through three games this season. He's shooting 52 percent from the field and 43 percent from 3-point range.
Nesmith's shooting ability was one of the qualities that stood out about his game when he was in college at Vanderbilt.
But, he's developed into one of the Pacers' best defensive players as well, according to Pacers coach Rick Carlisle.
"Lloyd Pierce, my lead assistant really has done a tremendous job with with Aaron," Carlisle said. "You know, helping him adapt. He's been, he's been one of our best defensive players. Obviously, we all know he can shoot the ball really well, and he's developed other parts of his game. He drives it now. He's making really good simple reads and a very important part of what we're doing here."
Carlisle described Nesmith as an "edgy competitor" who has taken advantage of the increased minutes. He acknowledged that there wasn't much playing time available for Nesmith in Boston before he was sent to Indiana in the deal that brought Malcolm Brogdon to the Celtics.
Nesmith started four games in two seasons with the Celtics and averaged less than 15 minutes per game.
"There wasn't a lot of time for him to play. And so that was challenging," Carlisle said. "So when he would get in for short stints, you know, it's tough. I was one of those players that frequently was in that situation. And, you know, it's, it's one of the most challenging things, but he's clearly a guy that has taken advantage of an amazing opportunity with us. He really fits our organization."
Celtics coach Mazzulla said that players don't get to pick the situations they're drafted into and that players take different amounts of time to develop.
Sometimes it can take one year for a player to find their niche, sometimes it can take multiple years, Mazzulla said.
"Aaron, regardless of the circumstances, brought it every single day," Mazzulla said. "And you're seeing kind of the fruits of that labor. I'm really happy for him and he deserves it."
Sign up for Celtics updates🏀
Get breaking news and analysis delivered to your inbox during basketball season.