Celtics
Jayson Tatum hits career milestone as Celtics outlast Nets: 10 takeaways
Jrue Holiday was one rebound shy of a triple double and recorded his highest point total in a Celtics uniform.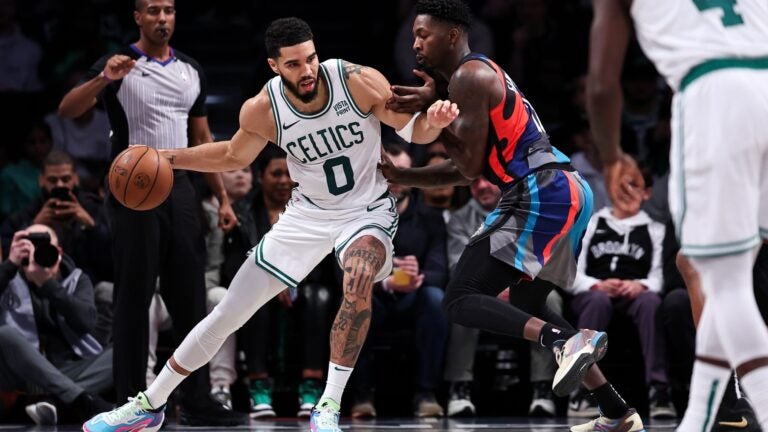 The Celtics remained the only undefeated team in the NBA on Saturday, holding off a scrappy Nets team in a 124-114 victory.
Here are the takeaways.
1. After back-to-back blow-out victories in which the starters sat the entire fourth quarter, the Celtics won on an odd evening in which the Nets never led after a Jayson Tatum 3-pointer with 8:13 remaining in the fourth quarter. Still, Brooklyn kept a stranglehold on the Celtics' rear bumper throughout the evening and refused to go away despite numerous opportunities to do so which was doubly impressive since the Nets were on the second night of a back-to-back and returned to Brooklyn overnight after narrowly defeating the Bulls on Friday.
The Nets — even without Ben Simmons and Cameron Johnson — were significantly stiffer competition than either the Pacers sans Tyrese Haliburton or the full-strength Wizards. Cam Thomas gave the Celtics fits (27 points, 11-for-24 shooting). Mikal Bridges got hot late to keep them within striking distance. Spencer Dinwiddie recorded a balanced 19-6-6 stat line. Dennis Smith Jr. is a good defender.
The Celtics ground out a road victory against a decent team on a night when they weren't their best. That's a solid outcome.
2. Jayson Tatum — who finished with 32 points — scored his 10,000th career point in the second quarter on a genuinely nasty and-one. After a jump ball, Tatum found himself matched up with Thomas, and he turned his back to post up the smaller guard. At the exact moment when Smith Jr. tried to lunge and poke the ball away, Tatum anticipated and spun toward the lane. Thomas pulled his hands back, but Day'Ron Sharpe fouled Tatum as he tossed in a layup.
Much has been made of Tatum's post-ups with good reason — he's recording incredibly efficient numbers out of the post, and the looks add a fun new wrinkle to his offense. But the bigger story is how Tatum has embraced physical basketball, and the way his finesse expertise and increasingly strong physique combine to make him a monstrous offensive player.
Tatum became the youngest Celtic in history to score 10,000 points. It will not be the last milestone he reaches in a Celtics uniform by a long shot.
3. Derrick White was out for personal reasons, which were likely the birth of his second child. The only other game White missed during his Celtics tenure was due to the birth of his first child Hendrix.
White's priorities and his durability are both enormously admirable.
4. Jrue Holiday takes the occasional questionable 3-pointer, and he finished with three turnovers on Saturday. But he was excellent once again, coming up just one rebound short of a triple-double with 18 points, nine rebounds and 10 assists. His quick trigger from behind the arc can also be highly valuable — defenses have to remain honest and attached to him. On Saturday, he finished 4-for-9 — 44.4 percent from deep. That's a punishing percentage on a team with Tatum, Jaylen Brown and Kristaps Porzingis.
5. Luke Kornet had his best game of the season thus far. In the second quarter, he scored a couple of baskets in a row when the Celtics' offense was floundering a bit (Kornet's back-to-back baskets trimmed a five-point lead to one and set the stage for the aforementioned Tatum triple that gave the Celtics a lead they never relinquished).
In the third quarter, Kornet finished off a pick-and-roll layup and a lob dunk, and he pulled down a couple of nice rebounds. Then in the fourth, Kornet scored a crucial and-one.
Against a small Nets team, Kornet played a crucial role and hurt them for the attention they paid elsewhere. He finished with 11 points on 5-for-5 shooting and seven rebounds, reminding observers why the Celtics made a lot of noise during the preseason about being high on him.
6. Porzingis quietly had a nice evening — 8-for-10 from the field and 1-for-2 from 3-point range en route to 22 points to go with seven rebounds and three blocked shots. Interestingly, he did pretty well on the perimeter contesting shooters, after the Celtics played him primarily in drop pick-and-roll coverages over the first four games.
On a more basic level, Porzingis also continued to punish smaller defenders in the paint, and his one 3-pointer came from just in front of the Nets' half-court logo. The man is very good.
7. In a continuation of last year's trend, the Nets went at Sam Hauser in pick-and-rolls whenever he was in the game. The Celtics were largely content to let Hauser switch onto the likes of Cam Thomas and Spencer Dinwiddie, and he defended them credibly, although they scored several baskets over him.
At some point, Hauser might make an All-Defense team simply because he's getting so many high-level isolation defensive reps. Practice makes perfect.
8. We still aren't entirely certain how Jacque Vaughn avoided getting tossed in the fourth after this layup by Tatum.
Vaughn was furious Tatum wasn't whistled for a push off, and he got directly in the face of official Natalie Sago. After she whistled him for a well-earned technical, Vaughn continued to vociferously make his case at point-blank range, refusing to back off at all.
Credit to Sago for keeping a cool head, but Vaughn had to be on the verge.
9. Al Horford's stat line won't jump off the page (eight points, seven rebounds, three assists in starters minutes with White out), but his sky-high plus/minus (+29) passes the eye test with flying colors. He also made three big plays in the fourth quarter — first hustling back to secure a clutch steal before scoring a tough transition layup and mashing home an alley-oop that felt more or less like the dagger.
Horford picked up a technical for hanging on the rim on the dagger alley-oop, which seemed profoundly unfair. Jumping is hard on the knees. Let the 37-year-old gather his legs and land softly.
10. The Celtics look like a powerhouse. They will put their undefeated record on the line against the Timberwolves on the road Monday. When they return to TD Garden on Friday, they will take on the Nets again in their first in-season tournament game.
Sign up for Celtics updates🏀
Get breaking news and analysis delivered to your inbox during basketball season.