Celtics
Celtics drop first loss of the season to Anthony Edwards, Timberwolves: 9 takeaways
The Celtics reverted to some old habits against a staunch Timberwolves defense.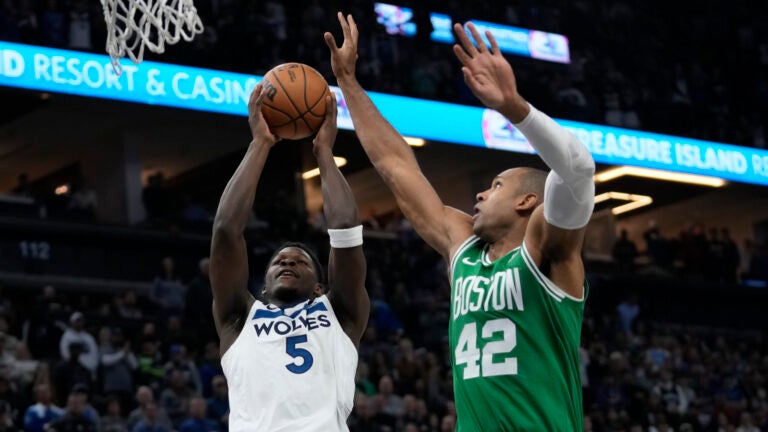 The Celtics dropped their first loss of the season on Monday in Minnesota, falling in overtime to the Timberwolves 114-109.
Here are the takeaways.
1. If you're concerned by Monday's loss, first remember that the Celtics were the only unbeaten team in the league entering Monday's game, and that the unbeaten streak wasn't going to last for 82.
If you insist on being exasperated, don't stress about losing to the Timberwolves. They have the league's best defense and an emergent bona fide star in Anthony Edwards. The Celtics are a better team, but the Timberwolves are on a really promising trajectory and can beat anyone on any given night.
Still, while the Timberwolves deserve credit for their individual defense against Jayson Tatum and Jaylen Brown, the Celtics did revert to some bad habits against defenders who repeatedly had proven themselves difficult to beat, and the offense broke down in overtime by repeatedly going at some of the Timberwolves' best defenders 1-on-1.
Brad Stevens got Kristaps Porzingis for a number of reasons, but a big one was to give the offense the pieces it needs to not be stopped cold by an elite defense. As the season goes on, a good sign of progress will be if the Celtics can put together better late-game offense that takes advantage of the new pieces.
2. We learned some interesting things about Edwards, who finished with 38 points (including eight in overtime), nine rebounds and seven assists. When he heats up, he gets unbelievably hot. When he locks in, he's a nasty on-ball defender. When he experiments as a passer, he can make some special plays.
There's plenty for the 22-year-old to work on, of course (one area of his game that needs a lot of work is dealing with double teams). But one of the fun things about a 22-year-old future NBA star is watching them put their puzzle together. Edwards is working with a lot of pieces, and he seems to already have the border done.
3. Tatum muscled his way to 32 points on 22 shots, but he recorded six turnovers, and Celtics fans saw shades of what happened when the Heat were particularly aggressive last year. After facing the porous defenses of the Wizards and Pacers so far this season, trying to score against the Timberwolves' guards and wings looked like trying to run on a treadmill after eating well all afternoon.
4. Joe Mazzulla once again started Jrue Holiday against an opposing big man, which is an interesting wrinkle he seems to like for the All-Defense guard. Holiday defended Julius Randle well in the Celtics' season opener against the Knicks, and he gave Karl-Anthony Towns absolute fits. Towns finished with seven points and played in foul trouble for much of the game before fouling out late. Aside from consecutive baskets against Holiday in the third, he never got going.
Holiday struggled badly on the offensive end however (12 points, 4-for-16 from the floor), which was an aggravating factor when the offense fell apart late.
5. Assistant coach Matt Reynolds's impressive run as Mazzulla's challenge caller might have produced its best work yet in the third quarter. After Towns dropped in back-to-back baskets against Holiday, he appeared to score a third as Holiday fouled him. But the Celtics challenged the foul call, and they won it — the call was reversed to a foul on Towns.
The Celtics ended up beneficiaries of both challenges called in the game. In the fourth, the Timberwolves unsuccessfully challenged a foul on McDaniels where he appeared to crowd Tatum's landing space. Landing space fouls sometimes produce flagrants, and while the call remained a common foul after review, the Timberwolves still lost their second challenge and a timeout.
6. If you're a Celtics fan looking for a feel-good moment, Jaylen Brown absolutely demolished Timberwolves center Rudy Gobert twice, although he only scored on one of the plays.
Here's the one he scored — a monstrous one-handed slam over Gobert.
Shortly afterward, Brown dropped Gobert to the deck with a crossover. He may have pushed off, but he missed the shot, so the clip hasn't made the rounds on Twitter. Between the lack of crossover footage and the Timberwolves' impressive victory, Gobert may have been spared some social-media ridicule.
It was a particularly vicious dunk, though.
7. With 2:13 remaining in the fourth, the Celtics made the gutsy decision to hack Gobert on their final opportunity to do so (any intentional foul in the last two minutes is two shots plus the ball). Mazzula came out looking prescient again: Gobert — who was 2-for-9 from the free-throw line went he stepped to it — missed two more.
8. With time winding down in regulation, the Celtics got a stop and one more look with roughly 12 seconds remaining. Brown brought the ball up the floor and created quite a bit of space against McDaniels, which — as we've established — is no easy feat. His 3-pointer, however, came up short.
9. Let's close by noting what an absolute bummer it is that Robert Williams will miss significant time due to knee surgery. Williams and Marcus Smart haven't been missed much on the court by this loaded Celtics team, but they were (are) both good players, and they were (are) a lot of fun to watch when healthy. Here's hoping Williams has a full recovery.
The Celtics return to action on Wednesday against the 76ers in Philadelphia.
Get the latest Boston sports news
Receive updates on your favorite Boston teams, straight from our newsroom to your inbox.