Celtics
'I wouldn't want to play anywhere else': Payton Pritchard explained what he enjoys about playing in Boston
Pritchard broke out of his recent slump in the Celtics' win over the Nets, scoring 13 points to end a three-game scoreless skid.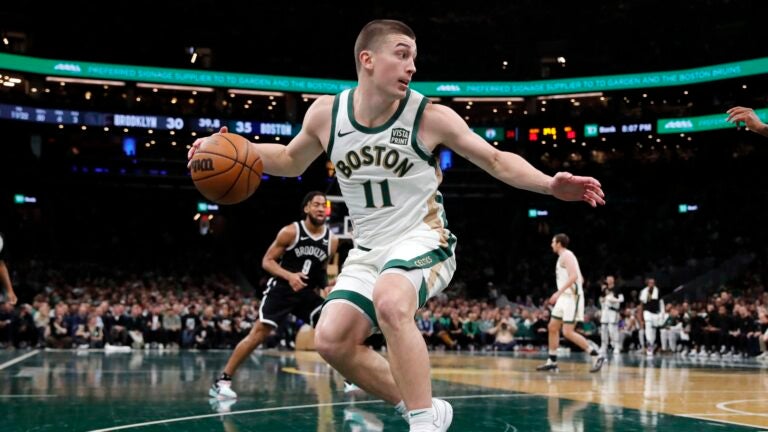 Payton Pritchard's had a rough start to the season as he's stepped into his new role as the Celtics' top guard off the bench. Friday's win against the Nets was a potential step in the right direction.
The fourth-year guard scored 13 points on 5-of-10 shooting with three assists, one steal, and five rebounds, with four of them coming on the offensive end as he had a bench-high plus-nine in the 121-107 win. One of those rebounds came off his own free-throw miss, chasing the ball to get an easy putback, completing a three-point possession for the Celtics to put them up by a dozen late in the third quarter.
Friday's game marked the end of a rough week of play for Pritchard, who didn't score a point in the Celtics' previous three games as he missed all 11 shots he took during that stretch. Boston lost its first two games of the season during that stretch as well, causing some to point blame at Pritchard and the Celtics' bench for their shortcomings over those games.
Pritchard admitted following Friday's game that while he's tuned out the outside noise, he also appreciates the criticism he's received of late.
"I haven't been on social media and I haven't been looking. So, I figured people are like coming at me," Pritchard told reporters. "But it's part of playing in Boston and that's what I like about it. So I wouldn't want to play anywhere else. But if I'm playing bad, I want to hear it. I'll get it back."
While Pritchard embraced the criticism, he admitted that his playing "started messing with me mentally, a little bit." But then he remembered why the Celtics gave him a spot in the rotation and recently signed him to a four-year extension.
"I went back to what made me a good shooter in the first place, then I started dialing back into that," Pritchard said. "It's kind of just a mental game. It starts to affect you, start second-guessing shots. But at the end of the day, you put in too much work, so I just believe in myself.
"Keep shooting," Pritchard added on what the coaches told him. "What'd I miss, 11 in a row since the Indiana game? I'm not going to do that much. And they know that. I've shown that in my career with the Celtics I'm not going to do that much. So, they just believe in me and keep going."
Celtics coach Joe Mazzulla also iterated his confidence in Pritchard following Friday's win, crediting him for plays he made that might not have shown up on the stat sheet. Mazzulla played Pritchard for all but 16 seconds of the final 16 minutes in the first half as the Celtics' lead went from four to 12 during the near-16 minute stretch that Pritchard was on the floor.
"He's been making a big impact the whole year," Mazzulla told reporters. "To me, he changed the game for us tonight. … And what we see is like, it's easy to look at the scoring of the bench and be like we're not producing, but there's so much other stuff that those guys do for us on a daily basis."
Pritchard also appreciated the confidence he received from his coach, who didn't play him as much last season with Marcus Smart, Derrick White, and Malcolm Brogdon receiving the majority of the minutes at point guard.
"Joe came to me, and he was like, 'You're going to continue to play,'" Pritchard said. "It's like, 'You keep impacting winning in other areas, and that's all that matters.'"
While Pritchard made 50 percent of his shots from the field on Friday, he actually didn't shoot too well from behind the arc. He only made two of his seven 3-pointers, but as he did Friday night, he knows he can be more than just a 3-point shooter.
That's a part of his message to those who doubt his role on the roster.
"Keep hating," Pritchard said. "This is just making me better. This is part of the journey. These slumps, I think end of the day will pay dividends and will make me a better player overall.
"Like I'm not hitting shots, so these last couple of games, I had to find other ways to impact it. So it's making me an all-around player and not just a shooter."
Sign up for Celtics updates🏀
Get breaking news and analysis delivered to your inbox during basketball season.