Celtics
Celtics players wore 'Raise the Age' shirts before Friday's game. Here's what they mean.
"The name of this bill is called the Raise the Age bill. If you want to learn more, please visit Celtics.com/raisetheage to learn more."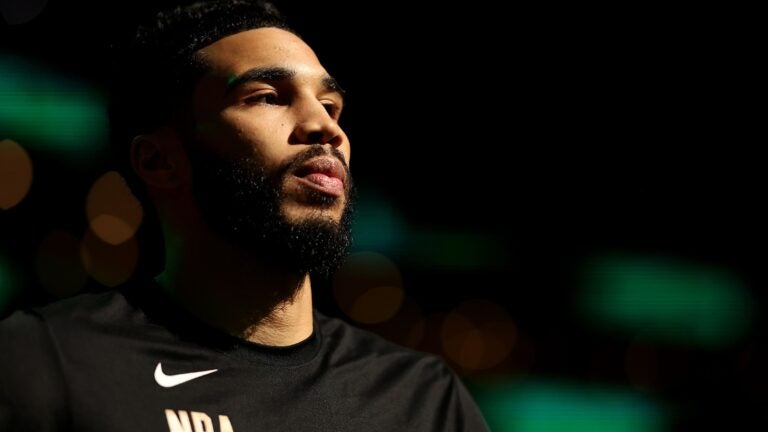 Ahead of their important first In-Season Tournament game on Friday, the Celtics drew attention to an issue just as important off of the court.
Prior to the game, the Celtics wore shirts that read "Raise the Age." These shirts were meant to raise awareness for Massachusetts' "Raise the Age" bill, which aims to prosecute 18-20 year-olds under the juvenile system.
"Before we tip off tonight, I want to bring attention to a bill of legislation that we, the Celtics, are advocating for," wing Jaylen Brown told a packed TD Garden on Friday night. "The name of this bill is called the Raise the Age bill. If you want to learn more, please visit Celtics.com/raisetheage to learn more."
On that website, the Celtics list a statistic that adolescent criminals were 34 percent less likely to reoffend when prosecuted as juveniles compared to those who were prosecuted as adults. According to Noa Dalzell of Celtics Blog, young adults in the adult system have the highest recidivism rate of any group of people prosecuted as such at 74 percent.
"My wife was in criminal justice and she was a probation officer and we saw, just sometimes how the system can put people back and how it can hold people back and put them in even tougher situations in where they're at," Celtics head coach Joe Mazzulla told reporters before the game. "And so, this bill is important to a lot of people because of what it can offer. So just grateful to be a part of an organization that's doing that, and the campaign starts tonight, and hopefully people can learn more about it."
The site insinuates that the juvenile system's emphasis on rehabilitation — children and adolescents under that system must attend school and participate in rehabilitative programming — explains the disparity between the recidivism rates between young adults tried as juveniles versus adults. It also suggests that it can explain why juvenile crime has decreased by 34 percent ever since 2013, the year Massachusetts extended juvenile jurisdiction to include 17-year-olds.
"I think it's important in general. Not just the organization, but for humanity," Mazzulla said. "But I know the Celtics have done a great job building awareness to that and working on a bill trying to change that."
This isn't the first time that the Celtics have advocated for this issue. Brown and former Celtics Grant Williams and Malcolm Brogdon visited the White House in March to discuss a potential raise on the national level, and co-governor Steve Pagliuca testified in support of Massachusetts' bill.
Sign up for Celtics updates🏀
Get breaking news and analysis delivered to your inbox during basketball season.