Celtics
Jayson Tatum's late push helps Celtics take down Knicks: 10 takeaways
The Celtics can get hot in a hurry.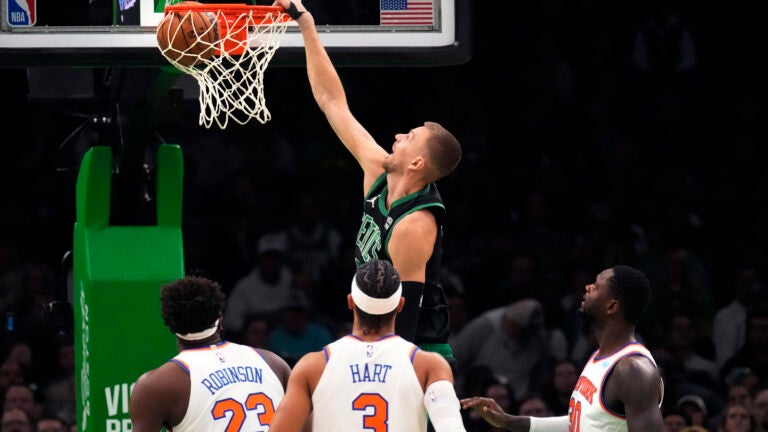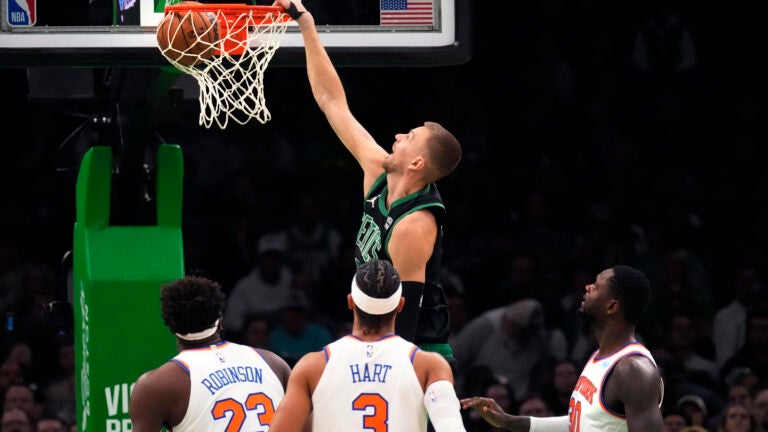 The Celtics and Knicks locked horns for a little more than three quarters before an offensive explosion in the fourth helped the Celtics claim a 114-98 victory.
Here are the takeaways.
1. We're witnessing a pretty impressive leap by Jayson Tatum, who is somehow significantly better than the player last year who made a thoroughly deserving All-NBA First Team and became the first Celtics player to average 30 or more points per game.
On Monday, Tatum started slow from behind the 3-point line, but he helped the Celtics stay attached as the Knicks outplayed them in the first two quarters. He pitched in six points in the third, but the Celtics built an eight-point lead thanks to their defense and some solid offense from Kristaps Porzingis and Jaylen Brown.
In the fourth, however, Tatum went off. He scored 17 points and went 4-for-5 from 3-point range, giving baskets to a variety of defenders — one of the surest signs of progress is that defenders who used to give Tatum problems (like Josh Hart) simply don't seem to anymore. By the time the dust cleared, Tatum had 35 points on 23 field-goal attempts as well as six rebounds and seven assists.
Tatum isn't immune to the occasional shooting slump. He is, however, essentially unguardable in the post for smaller players, very comfortable taking bigs on 1-on-1, and more than willing to pass when teams send a double-team. It remains to be seen if he will put up enough counting stats to be in the MVP conversation, but for the first time in his career, he seems like a candidate with a real shot as opposed to a polite inclusion.
2. Once again, we saw how valuable Jrue Holiday can be on the defensive end. Holiday guarded Julius Randle again, but he also dealt with Jalen Brunson and a number of other guards on switches.
Holiday also scored his 15,000th point in the second half with a 3-pointer from the top of the key — an honor he had no idea was on the horizon.
"I heard my name a little bit, so I figured I did something wrong," Holiday told reporters afterward.
Holiday conceded that the moment was meaningful, but for a player who has won a championship before, individual accolades don't quite measure up.
"It means that I've played long enough," Holiday said. "I've played for a long time. But it's cool. I didn't know it was coming. I should probably tune in a little better. It's always good to get it when you win."
3. The Celtics tried some trick defenses, including a zone and a full-court press, both of which seemed to throw the Knicks for a loop. Jaylen Brown said he likes using those defenses to speed the game up.
"It allows us to get out and run and creates a faster pace, faster momentum-type of game," Brown said. "I think in the third quarter we kind of sped the game up a little bit and were able to get out and run a little more."
4. Mazzulla had one of the funnier lines of the evening when he was asked about Sam Hauser's defense.
"I think he's a much better defender than people think," Mazzulla said. "I can't say why or else I'll get in trouble."
Mazzulla went on to praise Hauser's technique and tendencies.
"I feel just as comfortable with him guarding as anybody else," Mazzulla said. "I've said it from day one. I think he's a very, very good defender, underrated, and as he continues to get better, it makes our team better."
Teams do seem to occasionally get suckered into attacking Hauser at the expense of their offensive rhythm for reasons that we — like Mazzulla — will leave unexplored for the time being.
Meanwhile, Hauser went 4-for-6 from 3-point range again. It's hard to overstate how dangerous the Celtics' offense is when he's on a heater.
5. Josh Hart had a bizarre play in the fourth quarter. Stuck in the corner against Holiday, Hart elevated to shoot but was well contested. Instead, Hart opted to throw the ball off Holiday back to himself. The play worked somehow, and he buried a 3-pointer.
6. Noted Celtics killer Immanuel Quickley finished with just three points, shooting 1-for-10 from the field.
7. Derrick White had an odd game — he was +14 with four assists, a block and a steal, but he finished with just three points and went 1-for-7 from the field.
It might be a testament, then, to how much White impacts the game when he isn't scoring that Tatum picked Monday's postgame press conference to rip ESPN for slighting White in its annual ranking of the NBA's top 100 players.
"D-White's a hell of a basketball player," Tatum said. "It's a damn shame [ESPN] left him off the top 100 players. That's why I never pay attention to s— like that. D-White is so valuable, we're so lucky to have him and even when he's not shooting the ball well, he makes winning plays like getting that back tap, little things like that. Always competes on defense, contesting shots.
"He's a hell of player, and we're lucky to have him."
8. Adam Silver joined the NBC Sports Boston broadcast briefly in the first half and praised legendary play-by-play announcer Mike Gorman for his lengthy and impressive career with the franchise. Silver also strongly hinted that the NBA will expand after the new TV deal, and he mentioned Mexico City, Montreal and Vancouver as possible sites.
Our two cents: We'll be stunned if the NBA doesn't expand to Seattle and Las Vegas first. We shall see.
9. Another cool moment for Tatum: His father, Justin, was named head coach of the Illawarra Hawks in the NBL. Justin Tatum was an assistant with the Hawks, who parted ways with their coach today.
Tatum said he is "extremely happy" for Justin.
"That's a big, big step," Tatum said. "I know he's trying to build his resume and his coaching career. Won multiple state titles in high school, different teams, and then being over in Australia for the last four months and now is the head coach for the Hawks. So I'm excited for him and looking forward to him kind of changing that organization around."
10. The Celtics travel to Philadelphia on Wednesday for another crack at the East-leading Sixers. That's the start of a four-game road swing that includes the Raptors, Grizzlies and Hornets.
When the Celtics return home, they will be greeted with their first showdown of the season against Giannis Antetokounmpo, Damian Lillard and the Bucks.
Sign up for Celtics updates🏀
Get breaking news and analysis delivered to your inbox during basketball season.