Celtics
Joel Embiid calls Celtics the 'best team in the league' after Wednesday's loss
"It's tough. But no excuses."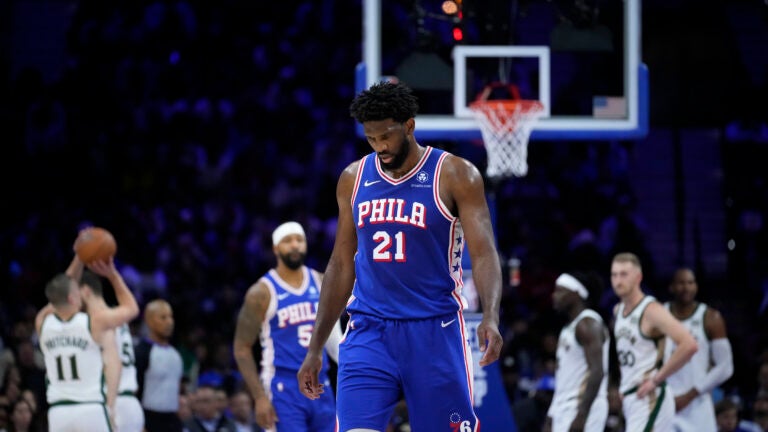 The Boston Celtics defeated reigning MVP Joel Embiid and the red-hot Philadelphia 76ers 117-107 on Wednesday night, vaulting Boston back atop the Eastern Conference.
The 76ers' loss could have been blamed on their schedule — they had just lost to the Indiana Pacers 132-126 the night before — but Embiid said the fact that the Celtics were, in his mind, the NBA's best team may have had something to do with it.
"We're professional athletes. That's the schedule, you just gotta do it," Embiid told reporters after the game. "But yeah, tough. Especially playing Indiana twice and then on a back-to-back, playing the best team in the league, it's tough. But no excuses."
The Celtics may have dropped a game to the 76ers once this season, but they wouldn't let that happen again. They held Embiid to 20 or fewer points for the second time in the year 2023, per Taylor Snow, thanks in large part to the efforts of Celtics center and notable Embiid-stopper Al Horford.
The 76ers are all too familiar with the Celtics' chokehold on them. They have been knocked out of the playoffs by their inter-division rival three times in the last six years, and they have a 13-24 record against Boston since Embiid was drafted. They have been no match for the Celtics for a while now, but Embiid knew that several years ago.
"This is not a rivalry," Embiid said in 2018. "They always kick our ass."
It wasn't just the 76ers the Celtics have dominated this season. At 9-2, the Celtics have one of basketball's best records and have defeated multiple teams with winning records, including the Pacers once and New York Knicks twice. They were the last NBA team to lose their first game with a 109-114 loss to the Minnesota Timberwolves on Nov. 6.
As of Thursday, the Celtics have sole possession of the top seed in the Eastern Conference. They are perhaps the best team in basketball, and the league MVP agrees.
Sign up for Celtics updates🏀
Get breaking news and analysis delivered to your inbox during basketball season.