Celtics
By the numbers: 10 stats that help explain why the Celtics are first NBA team to reach 10 wins
The Celtics have received significant contributions across the board from each member of their starting lineup this season.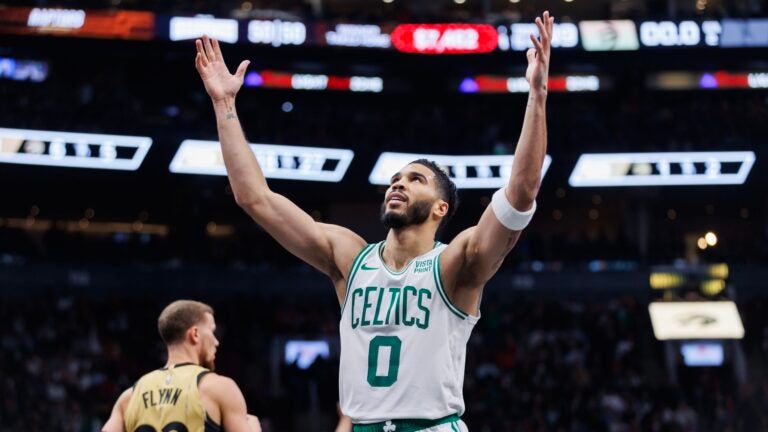 It's no secret that the Celtics have been one of the best teams so far in the early part of the 2023-24 NBA season.
The Celtics added to their case on Friday night, defeating the Raptors, 106-103, to improve to 10-2 on the season. They also became the first team in the league to reach 10 wins on the year as they appear primed to make another deep playoff run.
Boston's early-season success isn't necessarily a surprise considering it was a co-betting favorite to win the title entering the year. But it's still been impressive as it's seamlessly integrated Kristaps Porzingis and Jrue Holiday into the mix after letting go of a handful of top contributors from the last couple of years over the offseason.
Here are 10 stats that help explain why the Celtics have gotten off to a good start this year.
12.6: The Celtics lead the NBA with a 12.6 net rating, often dispatching their opponents through their first 10 wins this season. And when you have a net rating that large, one side of the court isn't doing the heavy lifting. The Celtis are fourth in offensive rating (119.2) and are tied for the second-best defensive rating (106.5) in the league.
33.9: A big reason for the Celtics' strong net rating has been their starting lineup. Their five-man group of Jrue Holiday, Derrick White, Jaylen Brown, Jayson Tatum, and Kristaps Porzingis has outscored their opponents by 33.9 points per 100 possessions, by far the best in the NBA. When the Celtics deploy their double big lineup (where Al Horford plays in place of White), they have an 11.4 net rating, which is obviously good but not the same impact as their usual starting five.
16.3: A major impetus for the Celtics' offensive success has been their 3-point shooting. They're averaging 16.3 made 3-pointers the game, which is the second-best mark in the league. While they're only 12th in the league in 3-point percentage (36.7), the reason why they're second in the league in 3-point makes is because they take the most in the league, averaging 44.3 3-point attempts per game.
47.6: There were some concerns entering the season about the Celtics' rebounding ability after they moved Robert Williams. So far, they've quelled those concerns. They lead the league in rebounds per game with 47.6. That number could be credited to the Celtics' strong defense forcing more missed shots than other teams, but they also rank third in defensive rebounding percentage (74.4 percent).
3.5: The Celtics have handled their business more often than not in clutch moments (when a game is within five points with under five minutes left), going 4-2 in such moments. They've been among the best clutch teams in the league, outscoring opponents by 3.5 points per clutch game. The Celtics had the second-best winning percentage in the clutch last season but only outscored opponents by 0.9 points per clutch game.
68.7: In terms of efficiency, there haven't been many players who've been better shooters than Kristaps Porzingis this season. The big has a 68.7 true shooting percentage, which is the eighth-best mark in the league. Porzingis has been punishing teams when left open beyond the arc, making 42.3 percent of his 3-point field goals when the closest defender has been four-to-six feet away and 36 percent of his 3-pointers when the closest defender has been over six feet away. Porzingis has also been making his 2-point shots regardless of how well he's been covered, making 67.1 percent of his 2-point field goals (seventh-best in the league).
5.4: Does the Celtics' success hinge on Jaylen Brown? While there have already been debates on where his standing is on the team, Brown's scored 23.9 points in the nine Celtics wins he's played in so far this season (he missed Wednesday's win over Philadelphia). That's 5.4 more points per game than he's averaged in the Celtics' two losses, scoring just 18.5 points per game. What might be more interesting is that his usage is notably higher in wins as well, posting a 29.7 usage percentage in victories to a 25.1 usage percentage in losses. Of course, Brown has also shot better from the field in wins by over seven percent and we only have two losses to work with, so it's a small sample size. Still, it might be something worth monitoring.
18.7: Derrick White has continued to be a strong part of the Celtics' success through the early part of the season, performing well on both ends of the court as he's also averaging nearly a block and steal per game again. But White's also stepped up offensively, scoring 14 points per game this year, his best mark since joining the Celtics. But he's also developed as a playmaker too, recording 4.6 assists per game, which is also his best mark since joining the Celtics. His assist percentage (18.7) and usage percentage (18.9) are nearly identical, giving him a 0.99 assist-to-usage ratio. White's assist percentage and assist-to-usage ratio rank in the 89th percentile among all wing players, via Cleaning The Glass, indicating his willingness to be a pass-first player.
7.6: In a similar vein as White, Holiday has also been willing to sacrifice this season. In fact, Holiday is posting a career-low usage percentage (18.1) and is averaging his second-fewest shots per game (11.9). But Holiday has been doing the dirty work, averaging a career-high 7.6 rebounds per game (2.5 higher than his previous career-best) and a block per game. Among all combo guards, he's in the 96th percentile in defensive rebounding percentage (14), 98th percentile in block percentage (1.5), and 94th percentile in effective field goal percentage difference when on and off the court (-6.3 percent), per Cleaning The Glass.
25.2: The Celtics have gotten some really good contributions from all members of their starting lineup plus a couple of their bench players. But it's clear that Jayson Tatum's still the nucleus off this team. When Tatum's on the court, the Celtics outscore their opponents by 19.1 points per 100 possessions. When he's off, they get outscored by 6.1 points per 100 possessions, a 25.2-point swing. It isn't uncommon for a team's best player to have such a staggering impact on their overall net rating, but it's clear that Tatum has solidified himself as one of the league's best players this season. He leads the team in points (27.5) and rebounds (8.7) per game, posting a 61.9 true shooting percentage to boot.
Sign up for Celtics updates🏀
Get breaking news and analysis delivered to your inbox during basketball season.