Celtics
Celtics claim chaotic, choppy win vs. Grizzlies: 10 takeaways
The Celtics have now won six games in a row.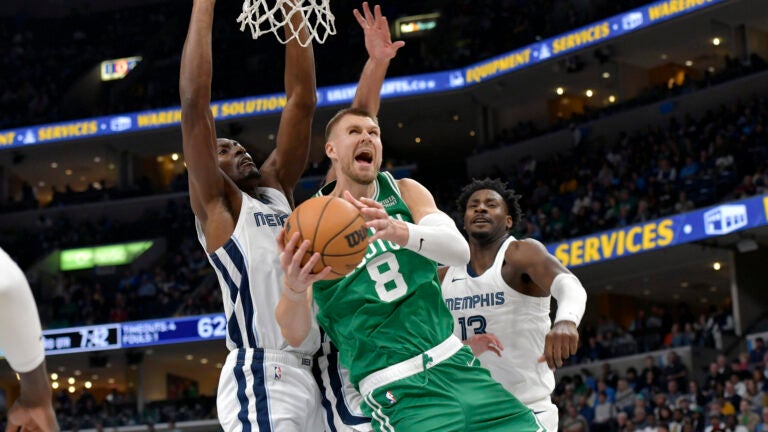 The Celtics outlasted the Grizzlies 102-100 on Sunday, claiming their sixth straight win to improve to 11-2 overall and 3-0 on their current road trip.
Here are the takeaways.
1. The last minute of Sunday's game was as insane an ending as you'll see to an NBA contest. Let's run down everything that happened.
With 37.1 seconds remaining, Desmond Bane missed a jumper, and the Celtics — who were nursing a two-point advantage — grabbed the rebound. Derrick White brought the ball up and gave it to Jayson Tatum, who waved off all screeners to attack Bane and his negative wingspan 1-on-1. Tatum backed Bane down, then whirled and fired up a turnaround jumper.
The jumper missed, but the Celtics got the rebound and found Tatum again. This time, the Grizzlies sent two defenders at him, presumably to foul. Instead of hanging on to the ball and accepting the foul, Tatum made the highly questionable decision to pass to Jrue Holiday who was cutting to the basket. Holiday then one-upped Tatum's questionable decision-making by going up for a one-handed dunk against reigning Defensive Player of the Year Jaren Jackson Jr. Holiday's dunk missed, and suddenly, the Grizzlies had life and the ball.
On the other end, Santi Aldama — who was the Grizzlies' best player other than Bane on Sunday — got a great look at a 3-pointer but did the Celtics the enormous favor of missing it. Ziaire Williams grabbed the offensive rebound and tried to back up and shoot a jumper, but Kristaps Porzingis sent it packing. During all of this, Grizzlies head coach Taylor Jenkins tried desperately to call timeout but failed to get the officials' attention. Time expired, Williams complained for a foul, Porzingis mocked his attempts to get the call, and the game was over in jarring fashion.
Ugly wins matter, and the Celtics got one on Sunday.
2. On an evening where Marcus Smart could be seen on the opposing sideline, the Celtics' best player was Porzingis, who they got in exchange for Smart. Porzingis poured in 26 points on 9-for-13 shooting, made eight of his nine free throws, grabbed eight rebounds, blocked six shots, threw down the go-ahead dunk that gave the Celtics their final two-point lead, and then blocked the Grizzlies' final shot attempt to preserve that two-point lead.
Given that the Celtics got relatively little from Tatum (20 points, 7-for-13 shooting) and an actively negative performance from Jaylen Brown (12 points, 5-for-16 shooting), Sunday's win was a reminder of what it costs to improve in the NBA. Celtics fans loved Marcus Smart for good reason, so Brad Stevens' reason for trading him needed to be equally good.
It was.
3. Porzingis' reaction to the blocked shot was pretty funny.
Porzingis, however, sounded a little chagrined afterward.
"Honestly, almost a little too much emotion," he said. "Like I want to almost apologize to him about the my body language towards the end, but it was just such an emotional game, and refs and calls and all that just adding up throughout the game. It was just some emotions coming out toward the end."
4. The game itself was choppy and ugly. The Celtics were whistled for eight offensive fouls. The Grizzlies' two top scorers both shot an inefficient 11-for-27 from the floor. Both sides seemed to take issue with the officials constantly (even more so than usual in an NBA game). The fact that the Celtics can win an ugly game with their two best players struggling can probably be taken as an encouraging sign.
5. Joe Mazzulla's rationale for taking an early challenge makes some sense if he's sure he will win it, since teams now get a second challenge if they win the first one. Possessions matter, and preserving an early one while maintaining your ability to call for another late in the game is solid rationale.
Still, Mazzulla's decision to challenge an out-of-bounds call early in the first quarter felt rash in the moment and was proven rash when officials upheld the ruling. The Celtics likely would have had several opportunities to challenge later in the game as well. We haven't examined all of the evidence (and Mazzulla probably has), but we're inclined to wonder whether it's wise to challenge a call that early given that a referee crew that makes a mistake in the first five minutes might be likely to make a few more mistakes as the game continues.
6. Sam Hauser didn't break the game open in the first half with his barrage of four 3-pointers (Bane helped the Grizzlies keep pace), but he didn't continue his torrid pace of late en route to 15 points on 5-for-7 shooting from three (and one of those misses was a full-court heave). Hauser is now shooting 53.8 percent from deep in his last 10 games.
7. The Celtics trotted out a wild lineup late in the third quarter after Porzingis picked up his fourth foul: White, Hauser, Payton Pritchard, Al Horford and Neemias Queta, who got his first minutes of the season. Tatum and Brown didn't play at all in the last 7:10 of third quarter, which was yet another odd tidbit in a game full of them.
As for Queta, he set a great screen for a 3-pointer by White and got himself into the box score with a pair of rebounds.
8. Tatum's quiet night was amplified a bit by this one-handed slam over Bismack Biyombo, which looked like it started out as a layup before Tatum simply decided to mash it.
9. And finally, here's a wild stat that illustrates just how rare it is to lose as many facets of a game as the Celtics lost and still claim a win.
10. The Celtics wrap up their road trip on Monday when they take on the Hornets. Ordinarily, the second night of a back-to-back/third-game-in-four-nights/last-game-of-a-road-trip combination would be a scheduled loss. But against the 3-9 Hornets, who historically have had absolutely nothing for a player of Tatum's caliber, the Celtics might have a chance to sweep this odd road trip before they face the Bucks in a hotly anticipated showdown at TD Garden on Wednesday.
Sign up for Celtics updates🏀
Get breaking news and analysis delivered to your inbox during basketball season.