Local
BC women's lacrosse team eager for rematch with North Carolina in Final Four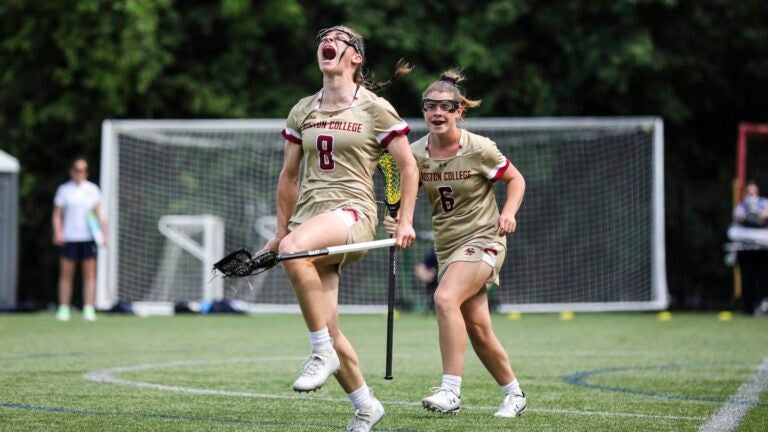 As members of the Boston College women's lacrosse team recently dissected film from their 21-9 road loss to North Carolina in early March, there were times they barely recognized themselves and collectively marveled at how far they've come.
That early-season matchup seems like forever ago to them, and they're eager for another crack at the top-seeded Tar Heels in the NCAA Final Four Friday at noon in Towson, Md. The fourth-seeded Eagles (16-3) have plenty of respect for juggernaut North Carolina (20-0), but they believe they're more equipped to rise to the challenge this time around.
"We've really been on the up in terms of how much we've grown and improved," redshirt junior Melanie Welch said. "I don't think that reflects at all what we are now as a team. We're excited for a little bit of a rematch and to prove ourselves against them and see how much better we've gotten."
The Eagles, who are one win away from their fourth straight championship-game appearance, have won all three of their NCAA tournament games by double digits. They're playing arguably their best lacrosse at the right time and are hoping this meeting ends differently.
At the same time, they realize that UNC has also improved significantly since March, and their focus is on playing to their potential and turning in their most complete game yet when it matters most.
"The vibes are immaculate," freshman midfielder Belle Smith said. "With COVID and all the restrictions, it means even more and it's even more exciting going to a Final Four. It makes you feel like everything you've gone through, and everything you've worked toward is all worth it. We're pumped and getting ready to go, and we're excited to show the lacrosse world what we can do."
Smith was instrumental in BC's quarterfinal win over Notre Dame, as she scored three goals in just over a minute to help the Eagles grab the momentum early. Since committing in eighth grade, she has attended every championship game BC has played in and has loved watching the team get stronger every year.
She's grateful to the players who came before her for laying the foundation, and she's craving a championship for the team, families, friends, and alumni to cherish.
"I want to be a part of that first national championship team and hopefully win more than just one," Smith said. "This is the perfect year to do that. We're ready to rock. We're ready to dominate."
The Eagles know they have a formidable opponent in front of them, and they're expecting UNC to be just as explosive, if not more so, than in the first meeting. North Carolina relies on Jamie Ortega (107 points), Kate Hoeg (105 points), and several other playmakers, and BC coach Acacia Walker-Weinstein called them "perhaps the most dynamic offense of all-time."
UNC is also stout defensively, and goalie Taylor Moreno has the second-best save percentage (.556) in the country.
Fortunately for the Eagles, they have the highest shooting percentage (.530) in the nation. They also have superstar Charlotte North, who already holds the record for goals in an NCAA tournament, with 23 in just three games. While scoring is obviously important, the Eagles are also placing a tremendous amount of emphasis on the draw, and North will be at the crux of that effort.
"She's an unbelievable player," UNC coach Jenny Levy said. "She puts a lot of pressure on defenses from all areas of the offensive unit. She's also a huge component of their draw.
"But it's not just the Charlotte North team. It's a really dynamic team offensively. They've got a lot of weapons."
BC's last win against UNC came in 2019 in the exact same situation. In Baltimore, during the semifinals, the Eagles outlasted the Tar Heels, 15-14, in overtime, to reach the national title game.
Levy said the Tar Heels are expecting a "war" from the Eagles again. Both teams are experienced, hungry, and talented, so it's all about who shows up. The winner gets a crack at Northwestern or Syracuse in the championship game Sunday.
Walker-Weinstein said the Eagles are "film junkies" and have studied the first meeting and other UNC games in great detail. The goal of winning a national title is very much within reach, but regardless of how Friday and potentially Sunday unfold, she's proud of the Eagles for another standout season.
"It's a really special year," Walker-Weinstein said. "The girls have committed and devoted themselves to an even deeper level, which is crazy. To get this far is close to impossible. It's really, really, really hard to win. Even though we've done it a couple years in a row, I never forget that it is really hard to win."