College Sports
Boston College lacrosse heading to 4th straight national championship game
The Eagles knocked off No. 1 North Carolina Friday.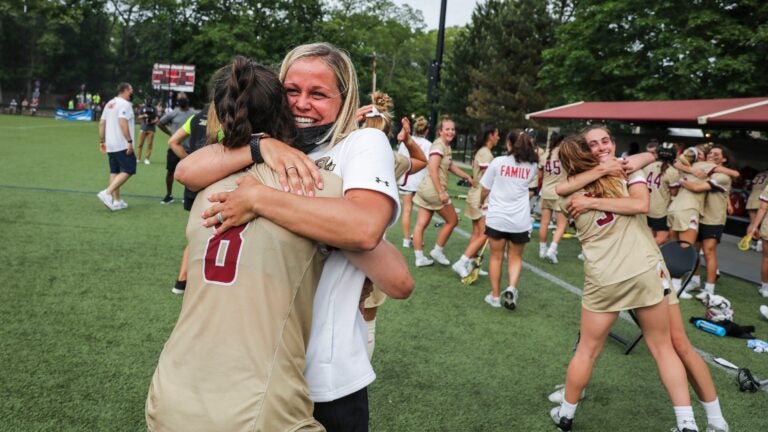 Boston College women's lacrosse will play in their fourth-straight NCAA Championship game after they upset previously undefeated North Carolina, 11-10, in Friday's semifinal at Johnny Unitas Stadium at Towson University.
Eagles junior goaltender Rachel Hall had a standout performance, equaling her season-high 11 saves. It wasn't easy against the top-seeded Tar Heels (20-1), who had downed BC 21-9 in ACC play early in the season, but she was up to the challenge, especially when UNC mounted a late-game comeback.
BC (17-3) got off to a hot start, with Cara Urbank winning the opening draw. Eagles superstar Charlotte North was Urbank's passing target, but she faced a Tar Heels double team and was forced to pass it to Caitlynn Mossman. The junior slid a shot past UNC goalie Taylor Moreno to put the Eagles up 1-0 just 1:18 into the game.
But then BC's offense stalled. UNC won the next draw control, and their depth was on full display. Though BC's defense covered the Tar Heels leading scorer, Jamie Ortega, she found Caitlyn Wurzburger with a feed that became their first goal of the game. UNC dominated the next seven minutes of play, with both Ortega and Katie Hoeg scoring to open up a 3-1 lead.
After UNC's onslaught, BC got their feet back under them with a long possession of their own. Courtney Weeks picked up a smart ground ball to extend the Eagles' possession, leading to a goal by freshman scoring leader Belle Smith, her 45th of the year, to bring BC within one.
Two minutes later, a foul called on BC allowed UNC's Scottie Rose Growney to extend UNC's lead on a free position shot. But the Eagles' battled back thanks to a Jenn Medjid goal, bringing the game back within one. North, who holds the program record for goals in a season, finally got on the scoreboard with a blistering shot to the top of the net to tie the game, 4-4.
Medjid won the resulting draw control, and after some back-and-forth with teammates, rolled past a Tar Heels defender and scored, giving BC its first lead in more than 16 minutes. She added a third two minutes later, putting the Eagles up by two before UNC's Kerrigan Miller ended the BC run and brought her team within one.
After Moreno and Hall traded incredible saves, Courtney Weeks added to BC's lead with a goal off a free position shot. Cassidy Weeks, her twin, scored with 12.5 left in the first half to give the Eagles an 8-5 lead at halftime.
BC got a quick goal from Mossman to begin the second half. This one was set up after a forced turnover by BC midfielder Phoebe Day, who stopped a grade-A attempt by UNC's Ortega. Wurzburger followed with an UNC goal. Unlike the start of the game, however, the Eagles held the Tar Heels at bay, with North and Medjid scoring to extend BC's lead to 11-6.
With time running out, UNC reasserted themselves with goals from Wurzburger and Hoeg. Hall made a snappy save on a free position shot to pause the Tar Heels momentum, but Hoeg scored again with five minutes left in the game to bring her team within two.
Hall made another stellar save, this time with her hip, to force a turnover. BC extended their possession as long as possible and forced a UNC foul, but couldn't convert on the free position chance. The Tar Heels got the ball back, but Hall made another huge save on Ortega. With just over a minute left, two yellow cards on UNC allowed BC to control much of the remaining seconds. Ally Mastroianni scored with a second left, but it was too little, too late for the Tar Heels.
BC will face the winner of Friday's late semifinal between Syracuse and Northwestern in Sunday's championship game. The Eagles are looking for their first national title in program history.