College Sports
Phil Jurkovec leads charge as Boston College football becomes bowl eligible with win at Georgia Tech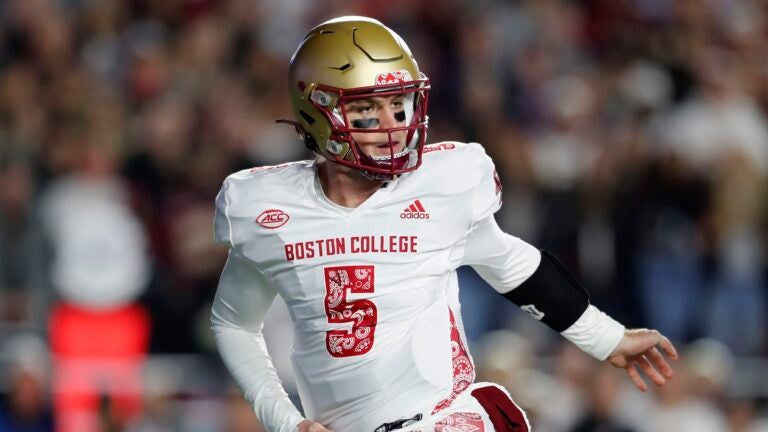 With his injured right hand keeping him sidelined for nearly two months, there wasn't much Phil Jurkovec could do to sharpen his skills as a passer.
He could, however, improve his ability as a runner. The Boston College quarterback worked diligently with strength and conditioning coach Phil Matusz to lose weight, get faster, and become more nimble, and the results have been fruitful since his return.
"It feels good, because everybody was calling me fat and slow last year back home," Jurkovec said with a grin. "I'm going to be able to tell them that I ran a few."
Jurkovec rushed for a score against Virginia Tech last week and added three more in a come-from-behind, 41-30 road victory over Georgia Tech on Saturday. He also threw for two touchdowns, helping the Eagles (6-4, 2-4 Atlantic Coast Conference) erase a 21-7 deficit to outlast the Yellow Jackets (3-7, 2-6) and become bowl eligible.
BC is guaranteed to finish the regular season .500 or better for the sixth straight year. After electing to skip a bowl game last year, the Eagles are in position to clinch their first eight-win season since 2009.
"We made the right decision last year, but we're going this year," coach Jeff Hafley said. "Now the goal is to get to a better one. When I held up the shirt that said 'Bowl-Bound,' that's the first thing they said: 'Now we've got to go to a good one.' We have that in our control."
The Eagles struck first, when Jurkovec (13-for-20 passing, 310 yards, 2 TDs; 8 carries, 71 yards, 3 TDs) hit Zay Flowers for a 48-yard score two minutes into the game. Georgia Tech's Jahmyr Gibbs — who Hafley called the most explosive player the Eagles have seen all season — returned the ensuing kickoff 98 yards to even the score at 7.
Hafley said the plan was to avoid Gibbs entirely but a miskick gave him an opportunity he didn't squander.
The Yellow Jackets used that momentum to take a 14-7 edge through one quarter on a 12-yard touchdown catch from Malachi Carter and extended their lead to 21-7 on a 2-yard run from quarterback Jordan Yates early in the second.
BC quickly responded, as Jurkovec found a wide-open Flowers for a 39-yard scoring strike, then added rushing TDs of 8 and 14 yards himself to give BC a 28-21 halftime advantage.
"He's looking faster than me out there," Flowers said. "Every time I see him, I walk up to him and tell him, 'Hey, you looking good.' That's all I can tell him. I wasn't expecting him to be moving like that when he first got back."
Jurkovec's running ability was key, but it was only one element of an explosive offense that finally resembles what the Eagles envisioned when the season began. On top of the connections with Flowers, Jurkovec hit Jaden Williams and Trae Barry for 38 yards apiece, Joey Luchetti for 26, and Jaelen Gill for 24 in the first half. An area that haunted BC for much of the season is now a once again with Jurkovec back in command.
Pat Garwo controlled things on the ground for the Eagles, rushing 24 times for 104 yards.
Jurkovec finished the opening half 8-for-12 passing for 237 yards, helping the Eagles build a 324-199 edge in total offense. He became the third BC quarterback to rush for two scores and throw for two in a game since 1996 and the sixth to account for five touchdowns in a game in that span.
The Yellow Jackets hung around, as Brent Cimaglia drilled a 28-yard field goal to slice the deficit to 28-24. They nearly took the lead, but Jaiden Woodbey came up with an interception at the 3-yard-line to help set up a 31-yard Connor Lytton field goal to extend the lead to 31-24.
Georgia Tech scored again, but Cimaglia's extra point clanged off the upright. Jurkovec added another rushing TD with 2:48 left in the game — this one from 31 yards out — to cap a 10-play, 90-yard drive that spanned just over six minutes, and Connor Lytton nailed a 27-yard field goal in the final minute to seal the win.
BC allowed 213 rushing yards but came up with key plays when it had to. The Eagles racked up 505 yards on offense. They averaged 23.8 yards per completion and only faced eight third downs.
Hafley was pleased with the execution overall, but he was more encouraged by his team's resilience. After sputtering to an 0-4 start in conference play, the Eagles are looking like one of the more formidable teams in the ACC.
They close out the regular season with home games against Florida State and Wake Forest, and Hafley is enthusiastic about the direction his team is heading.
"Our guys never flinched, they never wavered, they never stopped believing, and they didn't point fingers," he said. "We came all the way back and took it from there. I'm really proud of that, probably more than anything we did on the field today."
Get the latest Boston sports news
Receive updates on your favorite Boston teams, straight from our newsroom to your inbox.