Boston Marathon 2020
The 2020 Boston Marathon was postponed due to the coronavirus. Could it be canceled altogether?
Marty Walsh is "hopeful" the race will happen in September. Some experts aren't sure it should.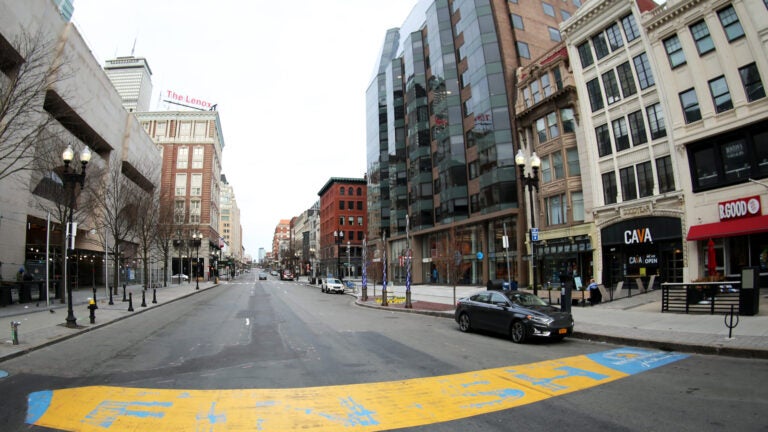 For the first time since the 19th century, April will pass in Boston without a Boston Marathon.
Rather than cheering crowds, the course was overcome by eery silence this Patriots' Day, after the 124th edition of the race was postponed until Sept. 14 due to the coronavirus outbreak.
Boston Mayor Marty Walsh has said he hopes runners and fans will still embrace the "once-in-a-lifetime" late-summer race. But as a clearer picture begins to emerge of the steps needed to effectively beat back the virus, it's increasingly unclear whether the 2020 marathon can — or should — happen at all.
"I do not think such a race will be wise in September," said Glen Weyl, a co-author of a report released this week by Harvard's Safra Center for Ethics on the steps needed to combat the pandemic in order to safely return to normalcy.
The Safra Center report and others, released by both right-leaning and left-leaning groups, broadly recommend a similar path forward: While certain nonessential businesses may be allowed to reopen in phases as COVID-19 testing and tracing is ramped up, bans against mass public gatherings — like concerts and sporting events — should remain in place until mass immunity or a vaccine is developed, which is expected to take at least another year.
Given its usual pool of 30,000 runners and hundreds of thousands of spectators along the 26.2-mile course, it's hard to foresee the Boston Marathon going forward in any recognizable way in September, according to Weyl.
"Anything even close to the current format could not work," he told Boston.com.
Walsh is aware of the bleak projection; in a recent CNN interview, he acknowledged the possibility that concerts and sporting events may not be able to resume in Boston until 2021.
And during a press conference Wednesday, he noted the recent cancellation of the Berlin Marathon — a 60,000-person race scheduled two weeks later than the Boston Marathon and in a country with more widespread testing — after city officials extended a ban on all events of more than 5,000 people through Oct. 24.
"To be honest, we haven't had those conversations yet," the mayor said during a press conference Wednesday, when asked about the chances that the Boston Marathon would happen as planned in September.
"I am hopeful that we will be able to have the marathon, because certainly it felt on Monday there was a void in the city of Boston," he added. "But we will have more conversations and discussions."
The Boston Athletic Association, which organizes the annual race, says it will follow the guidance of city and state officials on matters of public health and safety, particularly when it comes to the coronavirus pandemic.
"We will remain flexible to address and explore all factors with public officials as we plan for the race," the BAA told Boston.com in a statement. "Our priority remains the health and well-being of members of our community."
The marathon has never been canceled in its history. Only in 1918, due to World War I, was the annual Patriots' Day race changed to a military relay race. In the midst of the coronavirus pandemic, the usually 38,000-runner Tokyo Marathon last month narrowed down its field to 200 elite runners and advised spectators against gathering along the route.
Walsh, however, has dismissed the notion of stripping the Boston Marathon of its defining characteristics.
"That's not the Boston Marathon," he said last month, when asked about restricting the race to elite runners. "We're an inclusive marathon. The Boston Marathon is for everyone."
While the Berlin race will not take place in September "as planned," the Boston Marathon isn't the only major event still slated for this year.
Major marathons in London and Madrid, originally scheduled in April, have also been postponed until the fall. And the New York City Marathon is  still officially planned to go forward on Nov. 1.
Experts say certain social distancing measures could be incrementally repealed this summer in the so-called second phase of the coronavirus response. However, they agree that bans on large gatherings will be the last to be lifted.
Scott Gottlieb, the former Food and Drug Association commissioner under President Donald Trump, wrote in a recent report that while "the majority of schools, universities, and businesses" could reopen during the second phase, "social gatherings should continue to be limited to fewer than 50 people wherever possible," until a vaccine has been approved.
The liberal-leaning Center for American Progress made a similar recommendation.
"Gatherings of more than 50 people must continue to be banned," the think tank wrote in a report earlier this month. "Once herd immunity has been achieved through mass vaccination, all remaining restrictions can be lifted."
Given the timeline for developing a treatment for the disease, epidemiologists at Harvard's Chan School of Public Health estimated in a report last week that the bans on large gatherings may not be "fully relaxed by early- to mid-2021," with intermittent social distancing possibly needed until 2022.
"It depends on the data and information we have available to us and where we are with the coronavirus, what cases are still active, how much testing do we have, how many people are immune to the virus," Walsh told CNN last week.
There are also some concerns about a second wave of coronavirus hitting in the fall in conjunction with flu season when the weather gets colder.
In a recent New York Times interview, bioethicist Zeke Emmanuel ridiculed the notion that the largest gatherings — specifically conferences, concerts, and sporting events — could be put off until later in the year.
"When people say they're going to reschedule this conference or graduation event for October 2020, I have no idea how they think that's a plausible possibility," Emmanuel said. "I think those things will be the last to return. Realistically we're talking fall 2021 at the earliest."
<hr>
<h2>Boston is still running</h2>