Boston Marathon
Korir handles heat best, heads up a Kenyan sweep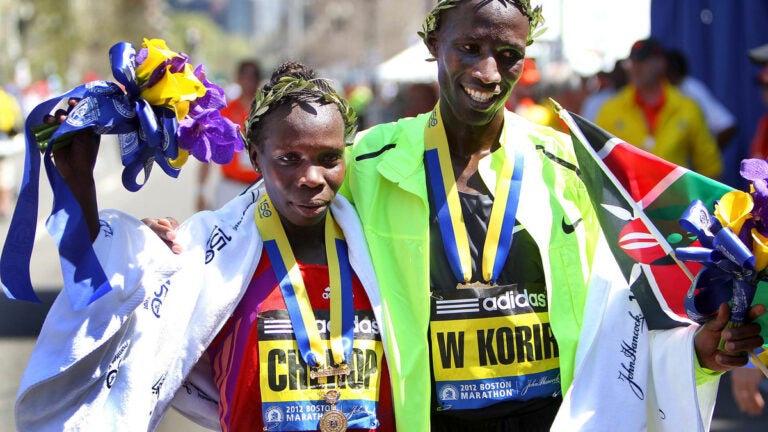 Just before Heartbreak Hill a spectator shouted to him that he was in sixth place.
"I thought, if I finish No. 5 in Boston that would be awesome,'' Wesley Korir said. "After I passed No. 5 I thought, let me get to fourth. I wasn't thinking about winning. I was thinking about counting one person at a time. One by one, it just happened.''
Thus did the 29-year-old Kenyan claim the men's title at the 116th Boston Marathon on the most scorching Patriots Day hereabouts since the infamous "Run for the Hoses'' in 1976, running down countryman Levy Matebo in the final mile to win by 26 seconds in 2 hours 12 minutes 40 seconds.
Except for Robert Kipkoech Cheruiyot's 2:14:13 clocking amid the wind and rain five years ago it was the slowest winning time since Geoff Smith's 2:14:05 in 1985, the year before sponsor John Hancock began awarding prize money.
"I spent most of my time praying and singing,'' said the University of Louisville graduate and permanent US resident who was making his Boston debut after twice winning in Los Angeles and finishing second to Moses Mosop in Chicago last fall. Most of his rivals, notably defending champion Geoffrey Mutai, ended up singing the blues after being drained by a combination of the course's notorious ups and downs and temperatures that hit the mid-80s.
"This is the will of God,'' said Mutai, who dropped out with stomach cramps at 18 miles after running a world-best 2:03:02 here last year amid perfect conditions. "I can't blame anything or anyone. I am still happy.''
By not finishing here, Mutai might have ended his chance of earning one of the three places on Kenya's Olympic team, which will be selected after Sunday's London Marathon, where four of the other five men's contenders will be competing. "It is only depending on Athletics Kenya,'' said Mutai, who was among the leaders just before the Newton hills. "For me, I can't say whether I will be there or not be there.''
Neither could federation chief Isaiah Kiplagat, who was watching the race on a TV screen at the Copley Plaza. "We still have to find out what happened,'' said Kiplagat, who'd stated last week that Mutai did not have to retain his title to earn a place on the London team. Korir didn't have to worry about Olympus. All he wanted to do was have a respectable finish without frying his circuitry. "It was hot out there,'' he said, "in case you didn't know.''
Everybody had known for days that the mercury would be in the red zone so the lead bunch left Hopkinton at a deliberate, if not leisurely, pace. The exception was Glenn Randall, a former Dartmouth cross-country skiing ace who was so far ahead of the pack in the early going he'd left the press truck behind. Randall led through 6 miles before he was swallowed up.
Next up to lead for a couple of miles came Nick Arciniaga, a fellow Yank who'd been 10th here four years ago. But this was a day when misery craved company and by the time they reached the midway point at Wellesley, there still was a pack of 15 at a split (1:06:11) that was more than four minutes slower than the 1994 checkpoint record.
The collective collegiality didn't last long, though. At Newton Lower Falls the group was down to nine – eight Kenyans and Ethiopia's Gebre Gebremariam, the former New York champ who'd been third here last year and was 14th Monday. By the time they made the firehouse turn onto Commonwealth Avenue it was a three-man race – Mathew Kisorio, Matebo, and Mutai.
Korir, more than half a minute to the rear, wisely decided not to give chase figuring that it was a ticket to an ice bath and an IV drip. "I knew that it was too hot,'' he said. "If I went too hard too quick, I'm going to end up cramping up and dropping out.'' Hydration was far more important than positioning, Korir concluded. "I guess my biology degree kicked in today,'' he said.
With Mutai out of commission, it was just Kisorio and Matebo in the hills. And when Matebo dashed away atop Heartbreak, it seemed the day would be his. But Korir, who'd prospered in similar heat in the Windy City last October, kept coming. "It was deja vu,'' he said.
Korir caught Matebo on the flats but eased off after he felt himself cramping. Then Korir reeled him in again before the Massachusetts Avenue underpass and never looked back. Matebo has a solid 26-mile pedigree – he won in Brussels and Barcelona and was second in Frankfurt last fall. But Korir is a trackman who'd finished third in the 5,000 meters in the NCAA championships and who knew he wouldn't be outkicked. "I have nothing to say,'' said Matebo, whose gas tank was drained. "I am happy to have the position that I have.''
So Korir's trip down Boylston Street was a victory lap and with Matebo (2:13:06) and Bernard Kipyego (2:13:13) also making the podium it marked the first Kenyan sweep in five years. Right behind them was American Jason Hartmann (2:14:31), who'd steadily picked off stragglers down the stretch to match countryman Ryan Hall's fourth-place effort from last year.
"It was just a battle,'' said Hartmann, who was running for redemption after finishing 32d in the US Olympic trials in Houston in January. "So many times you wanted to throw in the towel but you just fought on.''
On a day made for roadkill, hanging in and hanging tough was the payoff play. "To see the great Kenyans running this slow shows that the heat is the biggest challenge,'' said four-time champion Bill Rodgers. "This is classic Boston. That's what makes Boston the greatest test of all.''