Boston Marathon
Different sport for Summer Sanders, but same drive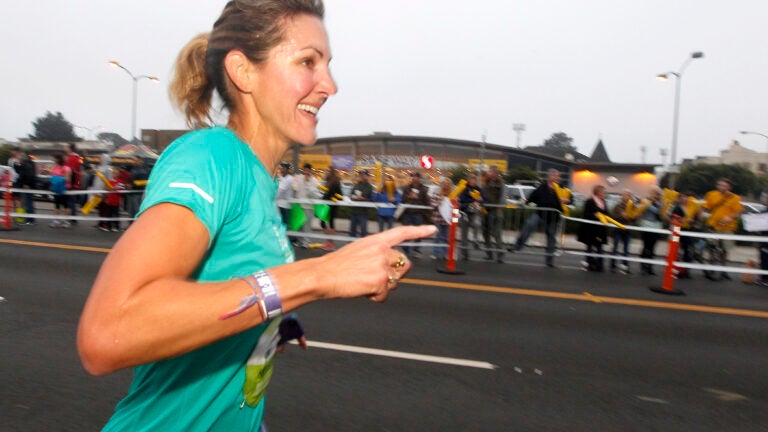 When so many other runners in Monday's Boston Marathon arrive at Heartbreak Hill, they'll wonder if their bodies will be strong enough to respond to such a physical challenge.
When Summer Sanders gets there, she'll already know the answer. She has pushed her body to its physical limit, dozens upon hundreds upon thousands of times. What's one more?
Sanders was America's most decorated swimmer at the 1992 Summer Olympics in Barcelona, winning two gold medals, one silver, and one bronze. A four-time Olympic medalist at age 19, she hung up the suit not long thereafter and put on running shoes, initially as a social opportunity with college friends.
Now, some two decades later, she has qualified for Boston, running less than a year after undergoing a medical procedure for varicose veins and hoping to raise awareness for a condition (venous insufficiency) that affects some 30 million American men and women. Sanders won't win Monday's race — she'll likely be roughly an hour behind — but that's no longer the force driving her.
"That's what I love about running — I feel like we all celebrate each other,'' Sanders said in a recent telephone interview from her home in Salt Lake City, where she lives with her husband and two children. "Even if you're racing somebody at the finish, it's like you're in it together.
"It's very similar to parenthood: We're putting ourselves through this, it's beautiful, it's wonderful, it's frustrating at times, but we're all in it together, and there's something so great about that.''
Sanders almost added running to her athletic plate in high school — she grew up in Roseville, Calif., near Sacramento — when her swimming coach suggested she join the cross-country team in the fall. That didn't happen, so focused was she on becoming a world-class swimmer.
She nearly qualified for the US Olympic team as a 15-year-old, then captured the country's heart four years later in Spain. Sanders won individual gold in the 200-meter butterfly, was on the winning 4 x 100 medley relay, added silver in the 200-meter individual medley, and bronze in the 400-meter IM.
Before launching into a television career — she has been a sports commentator and hosted NBC's "Inside Stuff'' NBA show — it was back to Stanford, where she was an eight-time NCAA champion and twice the national Swimmer of the Year. That's where the running roots were planted. Initially as part of her swimming preparation, then something else entirely.
"When I got to college, I used to run on top of everything else,'' said Sanders, "because when you gain weight in swimming, you have to do something else, like bike or run, to maintain the weight or take the weight off.
"So I sort of dabbled in it a little bit, but more because I was told to, which is never really for fun. So when I hung up my swimsuit, in '93, I literally started running with my girlfriends.
"We had this thing at Stanford called the 'Campus Loop,' and then we had another run called 'The Dish,' and you'd run up to this giant satellite dish, which was probably extremely unhealthy.
"I would do those two runs, and I just found it so therapeutic. My girlfriends and I would have these great conversations, about guys, and school, and life.
"We'd get done with our runs and I'd be like, 'Oh my gosh, this is stuff I never got to do when I was swimming.' You weren't allowed to talk, even when you were kicking and your head was above water. My coach would yell, 'Stop chatting and start working!'
"It was nice to be able to sweat and work out and have built-in therapy at the same time.''
'A new face' for leg issue
Sanders ran her first marathon in 1999 (New York), and earned her place in Hopkinton by running fast enough at the 2011 Chicago Marathon.
There's a big difference between then and now, though. Sanders was diagnosed with varicose veins when she was pregnant with her son, who is now 5. She underwent a simple procedure last spring and noticed the difference right away.
"I honestly feel like my legs are so much lighter, which was a mystery to me before I had it done,'' Sanders said. "It's funny, now I notice everybody's legs, I'm at the starting line checking everybody's legs out.
"I want to put a new face to this condition. It's not our mother's problem, it's our situation, and we can take care of it. I thought I'd be the last person in the world: an Olympic athlete, active all the time.''
Little did Summers know she had no choice. Venous insufficiency affects 30 million men and women in this country. It chooses you.
"Venous reflux is an inherited disease,'' said Dr. Paula Muto, a vascular surgeon who has offices in Lawrence and North Andover. "It's something you're born with. If your mom or dad or grandparent or sibling had vericose veins, or venous disease, or swollen legs, you have a pretty good chance of getting it.
"You might not know it, but you probably already have a little bit of it if you have a family history. Then over time — during pregnancy, weight gain, height — these are all factors that will make the disease come out.''
Muto has never treated Sanders, but says she's the perfect spokeswoman to raise awareness for the disease.
"She's a world-class athlete, an Olympian, and she has done everything right: She's been fit, her calf muscle has been pumping,'' Muto said. "Her legs are also spectacularly beautiful; she wasn't looking to make her legs pretty, they were already pretty.
"Despite all the activity, despite being fit, despite being thin, blood was just going in the opposite direction. There's reflux there, and when she's treated, the pain goes away.''
Muto and Sanders both emphasize that if you are experiencing any leg soreness, if your legs feel swollen or restless, especially at night, if spider-like veins appear near the ankles, or if discoloration is evident, have a specialist take a look.
Medical advancements have been made to better treat vericose veins and venous insufficiency, with insurance plans, Medicare, and Medicaid covering the cost, since it's no longer viewed as cosmetic surgery.
The pain barrier
Sanders is running now for a cause. Two, actually, since she's still involved with the Right to Play charity, which brings sport and play to developing countries, and to children who have been affected by war.
She feels healthier, and her legs lighter, ready to tackle Boston's hilly course. Even though she hasn't run it yet, she's assuming it'll produce a feeling she's familiar with, from all those years spent in the pool.
"When I started running, the pain barrier was very familiar to me, and I had no problem pushing beyond the pain,'' Sanders said. "When for your whole life, every single workout, you are programmed to push beyond belief, it's really hard to just turn that off and kind of just be a social competitor.
"I really am just like everyone else, and it's as simple as crossing that finish line. I don't care where I cross. It's accepting the challenge and going for it.
"For me, for Boston, it's to survive Heartbreak Hill and soak up every single moment.''