Boston Marathon
Lelisa Desisa, Rita Jeptoo win Boston Marathon crowns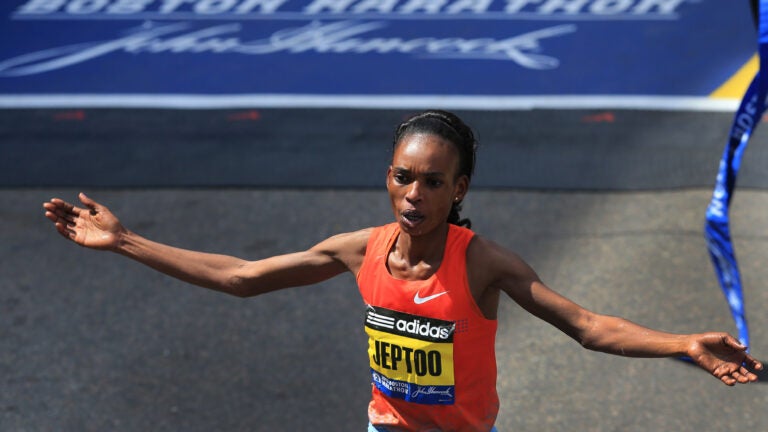 It hasn't taken Lelisa Desisa long to get the hang of this marathon thing.
Running just his second career marathon, Desisa won the men's race at the 117th Boston Marathon Monday, winning in a time of 2 hours 10 minutes 22 seconds.
He's now 2 for 2 in the event.
Desisa, a 23-year-old Ethiopian who won the Dubai Marathon in his debut in the event, pulled away from a three-man pack just before Boylston Street to hold off runner-up Micah Kogo of Kenya and Gebregziabher Gebremariam of Ethiopa
"The race was just fine for me,'' said the soft-spoken Desisa, who has specialized in the 10,000 meters and the half-marathon. "The downhill was easy, but the uphill was very hard.''
Gebremariam, who finished third in Boston two years ago and 14th in the 90-degree heat last year, could be seen talking with countryman Desisa during the race.
Was he offering strategy? Advice? Directions to the finish line?
"We train together and know each other so well that we can see things and give each other advice,'' said Gebremariam, who finished six seconds off the winning pace and five seconds behind runner-up Kogo. "We know what we are able to do and notice things that maybe someone else does not.''
American Jason Hartmann finished fourth for the second year in a row. He led the race for several miles early, but a group of nine runners, all from Kenya and Ethiopia, pulled away before the halfway mark.
Hartmann remained within striking distance, but said he had to make an ultimate tactical decision when a group of predicted favorites, led by Desisa, made a move with nearly six miles remaining.
"At the 19-, 20-mile mark, that's when the Ethiopians and Kenyans opened it up,'' said Hartmann, who arrived at his postrace press conference wearing one sneaker because of a blister on his left foot that popped up around the sixth mile.
"I had to assess the situation and decide at that point if I could keep up the pace,'' said Hartmann, who does not have a corporate sponsor. "I decided to stay within myself and allow myself the opportunity to race the last five miles. Because I think at Boston, the last five miles is kind of where you can determine if you've run good or not. If you run the last 20 miles under control, relaxed, and allow yourself enough energy to compete, I've realized that's an approach that's allowed me to have some success the last two years.''
Kenyan Wesley Korir, last year's winner, finished fifth this year, 2 minutes 8 seconds behind Desisa. He said it was a much more strategically challenging race this year.
"The race this year was quite different,'' said Korir. "I think it was a much more tactical race. You had the Kenyans and the Ethiopians, and they weren't just fighting for time, they were fighting to beat each other.''
Jeptoo wins women's race
Even as she led the women's Boston Marathon for mile upon mile with nary another female runner in sight, Ana Dulce Felix kept looking over her shoulder.
Turns out she was wise to be on the lookout. Because Rita Jeptoo was closer than she appeared.
Jeptoo, the 2006 champion from Kenya, led a small pack that caught and passed Felix on the 24th mile, then pulled away from the rest of the lead group to win the women's elite race at the Boston Marathon. Her unofficial time was 2 hours 26 minutes and 25 seconds.
"I was so happy because I was running like it was 2006,'' said Jeptoo, who took two years off from marathoning after having a child. "It was amazing, I had so much energy.''
Felix, from Portugal, took over for early leader Yolanda Caballero of Colombia at mile 17 and held a lead of as much as a minute over the rest of the field until the 23d mile. That's when a group of five women began gaining on her, cutting her lead to 23 seconds.
Kenyan Sharon Charop, last year's winner, and Meseret Hailu of Ethiopa passed Felix, as did Marblehead's Shalane Flanagan.
Jeptoo pulled away from runner-up Hailu and third-place finisher Cherop just before Kenmore Square, winning by a 33-second margin.
Flanagan, making her much-anticipated debut in the Boston Marathan, was fourth in 2:27:08. Kara Goucher, Flanagan's friend and training partner, was 10th in 2:28:11.
"I did run with someone the whole day, pretty much until the last four miles when we started to dissipate into mini-groups,'' said Flanagan. "I kept a very positive view, that anything can happen the last four miles, someone could get 'sniped' [suffer an injury or fall back] and I could pick up some pieces and move forward. So I told myself to protect fourth-place and get greedy for more if it became available.''
But no one fell back, and there was no further progress to made. Flanagan admitted to mixed emotions, acknowledging that the experience was wonderful but the fourth-place outcome was a few spots shy of what she wanted.
"Running in a marathon is an emotional event,'' said Flanagan, who shed some tears at the finish line. "You pour a lot of yourself into the preparation into the race day, and it's a celebration. For better or worse it can be quite emotional. Seeing my family and seeing Kara and the disappointment of not fulfilling what I wanted today all kind of came culminating out. I'm very grateful for this moment and this day, but yeah, I was disappointed.''