Boston Marathon
2014 Boston Marathon begins with a race to the starting line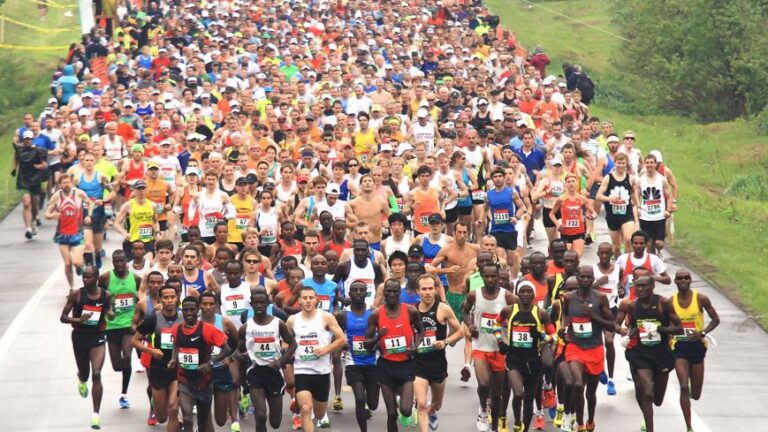 After the bombing at the finish line of the 2013 Boston Marathon, many anticipated a significant increase in the demand for entries to the 2014 race. No one knows for sure whether all qualified runners will be able to get in, so runners adjusted their plans to try to ensure that they can make it to Hopkinton on Patriots Day.
Many runners who were already qualified went in search of an even faster qualifying time to improve their chance of getting into the race because the Boston Marathon uses a rolling registration process to give the fastest runners priority.
On Monday, only runners who were at least 20 minutes faster than their qualifying time were allowed to sign up. Wednesday, those who were at least 10 minutes faster can join in. Runners five minutes under their qualifying time had to wait until Friday.
Next week, registration will open for anyone who has run a race under the qualifying time for their age and gender.
Just before registration opened, the Boston Athletic Association, after working with the cities and towns along the course, announced that it added an additional 9,000 race entries to accommodate the increase in demand. Only about 500 of those entries were allocated to qualifiers (see sidebar), so many qualified runners still aren't certain whether they'll make it into the race.
Lynn's Jim Pawlicki wasn't planning to run the marathon in 2014. In 2013 he volunteered at a water stop instead of running. But after the bombing in April, "I was really angry about it all, so that's when I got the crazy idea that I was going to go run the Boston Marathon next year because I'm not going to let anybody tell me that I can't do a race.''
Pawlicki ran a 2:57 at the Vermont City Marathon over Memorial Day weekend, 13 minutes under his qualifying time.
Vanessa Russo, who lives in Cromwell, Conn., hopes to run her first Boston in April. She needed a 3:35 at Hartford in the fall of 2012 and qualified with a 3:32. Then she ran Providence in May to try to improve her chances of getting in.
"Once what happened in Boston happened, I knew I basically didn't have a choice of getting over 3:30 and standing a chance of getting in.''
Vanessa ran 3:29 in Providence, but she's "still not sure if six minutes is going to be enough.''
Midsummer races showed at most a slight increase in participation. Eight of the 33 races in the BAA's list of "Top Qualifying Races'' come after Boston and before registration opened in September, and 27,758 runners finished those races in 2012.
In 2013, there were 27,999 finishers, an increase of less than 1 percent.
Not everyone can jump into a marathon on the spur of the moment and run as fast as Pawlicki and Russo. Most people need to plan further ahead to give themselves enough time to train. Also, summer weather makes it harder to run a fast time.
Even so, more runners than usual in summer races were focusing on getting to Boston. According to a study of 12 races where qualifying data was available, late spring and summer marathoners qualified to enter Boston at a much higher rate in 2013 than in the previous year. Finishers in those races were up 5.8 percent, but the number of qualifiers was up more than 25 percent.
56-year old Kirk White of Provo, Utah, has averaged more than two marathons a year since he ran his first seven years ago. He's run Boston with a group of friends three times, but after the exceptionally hot year in 2012 they hadn't planned on coming back.
According to Kirk, "after the incident happened, we all said, 'This is kind of America's marathon. Let's be part of it'.'' Kirk ran 21 minutes faster than his qualifying time at the Utah Valley Marathon in June, so he should be in Hopkinton with his friends in 2014.
Many runners put off their qualifying attempt as long as possible to get more time to train and to increase the chance of favorable weather. Races held in late August and early September, the last chance to run before Boston registration opened, showed a significant increase in registration.
Orhan Sarabi, the race director for the Santa Rosa Marathon, saw the number of finishers in his race on Aug. 25 jump to 1,137 from 537 in 2012. He credits the increased interest in Boston qualifying for much of that.
Santa Rosa has moderate temperatures, even in August, and a flat, fast course, so historically, a high percentage of runners have been able to qualify.
"We were number one in the percentage of Boston qualifiers on Marathon Guide,'' said Sarabi. "That definitely tuned runners into, 'if I want to qualify for Boston, then [Santa Rosa's] a race on our radar that would be a good one to try'.''
The Lehigh Valley Health Network Via Marathon was run Sept. 8, the day before Boston registration opened, making it perhaps the true "Last Chance for Boston.'' The course, is mostly on a towpath alongside the Lehigh River with a net elevation drop of 240 feet between the start and finish, so it's a good one for runners looking for a fast pace.
This year the race sold out for the first time, with more than 2,000 registered runners.
"We've seen a dramatic increase in people that are interested in qualifying for Boston using our race. And when I say dramatic, we're talking about a 100 percent increase,'' said Lisa Walkiewicz, vice president of communications for Via of the Lehigh Valley.
In a typical year, 20 percent of the runners in the Via Marathon come from out of state. This year Walkiewicz reports, "71 percent of them are from outside the state of Pennsylvania, which we've never experienced before. Clearly people are coming to run our race to qualify for Boston.''
Boston's Bethany Couto has run the Boston Marathon the last six years in a row. She even got engaged at the race in 2009. Bethany signed up for Via after the bombing in order to try to shave a few minutes off her existing qualifying time, a 3:33 at Smuttynose in the fall of 2012.
"Boston's always had a special place in my heart,'' she said. "I have so many strong ties to this race and the possibility of me not being able to run it next year … it means so much to me and I would be absolutely heartbroken and devastated to not be running it next year to the point where I honestly don't even know if I would watch it.''
Mark Remy lives in Lehigh Valley, and he ran Via this year. Remy, is a Runner's World editor, but he says that doesn't guarantee that he can get into Boston.
"The first running related thought that I had after the bombings, after seeing that horror, was I need to be in Hopkinton in April 2014,'' he said. "The immediate second thought I had was I need to qualify.''
Mark needed a 3:15 to qualify, but was hoping for at least a 3:10, "because with this increased demand suddenly people are really, and reasonably anxious, that even if they run a BQ they won't get in.''
He knew the weather for a race in early September, "was a bit of a gamble but it looks like it's going to pay off.''
Because of injuries and other concerns, about 18 percent of the people who sign up for a typical marathon don't make it to the start. The number of no-shows was much higher, about 30 percent, for both Santa Rosa and Via. There may have been more no-shows than usual in those races because people gave up after realizing during their training that they weren't going to meet their goal of qualifying for Boston.
Remy and Couto both completed the Via Marathon, Mark with a time of just over 3:10, while Bethany crossed the line at 3:43. That puts them in the group whose summer of uncertainty will end next week, when they find out if they'll be part of the throng in Hopkinton for the start of the celebration of running and community that will be the 2014 Boston Marathon.