Boston Marathon
The Boston Marathon, illustrated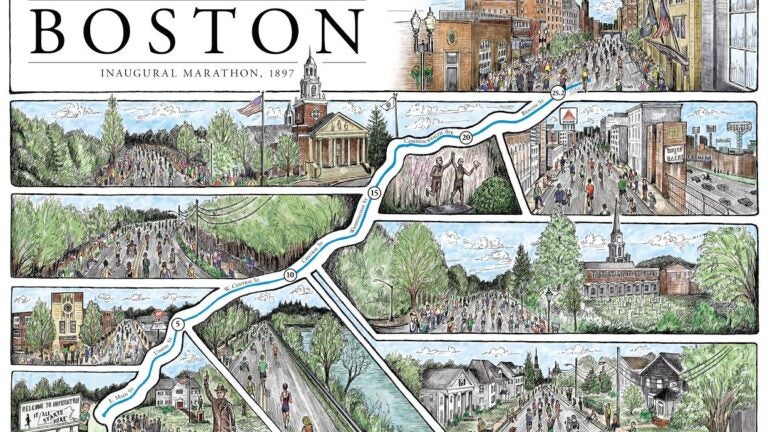 You may think that based on the details of the Boston Marathon illustration pictured above, the creator must be a local, or at least have run the course. But believe it or not, this illustration is the work of Phil Thompson, a native of Pennsylvania now living in Chicago who has never run the Boston Marathon before.
Thompson and his wife, Katie Lauffenburger, run Cape Horn Illustration, a Chicago-based art company. The couple focuses mainly on maps and architectural illustrations.
In 2013, Thompson ran his very first marathon: the Chicago Marathon. After running, he "wanted to create a map around it that had two goals: show the course as an interesting abstract shape in its own right; and tell the 'story' of running the race from the runner's point of view,'' shared Thompson.
He received such a great response from his Chicago Marathon map, he decided to create an illustration of the Boston Marathon course. Thompson said, "I consulted Boston friends, learned all about the landmarks, and 'ran' the whole course in Google Street View to get the whole sense of it.''
Thompson didn't jump into his Boston Marathon illustration completely blind. He's lived in Williamstown, Mass. and Cape Cod in the past, and he's a frequent visitor to Boston.
If you look closely at the illustration, you might even find a few things that reflect the legacy of Boston and its marathon course. For example, see if you can spot Paul Revere riding along the road, or a nod to the father-son team of Rick and Dick Hoyt.
"I hope to capture the joy of running these major races. Besides the achievement of finishing a marathon — or any race for that matter — it's the spectacle of the run that make it worthwhile and memorable,'' said Thompson.
You can view more illustrations from Thompson and his wife on their website, where you can also purchase a large print of his Boston Marathon illustration pictured above.