Boston Marathon
Dan Koh Is Running Boston (in More Ways Than One)
Mayor Marty Walsh's chief of staff knows what he likes: Diet Coke, morning meetings with the city's top officials, and running the Boston Marathon.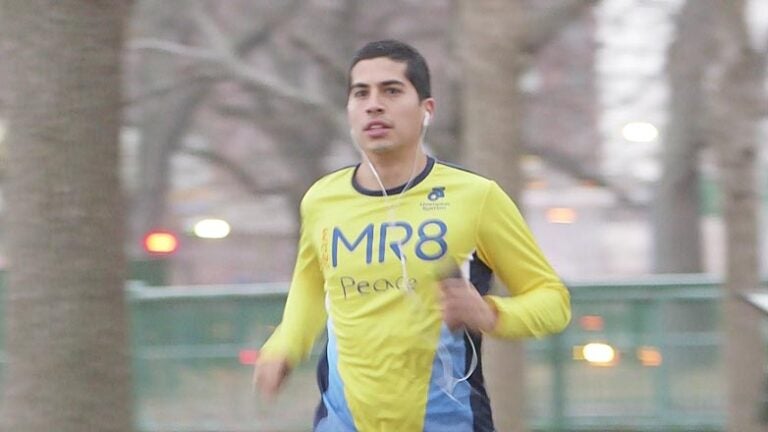 Every morning, Dan Koh eats an egg-white omelette for breakfast, usually with a Diet Coke — "that's my weird thing,'' he sheepishly admits. As Mayor Marty Walsh's chief of staff, Koh speaks to the mayor at 6:45 to prep for the day ahead, and then he's off to the gym for a treadmill workout.
Koh doesn't exercise for too much time on weekdays; he saves the lengthier 13-mile runs for Saturday mornings. Monday through Friday, he's got to be at City Hall by 8:30 for the "best meeting I have all day,'' in which he lays out the priorities for the mayor's administration.
His mornings keep a steady, scheduled pace, not unlike the pace Koh, 30, has kept during the 18 marathons he has already run.
"Dan is a man of habit, and that has served him very well,'' says Amy Sennett, the vice president of international strategy for Boston 2024 and Koh's girlfriend. "He has a lot of time for thinking of tougher decisions.''
Those tough decisions can come at any time in the mayor's office, and as such, Koh has simplified his life as much as he can. He eats the same breakfast. He eats the same salad for lunch in the cafeteria upstairs: chopped iceberg lettuce, tomato, pickles — "which throws people for a loop,'' he says — and ham, topped with Italian dressing.
Oh, and another Diet Coke.
"There are some decisions that are important. There are some decisions that are less,'' Koh says. "If something works for you, you should just do that.''
On Monday, alongside Sennett, Koh will run his sixth Boston Marathon. The two have been training by methodically running the same 13-mile loop on Saturdays, passing from the Esplanade into Harvard and Allston and back.
Koh credits Sennett, who has run 15 marathons of her own, with getting him into the running spirit. The couple met on their first day of Harvard Business School, when she told a room of peers that she was looking for a running buddy.
"I knew that she was a cute blond girl who was obviously smart, so I thought this was my in,'' Koh says. "She kind of got me into the running and that's how we started.''
They began chatting while jogging together, and soon started dating. They've kept running together over the last five-and-a-half years, and on Monday, the two will run their third Boston Marathon together. They'll be representing the Martin Richard Foundation for the second straight year.
"The marathon is a microcosm or an example of what we want Boston to be,'' Koh says.
Koh had completed two marathons before meeting Sennett, but he was running at the more leisurely pace of a five-hour marathon. He's come a long way since, and is hoping to best his personal record of 3 hours and 23 minutes.
"When we first started running together, I was the faster marathoner, and Dan was running to catch up with me,'' Sennett says. "Since then, he's become a much better runner, and I'm trying to keep up with him.''
For Koh, running provides a way to stay in shape, to clear his head, and to spend time with Sennett (even if they do have their headphones in most of the time). Even the mayor knows not to bug Koh at these times.
"I always have my phone on me, but I always text him to tell him I'm going for a run, just in case I miss his call,'' Koh says.
Chief communications officer Laura Oggeri says she can think of a few times she has spoken with Koh over the phone and heard the sounds of running. It's all part of the job.
"She'll just hear me panting heavily,'' Koh says, "and I'll say, 'Sorry, I'm running right now.'''
Read more coverage of the 2015 Boston Marathon.