Boston Marathon
Data Scientist Combines a Love of Numbers and a Passion for Running
Hate Math and Running? This Data Guy Loves Them Both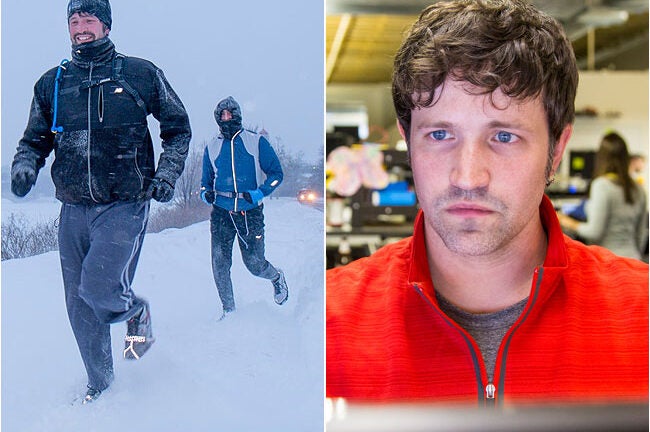 Long before Nick Arcolano joined RunKeeper, he began using the app in 2010 while earning his Ph.D. in applied mathematics at Harvard University.
A few of his old running buddies from his hometown of Broadabin, New York, just outside of Saratoga, reached out to him to become part of their "street team'' on RunKeeper.
That's the charm of the app — a fitness-tracking product from a Boston-based start-up that formed in 2008 — to connect runners across the globe as they share their progress and milestones.
And for Arcolano, an avid runner through all of middle and high school, the connection could not have come at a better time.
"I ran a bit after high school, but I definitely fell out of it in college,'' says Arcolano, a 35-year-old Watertown resident who attended WPI for his undergrad and Boston University for his master's, both in electrical engineering. "I got really busy during the Ph.D. program at Harvard, so there were a lot of Cheetos and burritos. And there are a lot of good burrito places in Harvard Square.''
There are also a lot of stories like Arcolano's within the RunKeeper app, and that's to be expected with 40 million downloads and 500 million fitness activities logged. But three years after his journey started in RunKeeper, an opportunity would bring his life a lot closer to the application.
[fragment number=0]
One of Arcolano's street teamers saw a tweet similar to the one above from a RunKeeper engineer in the summer of 2013, and called him with these five words: This is your dream job.
His running buddy was right.
Nearly two years later, Arcolano is shoulder-deep in big data as RunKeeper's senior data scientist, and is preparing to participate in his first Boston Marathon on April 20. He ran the Philadelphia Marathon twice, in 2013 and 2014.
"I could look at this stuff for the rest of my life,'' says Arcolano of the data he monitors daily from millions of RunKeeper users. "People make careers out of a fraction of the data we have … the stuff that we can tell about fitness, and how people are behaving, what they're doing, what works, and what doesn't … you can work on that for a lifetime.''
One of Arcolano's earliest memories of falling in love with data goes back to when he was 11 or 12. He made his own paper spreadsheet to use as a ledger to keep track of his KMart lay-a-way payments while trying to buy a Nintendo Game Boy. He looked at that sheet every day for the few weeks it took to bring the system home. Since then, Arcolano has loved tracking things, keeping spreadsheets of all the books he's read and video games he's played.
And of course, he still avidly uses RunKeeper to log his running.
RunKeeper's office is located on Canal Street in Boston, just a few strides from the TD Garden. The company, which was one of the first 200 mobile products offered in Apple's App Store, is around 50 employees. Its core functions include front- and back-end software development, data analysis, marketing, and business development functions, as well as a large focus on user-experience (UX) design.
The start-up is divided into pods by product function, but is set up for constant collaboration. Arcolano is currently embedded with the run and routine pods, alongside a user-experience expert. The office's open space occupies one floor.
"We're right in there with developers,'' Arcolano said. "So from the beginning of creating features and experiments, through the end, we're a part of the process.''
So what is RunKeeper doing with all of this data it's collecting from its millions of users across the world?
The start-up does not share individual user data, according to Arcolano. Instead, they share aggregate insights with collaborators, including labs at MIT and the Spaulding National Running Center out of Cambridge. Much of the work with Spaulding has been through independent research study, in which people have volunteered for clinical trials, and RunKeeper is helping to support the work.
"When Apple recently announced the Apple Watch, they also announced Research Kit, their extension of Health Kit,'' Arcolano said. "This allows people to opt-in to volunteer for research studies. There is an idea of data ownership and how we can donate that data for the greater academic and research world. Will people start to realize what value their data can have on society, how we can learn from that? And how does that not only help us survive as a company, but how can that help the greater conversation?''
The concept is in flux right now because of individual privacy and security concerns, said Arcolano.
"I'm optimistic it will go in the right direction, that we'll figure out how to use this stuff for the common good,'' Arcolano said. "We can't do this on our own. We have to share with people and talk to researchers at Spaulding. We're not cardiologists. We need to make sense of the data we're collecting.''
Click here for more marathon coverage.