Boston Marathon
'The Marathon Is Now a Season for Giving Thanks'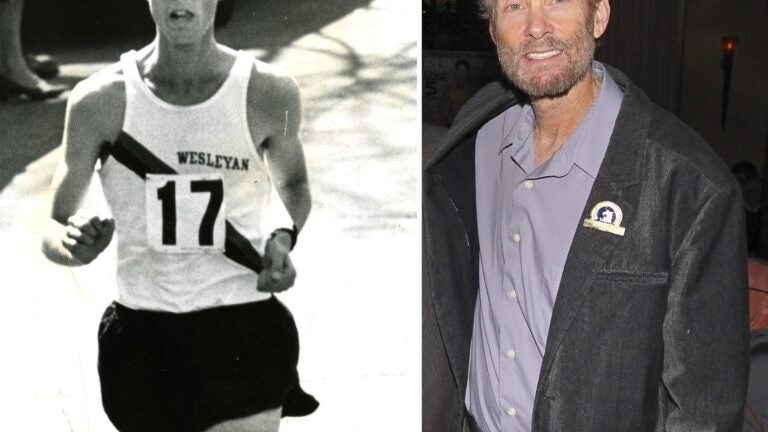 The first time I drove into Hopkinton — on April 19, 1965; 50 years ago this spring — I knew I had found Camelot. A thin blanket of snow covered the local rooftops, but crocuses and forsythia bloomed in wild profusion. Vendors filled the town green, the smell of their hot dogs and fried dough overwhelming the mentholated Bengay on runners' legs.
I saw two-time winner "Old John'' A. Kelley, in a maroon Harvard sweatshirt, jogging next to the green. And right behind him: a trio of top Japanese runners in brilliant white warmup suits with blazing red suns.
Although I was only 18 and a freshman at Wesleyan University, I had spent the last three years immersed in the lore and history of the Boston Marathon. I could recite chapter and verse on seven-time winner Clarence DeMar, and the magnificent Ellison Myers "Tarzan'' Brown, who had lived in coastal Rhode Island only 20 miles from my home in Mystic, Connecticut. I knew about the Wellesley College girls, infamous Heartbreak Hill, and the raucous finish line in Boston's Back Bay.
"Young John'' J. Kelley, my high school coach, had won Boston in 1957. On many a withering long run, he regaled me with a thousand Boston Marathon stories. Boston tugged at me with an irresistible force. I was supposed to be at my college track practice that Monday afternoon in 1965. Instead, I shuffled past the mile marker in Framingham — it said, "B.A.A. Marathon — 19 ¾ miles to go'' — and couldn't block the thought, "Oh, damn, that's five miles farther than I've ever run before.''
Somehow I finished anyway, placing 25th in 2:34:09. And I understood in full what it means to run the Boston Marathon. It means you have run the oldest, most historic marathon. It means you have been cheered by the loudest, most knowledgeable crowds. It means you will ache to return again, for there is no other footrace like Boston. Three years later, I was lucky enough to actually win the Boston Marathon—a dream come true at an age when I was perhaps too young to appreciate it.
In total, I have now run 22 Bostons. Each has been different and memorable in its own way, as I have grown older (and slower), and the marathon has grown bigger and glitzier. Still, the essence of Boston has never changed. It is the oldest annual marathon and the most historic, with a virtually unchanged traditional course from picturesque, rural Hopkinton to the teaming Hub.
For many years, I believed no other footrace could ever eclipse the splendor of the Centennial Boston Marathon in 1996, with its nearly 37,000 adrenalized entrants. Now I know different.
Two years ago, I was among the 5,000 runners stopped a mile from the finish line — just enough distance so that we neither saw nor heard the bomb explosions and carnage. I only knew that I was angry. It was the 45th anniversary of my win in 1968, and I wanted to celebrate the milestone. An hour later, watching TV from the safety of my hotel room, I felt shame and disgust over my initially selfish reaction.
Maybe that's one reason I so badly wanted to return for last year's marathon. There were many more reasons as well. Every runner I knew wanted to run Boston last April.
We wanted to show that we were not afraid, and also to honor the people of Boston. They are the ones who have made the Boston Marathon so absolutely unique through the years. They were also the ones, not marathoners, most traumatized by the awful events of 2013.
Before arriving in Boston last spring, I ordered several hundred small business cards that I designed on the Internet. While running the marathon, I placed these cards in outstretched hands along the course, particularly the hands of young fans. The cards said: "Thank you for your support. It is your cheering that makes this race so special.''
I also knew that I wanted to make a more individual statement. It took me longer to figure that out. Finally, it came to me several days before the marathon. Boston runners often finish the marathon in frenetic or dramatic fashion: with an improbable sprint, or a cart-wheel, or even by crawling on all fours to get across the big blue line next to the Boston Public Library.
Last year I realized the opposite approach seemed more fitting. Better to slow, to savor, and to give thanks. After all, once you make the turn from Hereford Street onto Boylston, you have effectively completed the course. The finish is just a line on the road and a banner overhead: the merest trappings. The real Boston Marathon is the 26 miles behind you, and the physical and mental effort it took to cover them.
I jogged down Boylston last April until I reached a point adjacent to the bomb explosions. Then I stopped momentarily and transitioned to a walk. I'm not overly religious, but it felt right to glance heavenward for a moment and to say a short prayer. So I did.
Then I continued walking toward the finish. Dozens of other runners streamed past me. No bother, no worries. There is, after all, a season for everything. For me, the end of the Boston Marathon is now a season for giving thanks.
I plan to give out cards again this year. Even more, I'm looking forward to a finish-line walk. I think of it as my newest, most personal Boston Marathon tradition.
Read more coverage of the 2015 Boston Marathon.