Boston Marathon
Confessions From the Black Market for Boston Marathon Bibs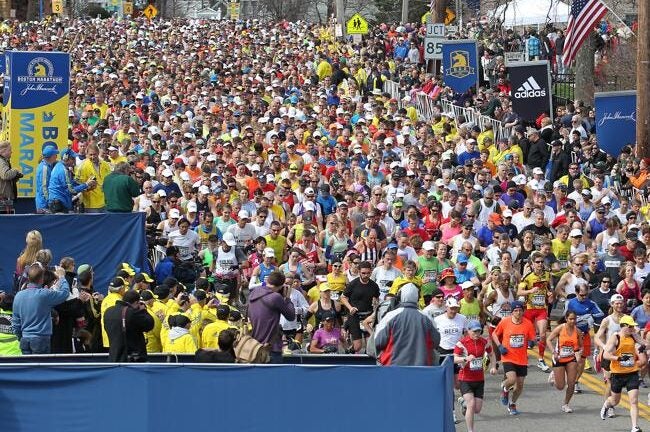 For the vast majority of runners in the Boston Marathon, there are only two official options for getting in to the field. They can either qualify, or they can pledge to raise money for a Boston Athletic Association partner charity.
But some prospective runners might try a less official route: crowdsourcing on Craigslist. There are 10 listings on the online marketplace posted in the last week from people saying they're willing to pay as much as $500 for a Boston Marathonbib.
One would-be runner told Boston.com he'd be willing to spend as much as $5,000 under the right circumstances. The man, from Washington, D.C., spoke on the condition of anonymity. We'll call him Tim.
Tim's not sure at this point whether he'll make it to Boston for the day of the race. It will depend, to some extent, on whether he can connect with somebody ahead of time who will sell him a bib.
Tim said he has never run Boston. But in the past, he said he has bought his way into other marathons at the last minute, spending between $500 in a direct purchase of a runner's bib to $2,500 if a charity has any bibs leftover in the days before the race. (Tim provided Boston.com with his real name, and proof that he has run other marathons.)
For Boston, Tim said he would be willing to spend $500 to $700 on a registered runner's bib. He said that he'd spend as much as $5,000, as a donation, if he were somehow able to buy a spare bib off a charity. "There's a big distinction,'' he said.
Tim said he gets a kick out of finding an unconventional way into a race.
"There are probably a lot of people who think what I'm doing is rude or disingenuous. I don't necessarily disagree with them,'' he said. "It's like people who go to a Patriots' Super Bowl when they're not really Patriots fans.''
So why does he do it? "It's part of the challenge,'' he said. "I've run marathons. Part of the challenge is getting in, being able to get in. Just [running] isn't enough.''
The transfer of a bib from runner to runner is strictly off-limits by the BAA's rules. "Any individual who violates this rule will not be allowed to participate,'' according to the organization's policy.
The BAA "takes these matters very seriously and looks to the running community to cooperate and respect the impact cheating has on those who have worked so hard to qualify and those who give so much of themselves to raise money for outstanding local charities,'' a BAA spokesperson told Boston.com.
"In the past, we have also disqualified runners post-race if a violation was found,'' the spokesperson added.
Of course, anybody who delves in to buy a bib on the black market probably only does so because they weren't able to officially participate.
"You'll be disqualified? Disqualified from what? You're not qualified in the first place,'' said Brett, another man seeking a bib on Craigslist.
Brett (also not his real name) lives in a suburb of Boston. He claims he has run Boston for 25 years, and that he's gained entry into the race in multiple ways. He has qualified, and raised money for charity—in both cases running the race officially—and he has also been a "bandit'' runner, jumping into the race without an official bib, he said.
He said that in recent years, he has bought bibs from friends and running acquaintances who, for whatever reason, were unable to run as the race drew near. But 2015 is the first time Brett's taken to Craigslist, since he didn't know anybody selling a bib this year.
"It's a last recourse,'' he said.
Brett said he's gotten a couple of nibbles for his offer online, and even had arranged to buy a bib from one runner. However, he was outbid, as the person he planned to buy from told him he got a better offer, at $500. Brett said he is ready to spend $200 to get in on the race, and that he thinks people will become more desperate to unload their bibs over the weekend. "I'm still hopeful,'' he said of running Monday.
The BAA has said in the past that its policy keeping bibs non-transferrable is due to safety and security purposes.
"From our side, we don't know who that person is, they haven't abided by our rules and haven't agreed to our terms and participating in our race,'' a BAA spokesperson told Boston magazine in 2013. "On the other side, it's extremely risky for the individual to run under someone else's bib, because if they go down for any reason, whether from tripping or falling down on something, we know nothing about this person. We don't know if they are allergic to any medications [if they need medical attention], and we don't know who their emergency contact is.''
In addition to security concerns, the BAA also cites race prestige on its website in explaining why bibs cannot be transferred. "The Boston Marathon is a top-level sporting competition, and the BAA seeks to uphold the integrity of both its entrants list and field and the results and awards reports and rankings,'' the organization's online FAQ section reads.
Aside from people paying for real bibs, some unregistered people try to participate in the race by making fake bibs. Tighter security in light of the 2013 finish line bombings, as well as an increase in the number of registered runners, brought further attention to non-official participants last year. (Some participated anyway, inciting controversy.) The BAA asked runners this year "not to post close-up pictures of their bib number on social media before the race to avoid fraudulent bib duplication.'' Anybody found wearing a fake bib during the race is subject to be removed from the course, according to a Massachusetts Emergency Management Agency document outlining security procedures.
That's a related but different issue from people who buy official bibs. Brett said he's going to the black market because he thinks it has gotten increasingly difficult to register for the marathon through either a qualifying time or a charity, and because of the crackdown on bandit racing. He said he thought the race has become "corporate'' and "elitist.'' "It's pretty crazy,'' he said.
But he intends to keep coming back, legitimately or not. "It's more or less a tradition,'' he said.
Read more coverage of the 2015 Boston Marathon.