Boston Marathon
Kathrine Switzer on the Marathon Moment That 'Changed Millions of Women's Lives'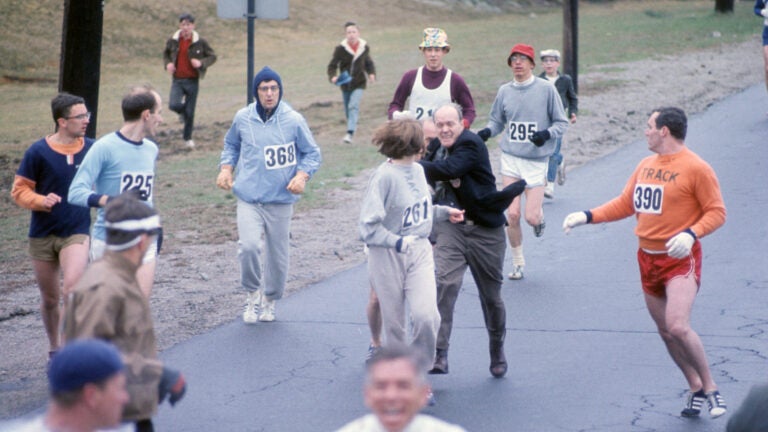 Kathrine Switzer didn't go to Boston looking for a fight. But one found her. She emerged unscathed, but forever changed. And the Boston Marthon wouldn't be the same either.
At a time when women were not yet sanctioned to officially enter the Boston Marathon, Switzer had been given a spot after filling out her application as "K.V. Switzer,'' as she often signed her name. Over the course of 26.2 miles on April 19, 1967, Switzer went from being a 20-year-old journalism student at Syracuse University to a pioneer in women's sports. Just a few miles into the course, Switzer was acosted by Boston Athletic Association official Jock Semple. He attempted to tear off her bib number and expel her from the race. Photographs of the confrontation garnered widespread attention and became a part of the history of not just the Boston Marathon but the struggle for equality for women in sports and beyond.
Ahead of the 2015 Boston Marathon, Switzer reflected on that iconic moment and its legacy with Boston.com.
"When Jock Semple jumped off of the press truck and ran after me, it was a bolt out of the blue. I had no idea, until he grabbed me, that he was there, because he was behind me,'' Switzer said. "I suddenly heard footsteps that were going faster than the other runners around me. I turned suddenly and this fierce way and these arms, he grabbed me and spun me and screamed, 'Get the hell out of my race and give me those numbers!' and tried to rip off my bib numbers.''
"I was so terrified and so embarrassed at the same time that I just tried to get away. You know? I couldn't even say anything. I could just go 'ah, ah, ah.' My coach was screaming, 'Leave her alone, leave her alone, she's OK. I trained her.' And then suddenly my boyfriend, who happened to be an ex All-American football player — this flash of orange — came across both and took out Jock Semple and sent him flying out of the race itself. At this point, my coach yelled, 'Run like hell!' And down the street we went.''
It didn't take long for the fear of the moment to give way to a resolve that would drive her toward the finish line.
"It was a moment that changed my life, because it took me from being a naive girl who simply wanted to run to a woman who then suddenly realized she was being attacked in the race simply because she was a girl,'' Switzer said. "I was just determined then. I just doubled down and became very, very, very determined to finish the race no matter what because I knew suddenly it wasn't just about running. It was about proving that women deserved to be there and could be there. And it was a lot to put on a 20-year-old's shoulders.''
For approximately 22 more miles, Switzer ran with that weight on her shoulders. Four hours and 20 minutes after taking her historic first step onto the course, she crossed the finish line. Decades later, that confrontation with Semple conjures different emotions in Switzer.
"For me, it was not only a moment that changed my life but a moment that changed millions of women's lives and changed the sport in a very, very positive way. And on Monday, we're going to see 13,374 women starting on the start line.''
Five years after Switzer's historic trek from Hopkinton to Boylston, women were officially allowed to enter the Boston Marathon. In 1972, eight women started and finished the race. In 1974, Switzer won the New York City Marathon. A year later, she placed second in Boston with a personal best of 2 hours and 51 minutes. She would go on to play a key role in getting the women's marathon into the 1984 Olympic program and would be in the broadcast booth in Los Angeles when the event was broadcast.
"Knowing everything that came after means that the worst thing in my life at the time became the best thing. Even old Jock Semple and I became the best of friends,'' Switzer said. "It took a long time: six years. But we became best of friends. I've seen what running has done for women. It's totally empowered them, changed their lives. Fifty-eight percent of all runners in the United States now are women. It's changing whole societies. It's changing the way the world perceives women's capabilities. Its changing the way that women believe in themselves. They understand now from the simple act of putting one foot in front of the other that they can change their lives.''
Scenes From the 119th Boston Marathon
[bdc-gallery id="334361″]