Boston Marathon
What It Feels Like to Win the Boston Marathon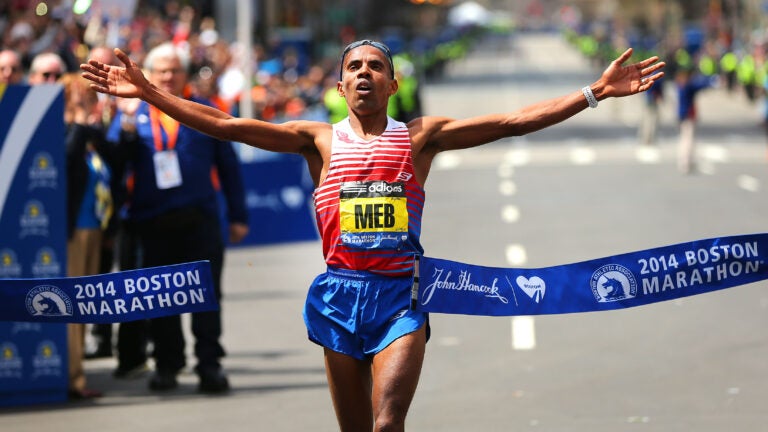 Twenty-one miles before Meb Keflezighi broke the tape on Boylston Street at the 2014 Boston Marathon, he made a decision.
"I went for the win at mile 5,'' he told Boston.com Saturday in an interview at the Lenox Hotel, a block from the finish line.
Mile 5 was when Keflezighi and Josphat Boit, with whom Keflezighi had trained, broke off from the pack.
Soon after, Keflezighi dropped Boit.
"At mile 15, 16, I just said, 'Go for it. This is yours. … Keep digging, keep digging,''' he recalled.
Keflezighi opened up a more-than-a-minute lead. But with three miles to go, he saw that he had been chased down by Kenyan Wilson Chebet.
"I'm like, 'Oh, how sad would it be to just lead the whole way and then lose in the last three miles?''' he said.
As the race neared Kenmore Square, Keflezighi grew more confident. "I just said, 'If [Chebet] was feeling good, he should be with me by now, he must be hurting too, so keep digging, deeper, deeper,''' he said.
Keflezighi said you never know you're going to win until you actually do. But on Hereford Street, before the final turn onto Boylston, he knew he "had it'' because of the crowd.
"I remember the roar sound on Hereford. It was unbelievable, unbelievable,'' he said.
Keflezighi, who has only watched the race twice, said Boylston was "as loud as it can be'' with chants of "USA, USA'' for the first American winner since 1983.
Then he broke the tape.
"It's the thrill of a lifetime,'' he said. "It's like you get that natural high when you run, the endorphins, and it takes that to another level when you win. You feel light on your feet, and you know you're hurting badly, but you don't notice when you're winning. … It's hard to put into words.''
It was a somewhat familiar feeling for the soon-to-be-40 Keflezighi, who won the New York City Marathon in 2009 and an Olympic silver medal in the marathon in 2004.
Does he think he'll catch the feeling again Monday?
"I'd love to win,'' Keflezighi said. "Everybody's going to be fighting for it. If not, I'd like to be top 3. If not, I'll try to run my best time. If not, I'll fight for every spot I can.''
See The Boston Globe's closer look at how Keflezighi won the 2014 Boston Marathon.
Read more coverage of the 2015 Boston Marathon.